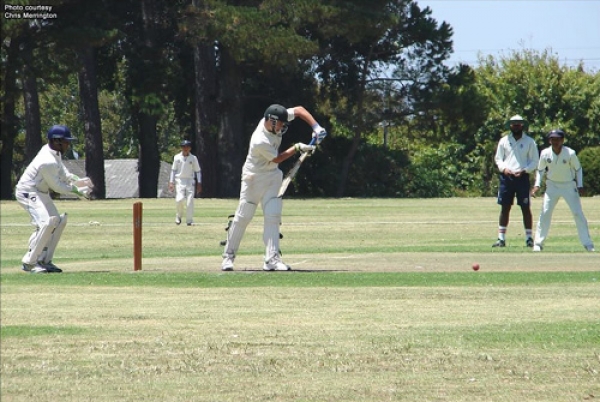 Wynberg took a couple of steps upwards on this week's Belgotex Sports U15 Rankings after a convincing win over neighbours Rondebosch and are well placed in the top 10 zone.
However it is still Hudson Park who are the leading team in this age group and have proven to be a team full of talent. Last week it was the turn of B.Nokele to go to three figures with a well struck 126 runs no out and it doesn't seem anyone will be able to catch Hudson Park at this stage of the year.
SACS should also be pleased with their top three position after a well fought for victory over Bishops which saw Smith unbeaten on 102 runs in that result.
Of special note is the individual performance of Grey High School's Nicholas Keevy who has been in supreme form this season and has made Grey HS history by being the only cricketer to strike three consecutive centuries!
Westville's Matkovich helped himself to an unbeaten 151 runs last week as well and Jean-Luc Talbot from Kearsney College made the Glenwood fielders chase leather as he went to a brilliant 178 runs in their victory.
Jeppe all-rounder Braydon Hicks played a big part in their win over Pretoria Boys High taking 4/25 and contributing 57 runs in a good win for the Joburg side.
Please send your results to [email protected]
U15 CRICKET RANKINGS 25 October, 2017

RANK

TEAM

PLAYED

AVG PTS

1

HUDSON PARK

7

11.01

2

SELBORNE COLLEGE

10

9.25

3

SACS

14

9.21

4

RONDEBOSCH

21

8.80

5

KES

9

8.47

6

POTCH VOLKIES

15

8.05

7

DF MALAN

11

7.42

8

MENLOPARK

23

7.37

9

KEARSNEY COLLEGE

16

7.28

10

WYNBERG

11

7.19

11

PAUL ROOS GYM

9

7.18

12

BISHOPS

21

7.14

13

PEARSON

8

6.95

14

CLIFTON

13

6.90

15

ST ANDREWS COLLEGE

7

6.79

16

GARSFONTEIN

8

6.50

17

ST JOHNS COLLEGE

12

6.41

18

GREY HIGH SCHOOL

12

6.34

19

WATERKLOOF

24

6.33

20

MARAIS VILJOEN

20

6.32

21

WESTVILLE

10

6.28

22

HILTON COLLEGE

13

6.06

23

HANS MOORE

23

5.90

24

NOORDHEUWEL

14

5.80

25

AFFIES

13

5.52

26

ST CHARLES COLLEGE

10

5.52

27

ST STITHIANS

16

5.47

28

PRETORIA BOYS HIGH

12

5.43

29

MICHAELHOUSE

13

5.05

30

HELPMEKAAR

22

4.94

31

GREY COLLEGE

9

4.87

32

PAARL BOYS HIGH

14

4.57

33

ST DAVIDS

10

4.37

34

PAARL GIM

13

4.36

35

JEPPE

11

4.09

36

MILNERTON

7

3.80

37

ST ALBANS COLLEGE

8

3.80

38

GLENWOOD

8

3.65

39

MARITIZBURG COLLEGE

9

3.60

40

EG JANSEN

13

3.47

41

CENTURION

12

3.13

42

BOLAND LANDBOU

8

2.86

43

MONTANA

13

2.86

44

NORTHWOOD

6

2.10

45

DHS

6

1.87

46

QUEENS COLLEGE

5

1.74

47

CAMBRIDGE

7

1.09

48

PARKTOWN

6

0.67

49

SOMERSET COLLEGE

13

0.54