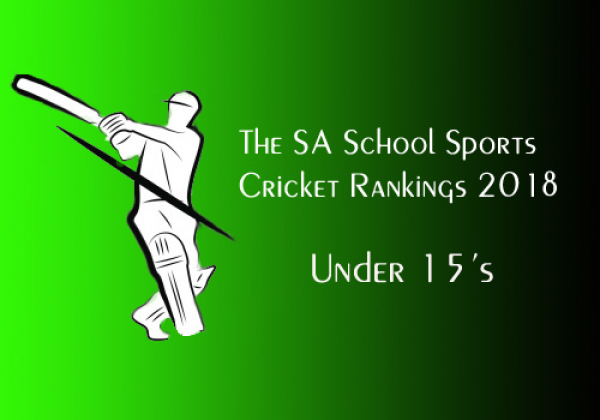 Grey High School hit the front on this week's U15 Cricket Rankings after completing a very successful campaign over the past few weeks.
Grey HS once again enjoyed notching up the victories against some of the country's top teams which helps to underscore what a powerful team this is. George van Heerden quite literally hammered all the bowlers into oblivion to help set up four big wins for Grey High School. Scoring 104*, 150*, 84 and 20* to give him a total of 358 runs in four days and only getting dismissed once.
Rondebosch take a step into the top 3 territory and Affies are still good value in position no 2. after stringing together several wins on the trot.
Hilton College however lose their footing at the top slightly after coming second against Affies and Grey High School and will be hoping to bounce back in the matches to come.
Your results are important, please ensure they are with us by sending them to [email protected]
U15 CRICKET RANKINGS 11 October, 2018

RANK

TEAM

PLAYED

AVG BONUS POINTS

1

GREY HIGH SCHOOL

15

12.69

2

AFFIES

18

10.53

3

RONDEBOSCH

12

10.38

4

KES

20

9.31

5

SELBORNE COLLEGE

6

9.03

6

MARITIZBURG COLLEGE

18

8.76

7

HILTON COLLEGE

16

8.67

8

MENLOPARK

14

8.33

9

ST ANDREWS SCHOOL

5

7.94

10

MARAIS VILJOEN

26

7.88

11

HUDSON PARK

5

7.70

12

KEARSNEY COLLEGE

10

7.59

13

SACS

7

7.44

14

ST STITHIANS

23

7.42

15

GREY COLLEGE

14

7.26

16

MICHAELHOUSE

10

6.98

17

PIETERSBURG

6

6.85

18

WESTVILLE

11

6.85

19

ST JOHNS COLLEGE

10

6.71

20

BOLAND LANDBOU

6

6.70

21

NOORDHEUWEL

24

6.43

22

WYNBERG

24

6.42

23

JEPPE

14

6.27

24

GLENWOOD

11

5.96

25

CURRO DURBANVILLE

7

5.83

26

PAUL ROOS GYM

9

5.46

27

MONTANA

13

5.38

28

HELPMEKAAR

15

5.35

29

PARKTOWN

8

5.34

30

PRETORIA BOYS HIGH

11

5.32

31

PAARL BOYS HIGH

6

4.88

32

ST ALBANS COLLEGE

10

4.76

33

BEN VORSTER

6

4.63

34

KINGSWOOD

6

4.62

35

WATERKLOOF

20

4.57

36

ST ANDREWS COLLEGE

11

4.43

37

NORTHWOOD

10

4.35

38

POTCH VOLKIES

17

4.12

39

NELSPRUIT

7

4.04

40

HANS MOORE

16

3.95

41

BISHOPS

12

3.79

42

PAARL GIM

10

3.27

43

OOS MOOT

7

3.26

44

NORTHCLIFF

7

3.16

45

CLIFTON

11

3.15

46

ST CHARLES COLLEGE

11

2.94

47

GARSFONTEIN

6

2.85

48

ST DAVIDS

9

2.84

49

PEARSON

5

2.68

50

DHS

6

2.47

51

FRAMESBY

9

2.38

52

UPLANDS

5

1.66

53

CENTURION

10

1.55

54

SOMERSET COLLEGE

9

1.28

55

MONUMENT

6

0.93

56

CAMBRIDGE

10

0.92

57

WOODRIDGE

6

0.70

58

ST BENEDICTS

5

0.52