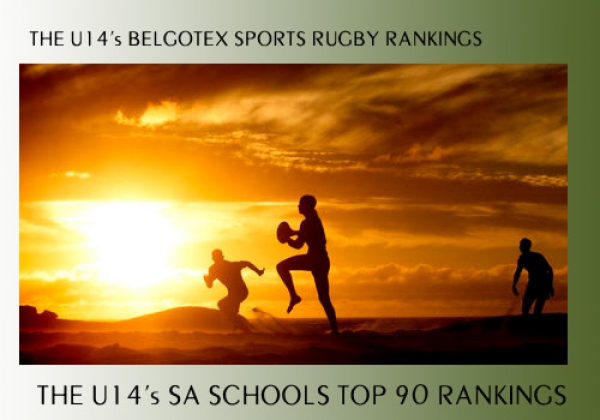 The first year of high school rugby is over for this year's U14's and what a great season it has been with many schools hoping their juniors can continue to show this kind of form in the years to come.
Grey College take to No.1 spot after completing a great season which only included the single defeat. They scored heavily in many of their matches against some of the strongest teams in the country and once again we can expect this crop of players to play a pivotal role as they progress through the ranks.
However Menlopark will be very proud of the performance of their U14's who only lost narrowly to Outeniqua but otherwise claimed most of the major scalps on offer.
Oakdale will also be pleased with their showing scoring a record 641 points and only conceding 105 points throughout the season to give them an average score line of 43-7.
We look forward to watching with interest how these teams fair as U15's in 2018 and thank you all for the interest and support during the season.
U14 RUGBY RANKINGS 1 SEPTEMBER 2017

RANK

TEAM

PLAYED

AVG PTS

1

GREY COLLEGE

15

7.007

2

MENLOPARK

16

6.781

3

OAKDALE

15

6.780

4

OUTENIQUA

15

6.407

5

SELBORNE COLLEGE

15

6.380

6

PAARL GIM

16

6.244

7

ST CHARLES COLLEGE

14

6.086

8

WESTVILLE

13

5.808

9

AFFIES

15

5.720

10

DURBANVILLE

17

5.716

11

PAARL BOYS HIGH

16

5.613

12

HELPMEKAAR

17

5.600

13

MONUMENT

16

5.563

14

KINGSWOOD COLLEGE

16

5.306

15

CURRO NELSPRUIT

18

5.283

16

PEARSON

12

5.000

17

LIGBRON

17

4.829

18

HTS DROSTDY

16

4.794

19

MARITZBURG COLLEGE

15

4.747

20

KEARSNEY COLLEGE

11

4.300

21

JIM FOUCHE

10

4.250

22

GLENWOOD

12

4.158

23

KES

15

4.073

24

ST STITHIANS

11

3.845

25

NICO MALAN

18

3.828

26

HILTON COLLEGE

13

3.792

27

RANDPARK

9

3.789

28

BISHOPS

17

3.782

29

JEPPE

16

3.681

30

VOORTREKKER BETH

13

3.623

31

RONDEBOSCH

15

3.613

32

PAUL ROOS GYM

13

3.608

33

MONTANA PTA

16

3.575

34

RUSTENBURG

10

3.450

35

SUTHERLAND

9

3.378

36

NELSPRUIT

8

3.350

37

ELLISRAS

10

3.340

38

HUDSON PARK

16

3.194

39

ZWARTKOP

9

3.156

40

MIDSTREAM

11

3.145

41

WITTEBERG

13

3.100

42

ST JOHNS COLLEGE

10

2.970

43

DALE COLLEGE

14

2.750

44

WYNBERG

14

2.679

45

HS ALBERTON

8

2.650

46

GREY HIGH SCHOOL

13

2.500

47

NOORDHEUWEL

12

2.467

48

DIAMANTVELD

12

2.458

49

PAREL VALLEI

9

2.389

50

BOLAND LANDBOU

14

2.357

51

MARAIS VILJOEN

13

2.323

52

KRUGERSDORP

10

2.310

53

WELKOM GYM

7

2.243

54

OTTO DU PLESSIS

8

2.150

55

SACS

15

1.993

56

OOS MOOT

8

1.950

57

PIET POTGIETER

7

1.914

58

LICHTENBURG

15

1.600

59

HUGENOTE SPRINGS

7

1.543

60

QUEENS COLLEGE

11

1.518

61

ST DAVIDS

15

1.373

62

STIRLING

10

1.330

63

CLIFTON

14

1.314

64

GRENS

8

1.263

65

GRAEME COLLEGE

13

1.231

66

LYDENBURG

10

1.130

67

STELLENBERG

18

1.106

68

WESVALIA

7

0.971

69

SECUNDA

8

0.950

70

TRANSVALIA

11

0.918

71

HERMANUS

12

0.842

72

FAIRMONT

14

0.807

73

HTS MIDDELBURG

12

0.767

74

PARKTOWN

8

0.688

75

MIDDELBURG HS

7

0.600

76

FRAMESBY

17

0.541

77

ST ANDREWS COLLEGE

18

0.456

78

NORTHWOOD

11

0.318

79

ST ALBANS COLLEGE

15

0.273

80

NORTHCLIFF

11

0.145

81

DF MALAN

7

0.143

82

ST BENEDICTS

17

0.035

83

TYGERBERG

7

0.014

84

KEMPTON PARK

13

-0.008

85

JAN VILJOEN

12

-0.142

86

HOOGENHOUT

7

-0.157

87

BRACKENFELL

9

-0.178

88

FLORIDA

7

-0.371

89

MICHAELHOUSE

10

-0.400

90

UPLANDS COLLEGE

9

-0.667

91

MARLOW

7

-0.743

92

CBC BOKSBURG

6

-0.867

93

WATERKLOOF

11

-0.873

94

GARSFONTEIN

11

-0.909

95

EG JANSEN

9

-1.200

96

DHS

10

-1.440

97

CAMBRIDGE

11

-1.591

98

PRETORIA BOYS HIGH

13

-1.638

99

JEUGLAND

6

-1.967

100

BELLVILLE

9

-5.633