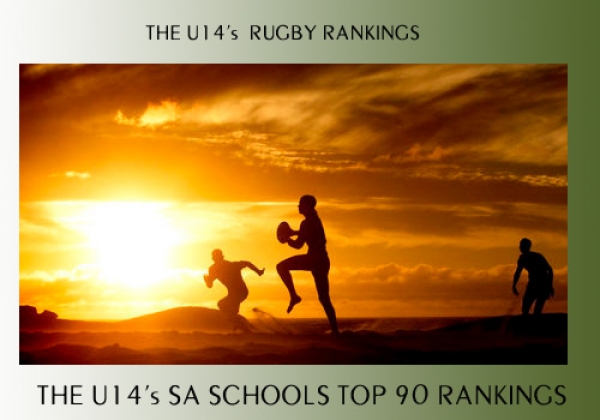 Paarl Gym remain the top team amongst the U14's for this week after notching up another two victories during the past week.
Both Selborne and Framesby were forced to bend the knee as Paarl Gym recorded seemingly comfortable wins over them and extend their occupation at the top of this week's U14 School Rugby rankings.
An interesting inclusion amongst the top five teams is the KZN outfit, Northwood who are enjoying perhaps the best season the Knights have ever had with 10 straight wins in the season so far. St John's, Maritzburg College and Kearsney are amongst the teams they have beaten and it will be interesting to see if they can maintain their winning run.
Please get your U14 results to us be sending them to [email protected]
U14 RUGBY RANKINGS 4 MAY, 2018

RANK

TEAM

PLAYED

AVG PTS

1

PAARL GIM

9

7.578

2

GREY COLLEGE

7

6.843

3

HELPMEKAAR

9

6.389

4

NORTHWOOD

10

6.200

5

MENLOPARK

9

6.167

6

MARITZBURG COLLEGE

8

6.013

7

KES

7

5.814

8

HILTON COLLEGE

8

5.488

9

PAARL BOYS HIGH

7

5.443

10

WESTVILLE

7

4.986

11

DIE BRANDWAG

9

4.911

12

GREY HIGH SCHOOL

8

4.550

13

ZWARTKOP

9

4.489

14

DHS

9

4.367

15

JEPPE

10

4.330

16

TRANSVALIA

6

4.317

17

AFFIES

9

4.189

18

FRAMESBY

10

4.020

19

ST JOHNS COLLEGE

9

3.889

20

BISHOPS

5

3.880

21

KLERKSDORP

6

3.867

22

MONTANA PTA

8

3.850

23

BOLAND LANDBOU

7

3.800

24

DINAMIKA

4

3.700

25

DURBANVILLE

8

3.700

26

EG JANSEN

8

3.600

27

CURRO NELSPRUIT

9

3.533

28

HUDSON PARK

6

3.483

29

PAUL ROOS GYM

6

3.433

30

MONUMENT

9

3.356

31

MERENSKY

5

3.340

32

SELBORNE COLLEGE

6

3.217

33

STELLENBERG

9

3.111

34

SENTRAAL

6

3.050

35

OUTENIQUA

6

3.017

36

GLENWOOD

10

2.950

37

MIDDELBURG HS

8

2.875

38

PEARSON

7

2.814

39

KEARSNEY COLLEGE

7

2.771

40

WYNBERG

8

2.763

41

ST ALBANS COLLEGE

6

2.683

42

ST BENEDICTS

6

2.550

43

HTS DROSTDY

7

2.514

44

NOORDHEUWEL

9

2.467

45

BEN VORSTER

7

2.443

46

MARAIS VILJOEN

9

2.411

47

OAKDALE

8

2.400

48

PARKTOWN

8

2.388

49

NICO MALAN

7

2.386

50

ST CHARLES COLLEGE

8

2.325

51

ALBERTON

8

2.075

52

LEEUWENHOF

4

2.050

53

GRAEME COLLEGE

4

2.000

54

DIAMANTVELD

8

1.925

55

RUSTENBURG

6

1.917

56

DIE ANKER

5

1.780

57

OOS MOOT

6

1.667

58

HTS MIDDELBURG

8

1.600

59

WITTEBERG

6

1.567

60

NORTHCLIFF

6

1.517

61

GARSFONTEIN

8

1.388

62

RANDPARK

8

1.213

63

WESVALIA

3

1.200

64

HEIDELBERG VOLKIES

4

0.950

65

CLIFTON

6

0.883

66

WATERKLOOF

8

0.800

67

PAREL VALLEI

5

0.720

68

DANIEL PIENAAR

5

0.640

69

ST ANDREWS SCHOOL

4

0.525

70

MICHAELHOUSE

9

0.500

71

BELLVILLE

4

0.350

72

SECUNDA

5

0.320

73

FICHARDTPARK

4

0.250

74

PENRYN COLLEGE

5

0.240

75

CAMBRIDGE

5

0.020

76

POTCH VOLKIES

10

-0.420

77

CBC BOKSBURG

5

-0.680

78

QUEENS COLLEGE

6

-0.750

79

PRETORIA BOYS HIGH

8

-0.788

80

CORNWALL HILL

10

-0.830

81

RANDBURG

6

-0.867

82

HUGENOTE WELL

4

-0.975

83

GRENS

5

-1.000

84

ST DAVIDS

9

-1.444

85

LYDENBURG

8

-1.925

86

ST STITHIANS

7

-1.986

87

CENTURION

6

-2.233

88

ELLISRAS

4

-2.375

89

WELKOM GYM

4

-2.375

90

JEUGLAND

4

-2.375

91

KEMPTON PARK

8

-2.775

92

NELSPRUIT

5

-2.920

93

ELDORAIGNE

7

-3.057

94

PIETERSBURG

4

-3.550