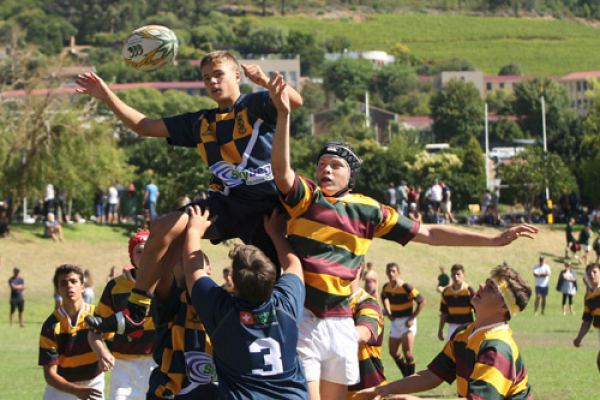 This Week's U14 Top 100 Rankings is virtually unchanged from last week although Grey High School has managed to gain a place in the top 10.
Grey High School got the better of Selborne College in a big way and treated them to a 70-0 whitewash which is an ominous warning of what this team is capable of doing on their day.
However with the season finale nearly upon us we can expect a few teams to still aspire for a strong finish. Amongst those teams will by Grey College who have a good chance to finish in the top five depending on their result against Paul Roos Gym this coming weekend.
Please send through your team's results to [email protected]
U14 RUGBY RANKINGS 16 AUGUST, 2018

RANK

TEAM

PLAYED

AVG BONUS POINTS

1

PAARL GIM

16

7.844

2

NORTHWOOD

15

6.913

3

HILTON COLLEGE

14

6.529

4

MENLOPARK

19

6.389

5

HELPMEKAAR

19

5.937

6

GREY COLLEGE

12

5.758

7

MARITZBURG COLLEGE

17

5.753

8

KES

15

5.713

9

GREY HIGH SCHOOL

15

5.580

10

AFFIES

15

5.293

11

DIE BRANDWAG

16

5.175

12

DURBANVILLE

17

4.894

13

PAARL BOYS HIGH

13

4.823

14

KLERKSDORP

15

4.800

15

CURRO NELSPRUIT

13

4.346

16

ZWARTKOP

17

4.312

17

MIDDELBURG HS

14

4.264

18

JEPPE

17

4.188

19

STELLENBERG

18

4.144

20

RONDEBOSCH

13

4.123

21

DHS

15

4.113

22

HUDSON PARK

15

4.013

23

HTS DROSTDY

14

3.986

24

DINAMIKA

12

3.925

25

GRAEME COLLEGE

10

3.890

26

FRAMESBY

18

3.889

27

BISHOPS

14

3.843

28

PEARSON

14

3.793

29

MONTANA PTA

16

3.744

30

MONUMENT

20

3.690

31

ST JOHNS COLLEGE

12

3.675

32

DIAMANTVELD

14

3.600

33

BOLAND LANDBOU

14

3.543

34

TRANSVALIA

15

3.327

35

WESTERING

10

3.320

36

SELBORNE COLLEGE

15

3.253

37

WYNBERG

17

3.159

38

KEARSNEY COLLEGE

13

3.092

39

EG JANSEN

14

3.050

40

WESTVILLE

12

3.025

41

MERENSKY

9

2.833

42

NORTHCLIFF

11

2.655

43

NICO MALAN

15

2.620

44

OUTENIQUA

14

2.607

45

GLENWOOD

18

2.606

46

BEN VORSTER

15

2.527

47

PAUL ROOS GYM

12

2.500

48

VOORTREKKER BETH

8

2.450

49

OAKDALE

14

2.357

50

SENTRAAL

10

2.350

51

NOORDHEUWEL

18

2.344

52

MARAIS VILJOEN

18

2.267

53

PAREL VALLEI

14

2.193

54

ST ALBANS COLLEGE

10

2.180

55

BREDASDORP

9

2.089

56

ST CHARLES COLLEGE

14

2.086

57

DANIEL PIENAAR

9

2.078

58

ALBERTON

14

2.057

59

WATERKLOOF

15

2.033

60

RUSTENBURG

15

1.987

61

DALE COLLEGE

12

1.908

62

SECUNDA

8

1.825

63

GARSFONTEIN

15

1.520

64

CLIFTON

13

1.515

65

HTS MIDDELBURG

16

1.481

66

RANDPARK

12

1.242

67

WESVALIA

7

1.200

68

DF MALAN

10

1.180

69

PARKTOWN

12

0.942

70

WITTEBERG

9

0.900

71

OOS MOOT

12

0.750

72

PIONIER

9

0.611

73

OTTO DU PLESSIS

13

0.531

74

STIRLING

7

0.529

75

CORNWALL HILL

16

0.444

76

UNION HS

5

0.400

77

HANS STRIJDOM

1

0.300

78

HANS MOORE

2

0.300

79

ST ANDREWS SCHOOL

6

0.233

80

CAMBRIDGE

15

0.213

81

POTCH VOLKIES

15

0.133

82

ST ANDREWS COLLEGE

12

0.117

83

SACS

11

0.009

84

MICHAELHOUSE

15

-0.247

85

ST BENEDICTS

12

-0.733

86

PRETORIA BOYS HIGH

15

-0.840

87

STRAND

9

-1.133

88

CBC BOKSBURG

8

-1.175

89

QUEENS COLLEGE

12

-1.350

90

ST STITHIANS

9

-1.356

91

GRENS

10

-1.510

92

ELDORAIGNE

12

-1.592

93

LYDENBURG

10

-1.710

94

RANDBURG

8

-1.800

95

ST DAVIDS

11

-1.945

96

BELLVILLE

10

-2.410

97

NELSPRUIT

13

-2.446

98

CENTURION

12

-2.500

99

KEMPTON PARK

15

-2.647

100

JEUGLAND

8

-3.488