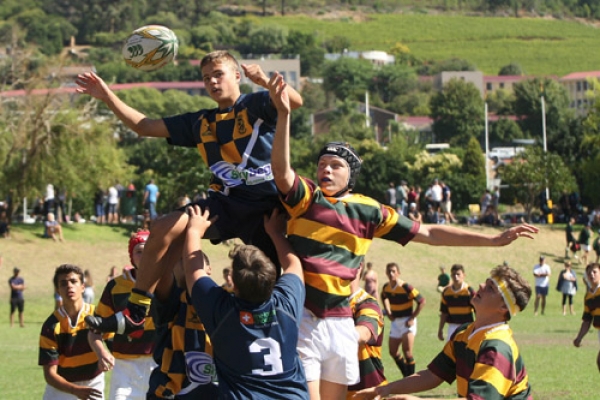 Northwood put together yet another crushing performance last week to notch up another 50 plus score and to remain unbeaten so far in 2018.
The rise to top of the U14 Rugby Rankings is somewhat of a renaissance for Northwood who for many seasons have flattered to deceive and never really put together a team that can challenge the best in the country. The U14 Northwood Knights could well turn out to be one of the finest groups of players the school has had for many years.
However it is Paarl Gym who remains at the top of this week's U14 school rugby rankings thanks to a comprehensive win over Boland Landbou. Paarl Gim is another team that remain unbeaten and it will be a tall order to reel them in at this stage of the season.
What about Klerksdorp who are attempting to bang down the door to gain entry into the Top 10 Zone? Some may argue that they may be a tad over valued but they certainly have played some good rugby this year, yet it is true they are in need of some quality opposition. Which one of the bigger names will take them on? With only an average of 4 points being scored against them how they would benefit from being tested by a top team!
Please send through your results to [email protected]
U14 RUGBY RANKINGS 1 JUNE, 2018

RANK

TEAM

PLAYED

AVG BONUS POINTS

1

PAARL GIM

13

7.854

2

NORTHWOOD

14

6.736

3

MENLOPARK

12

6.433

4

HELPMEKAAR

12

6.325

5

HILTON COLLEGE

11

6.155

6

GREY COLLEGE

10

5.700

7

MARITZBURG COLLEGE

11

5.655

8

KES

11

5.618

9

GREY HIGH SCHOOL

11

5.073

10

DIE BRANDWAG

12

4.983

11

KLERKSDORP

10

4.850

12

AFFIES

12

4.850

13

JEPPE

13

4.646

14

PAARL BOYS HIGH

9

4.522

15

FRAMESBY

13

4.415

16

ZWARTKOP

12

4.300

17

BISHOPS

9

4.178

18

ST JOHNS COLLEGE

11

4.127

19

STELLENBERG

13

4.069

20

DURBANVILLE

12

4.050

21

MONUMENT

13

3.946

22

DINAMIKA

8

3.875

23

CURRO NELSPRUIT

10

3.820

24

WESTERING

7

3.800

25

WESTVILLE

10

3.740

26

SELBORNE COLLEGE

9

3.622

27

MONTANA PTA

11

3.609

28

DHS

12

3.583

29

PEARSON

9

3.411

30

HUDSON PARK

10

3.410

31

TRANSVALIA

10

3.320

32

BOLAND LANDBOU

11

3.318

33

OUTENIQUA

9

3.267

34

PAUL ROOS GYM

9

3.233

35

MIDDELBURG HS

11

3.227

36

DIAMANTVELD

11

3.209

37

KEARSNEY COLLEGE

10

3.120

38

EG JANSEN

10

3.100

39

NICO MALAN

9

3.089

40

GLENWOOD

14

2.914

41

GRAEME COLLEGE

7

2.786

42

HTS DROSTDY

10

2.660

43

NORTHCLIFF

11

2.655

44

WYNBERG

10

2.600

45

ALBERTON

11

2.455

46

MARAIS VILJOEN

13

2.377

47

SENTRAAL

10

2.350

48

OOS MOOT

7

2.343

49

ST ALBANS COLLEGE

7

2.271

50

VOORTREKKER BETH

7

2.171

51

BEN VORSTER

10

2.170

52

DANIEL PIENAAR

8

2.125

53

BREDASDORP

9

2.089

54

HTS MIDDELBURG

11

1.991

55

NOORDHEUWEL

13

1.938

56

SECUNDA

8

1.825

57

PARKTOWN

10

1.810

58

DIE ANKER

7

1.686

59

GARSFONTEIN

11

1.600

60

RUSTENBURG

9

1.578

61

WATERKLOOF

11

1.564

62

PAREL VALLEI

9

1.500

63

ST CHARLES COLLEGE

11

1.482

64

OAKDALE

10

1.400

65

OTTO DU PLESSIS

7

1.243

66

RANDPARK

12

1.242

67

CLIFTON

10

0.950

68

PRETORIA BOYS HIGH

11

0.836

69

CAMBRIDGE

8

0.775

70

DALE COLLEGE

7

0.700

71

PENRYN COLLEGE

6

0.633

72

PIONIER

9

0.611

73

WITTEBERG

8

0.600

74

FICHARDTPARK

6

0.600

75

ST ANDREWS SCHOOL

6

0.233

76

ST ANDREWS COLLEGE

6

0.200

77

ST BENEDICTS

10

0.150

78

CORNWALL HILL

13

0.023

79

POTCH VOLKIES

14

-0.164

80

MICHAELHOUSE

12

-0.300

81

SACS

6

-0.667

82

BELLVILLE

6

-1.033

83

CBC BOKSBURG

7

-1.171

84

GRENS

8

-1.325

85

RANDBURG

7

-1.386

86

ST DAVIDS

9

-1.444

87

STRAND

7

-1.614

88

QUEENS COLLEGE

9

-1.656

89

LYDENBURG

10

-1.710

90

ELDORAIGNE

9

-1.911

91

ST STITHIANS

8

-1.975

92

NELSPRUIT

9

-2.489

93

CENTURION

8

-2.613

94

KEMPTON PARK

10

-2.830

95

HUGENOTE SPRINGS

6

-4.817