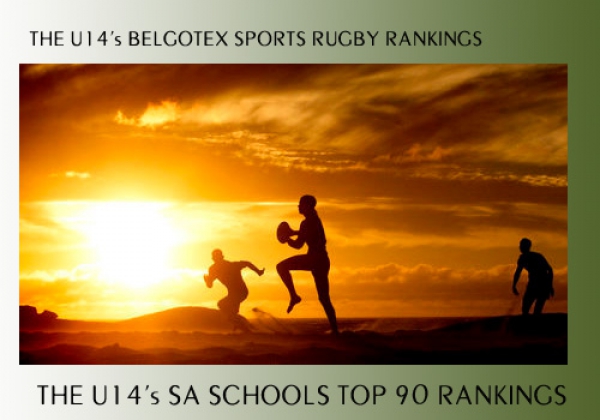 Paarl Gim seem to have hit their straps as we get close to the halfway mark of the season and with some good wins in the past couple of weeks have started to put pressure on the top three on this week's U14 Belgotex Sports Rankings.
However Outeniqua are still out in front although they had to work very hard to clinch a win over HTS Drostdy last week. Grey College came through a tough encounter with Selborne College to record another narrow win and stay within reach of the No.1 team.
Oakdale however slide out of the top five for the first time following their bitterly close lose to Paarl Gim who handed them their first defeat of the year.
Still plenty of rugby left in 2017 and we encourage you to get your results to us by sending them to [email protected]
U14 RUGBY RANKINGS 26 May 2017

RANK

TEAM

PLAYED

AVG PTS

1

OUTENIQUA

9

6,922

2

GREY COLLEGE

10

6,440

3

MENLOPARK

12

6,383

4

PAARL GIM

10

6,010

5

HELPMEKAAR

12

6,000

6

OAKDALE

8

5,963

7

MARITZBURG COLLEGE

9

5,678

8

SELBORNE COLLEGE

7

5,671

9

WESTVILLE

9

5,489

10

ST CHARLES COLLEGE

10

5,330

11

PAARL BOYS HIGH

9

5,244

12

KINGSWOOD COLLEGE

10

5,150

13

LIGBRON

11

5,055

14

MONUMENT

10

4,970

15

GLENWOOD

8

4,775

16

DURBANVILLE

9

4,767

17

HILTON COLLEGE

10

4,380

18

KEARSNEY COLLEGE

7

4,314

19

NELSPRUIT

5

4,300

20

PAUL ROOS GYM

7

4,257

21

JIM FOUCHE

10

4,250

22

NICO MALAN

9

4,233

23

VOORTREKKER BETH

8

4,225

24

AFFIES

11

4,182

25

RUSTENBURG

7

4,114

26

CURRO NELSPRUIT

11

4,091

27

MONTANA JHB

12

4,058

28

SACS

7

3,986

29

BISHOPS

9

3,944

30

ST STITHIANS

11

3,845

31

PEARSON

5

3,840

32

JEPPE

12

3,808

33

HTS DROSTDY

10

3,800

34

BOLAND LANDBOU

7

3,757

35

KES

11

3,755

36

OTTO DU PLESSIS

5

3,720

37

WITTEBERG

9

3,700

38

DIAMANTVELD

10

3,500

39

RANDPARK

8

3,463

40

WYNBERG

6

3,350

41

ELLISRAS

7

3,000

42

OOS MOOT

5

3,000

43

HUDSON PARK

7

2,986

44

ST JOHNS COLLEGE

10

2,970

45

SUTHERLAND

8

2,950

46

MIDSTREAM

7

2,943

47

GRAEME COLLEGE

6

2,783

48

PAREL VALLEI

6

2,783

49

SECUNDA

6

2,767

50

TRANSVALIA

8

2,363

51

DALE COLLEGE

6

2,300

52

KRUGERSDORP

9

2,167

53

CLIFTON

10

2,100

54

GREY HIGH SCHOOL

7

2,071

55

RONDEBOSCH

6

2,000

56

QUEENS COLLEGE

7

1,929

57

HS ALBERTON

5

1,840

58

MARAIS VILJOEN

8

1,713

59

ST DAVIDS

13

1,685

60

HUGENOTE SPRINGS

7

1,543

61

HTS MIDDELBURG

10

1,470

62

NOORDHEUWEL

7

1,429

63

CENTURION

5

1,420

64

FRAMESBY

10

1,260

65

HANS MOORE

5

1,220

66

ST ANDREWS COLLEGE

11

1,200

67

STIRLING

5

1,040

68

WESVALIA

7

0,971

69

ST BENEDICTS

15

0,713

70

LICHTENBURG

10

0,670

71

MIDDELBURG HS

7

0,600

72

PARKTOWN

6

0,567

73

NORTHCLIFF

10

0,560

74

STELLENBERG

10

0,530

75

HOOGENHOUT

6

0,400

76

ST ALBANS COLLEGE

12

0,258

77

WONDERBOOM

5

0,240

78

CORNWALL HILL

5

0,200

79

PIETERSBURG

5

0,160

80

HERMANUS

8

0,138

81

FLORIDA

5

0,100

82

UPLANDS COLLEGE

8

-0,038

83

MICHAELHOUSE

8

-0,075

84

KEMPTON PARK

9

-0,078

85

WATERKLOOF

9

-0,111

86

JAN VILJOEN

11

-0,418

87

DF MALAN

5

-0,480

88

DHS

8

-0,525

89

LYDENBURG

8

-0,638

90

NORTHWOOD

9

-0,656

91

PRETORIA BOYS HIGH

9

-0,756

92

GARSFONTEIN

7

-0,771

93

CBC BOKSBURG

6

-0,867

94

CAMBRIDGE

5

-1,280

95

EG JANSEN

6

-1,333

96

JEUGLAND

5

-1,680

97

LABORI

5

-2,180

98

NOORD KAAP

5

-2,975

99

BELLVILLE

6

-6,200