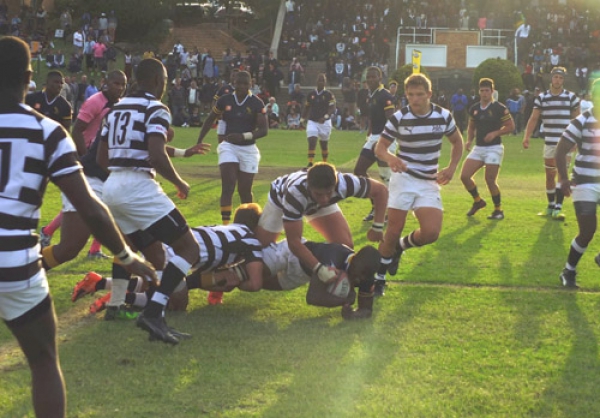 This Week's Belgotex Sports U14 Rankings sees a marginal change from last week with Paarl Boys High climbing into the top 10 for the first time in 2017.
There has been a tremendous amount of interest and support for the rankings which we appreciate.
It must be remembered however that this is a grownups rankings equation and not a simplistic win/loss ratio which may be what some are looking for but is far too parochial.
This ranking algorithm makes use of several factors in the equation which includes: Home/away, margin of victory, margin of loss, actual points scored on the field and most importantly the strength of the opposition.
All these factors garners a team with a prescribed amount of bonus points which is accumulated and divided by the amount of matches played to render an "avg points" which is ultimately ranking a team.
As there are many variables taken into consideration it stands to reason that a result cannot be taken in isolation to all the other results that have been played and therefore it would be too naive to assume that just because TEAM A won their last match they should automatically be going up the table. Other results were also played and will have a bearing on the equation and the final standing of all the teams.
It is most important to get any outstanding results in and we encourage you to send them to [email protected] to ensure they are included.
U14 RUGBY RANKINGS 9 May 2017

RANK

TEAM

PLAYED

AVG PTS

1

OUTENIQUA

7

6,943

2

SELBORNE COLLEGE

5

6,860

3

GREY COLLEGE

8

6,613

4

OAKDALE

7

6,586

5

MENLOPARK

11

6,345

6

PAARL GIM

9

6,122

7

HELPMEKAAR

12

6,000

8

WESTVILLE

7

5,786

9

GLENWOOD

7

5,629

10

PAARL BOYS HIGH

7

5,357

11

BISHOPS

7

5,314

12

MARITZBURG COLLEGE

7

5,286

13

KINGSWOOD COLLEGE

9

5,033

14

HILTON COLLEGE

9

4,967

15

ST CHARLES COLLEGE

9

4,800

16

CURRO NELSPRUIT

8

4,775

17

SACS

6

4,650

18

LIGBRON

9

4.612

19

KEARSNEY COLLEGE

7

4,314

20

NELSPRUIT

5

4,300

21

ST STITHIANS

9

4,300

22

MONUMENT

8

4,150

23

KES

9

4,122

24

RUSTENBURG

6

4,000

25

DURBANVILLE

7

3,971

26

HTS DROSTDY

8

3,963

27

PAUL ROOS GYM

6

3,867

28

HUDSON PARK

6

3,733

29

NICO MALAN

7

3,629

30

DALE COLLEGE

4

3,625

31

AFFIES

9

3,611

32

DIAMANTVELD

7

3,557

33

PEARSON

4

3,425

34

SUTHERLAND

5

3,400

35

WITTEBERG

8

3,288

36

JEPPE

11

3,282

37

ELLISRAS

6

3,233

38

MONTANA JHB

4

3,000

39

ST JOHNS COLLEGE

10

2,970

40

BOLAND LANDBOU

6

2,967

41

WYNBERG

5

2,700

42

OOS MOOT

4

2,550

43

CLIFTON

8

2,450

44

MIDSTREAM

5

2,380

45

TRANSVALIA

8

2,363

46

KRUGERSDORP

9

2,167

47

FRAMESBY

9

2,033

48

BRANDWAG

4

1,900

49

GREY HIGH SCHOOL

5

1,780

50

ST DAVIDS

10

1,680

51

CENTURION

4

1,625

52

MARAIS VILJOEN

7

1,543

53

HUGENOTE SPRINGS

7

1,543

54

RONDEBOSCH

4

1,475

55

ST ANDREWS COLLEGE

9

1,244

56

HANS MOORE

5

1,220

57

JIM FOUCHE

4

1,200

58

BEN VORSTER

4

1,200

59

SECUNDA

4

1,200

60

HTS MIDDELBURG

9

1,167

61

WESVALIA

6

1,000

62

ST BENEDICTS

13

0,754

63

NOORDHEUWEL

6

0,750

64

FLORIDA

4

0,625

65

PAREL VALLEI

4

0,575

66

PARKTOWN

6

0,567

67

QUEENS COLLEGE

5

0,540

68

MIDDELBURG HS

6

0,533

69

CORNWALL HILL

4

0,500

70

HERMANUS

6

0,483

71

DHS

6

0,433

72

ST ALBANS COLLEGE

11

0,409

73

MICHAELHOUSE

6

0,400

74

HOOGENHOUT

6

0,400

75

STELLENBERG

8

0,338

76

WATERKLOOF

7

0,314

77

UPLANDS COLLEGE

7

0,314

78

KEMPTON PARK

8

0,300

79

WONDERBOOM

5

0,240

80

LYDENBURG

6

0,217

81

PIETERSBURG

5

0,160

82

KLERKSDORP

4

0,025

83

FRIKKIE MEYER

4

-0,225

84

NORTHCLIFF

7

-0,386

85

NORTHWOOD

9

-0,656

86

GARSFONTEIN

7

-0,771

87

CBC BOKSBURG

6

-0,867

88

PRETORIA BOYS HIGH

8

-0,975

89

RIEBEECKRAND

4

-1,175

90

EG JANSEN

6

-1,333

91

POTCH VOLKIES

4

-1,650

92

HUGENOTE WELL

-4

-1,800

93

JEUGLAND

4

-1,900

94

BELLVILLE

5

-6,060