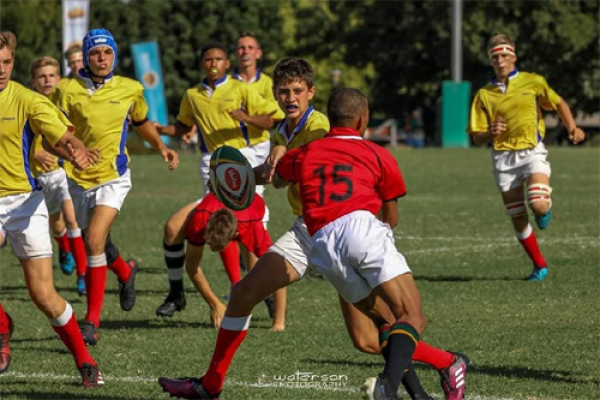 It has been a near perfect start from the Grey College and Outeniqua U14 teams in their first taste of High School rugby and they are currently resting at the top of this week's U14 School Rugby Rankings.
Grey College have brushed aside the opposition from their past five outing amassing some huge scores in the process and look to be a team that few will match on their current form.
However their namesake Grey HS are also in the mix with an unbeaten four match run with Outeniqua who were busy lighting up the fields with win after win until they met Paarl Boys High who handed them their first defeat.
HTS Drostdy is also showing signs of developing into a classy outfit with wins over Boishaai and Oakdale amongst their 7 scalps.
Still as most will realise we are still in the early part of the season, the minimum amount of matches has been set to 3 which means that there are still many teams that need to be added to the table which is sure to displace some of the current teams.
Bear in mind that the rankings formula makes use of several factors such as strength of opposition, margin of victory, margin of defeat, result (W/L/D), home and away status, actual points scored on the field and others in determining the rankings.
We are looking forward to a competitive season in one of the most excited age groups so would appeal to all the coach and schools to send through your results to [email protected]
U14 RANKINGS 12 APRIL, 2019

RANK

TEAM

PLAYED

AVG BONUS POINTS

1

GREY COLLEGE

5

8.500

2

OUTENIQUA

6

7.933

3

GREY HIGH SCHOOL

4

6.750

4

SELBORNE COLLEGE

3

6.667

5

HTS DROSTDY

7

6.643

6

OAKDALE

4

6.425

7

HELPMEKAAR

6

6.250

8

GLENWOOD

5

6.100

9

PAARL GIM

4

5.850

10

MARLOW

3

5.833

11

HILTON COLLEGE

3

5.767

12

MIDDELBURG HS

5

5.360

13

QUEENS COLLEGE

5

5.280

14

RONDEBOSCH

3

4.967

15

MONUMENT

5

4.800

16

GARSFONTEIN

4

4.475

17

PAARL BOYS HIGH

3

4.467

18

STELLENBERG

4

4.425

19

HUDSON PARK

6

4.133

20

KES

7

3.943

21

PAUL ROOS GYM

4

3.930

22

MARITZBURG COLLEGE

5

3.860

23

NORTHCLIFF

5

3.600

24

DIE BRANDWAG

5

3.600

25

DHS

4

3.525

26

FRAMESBY

6

3.417

27

GRAEME COLLEGE

6

3.267

28

WESTVILLE

5

3.220

29

MENLOPARK

3

3.033

30

DURBANVILLE

4

3.000

31

JAN VILJOEN

3

2.933

32

ROB FERREIRA

4

2.925

33

WYNBERG BH

3

2.467

34

PAREL VALLEI

4

2.450

35

BOLAND LANDBOU

4

2.425

36

OTTO DU PLESSIS

3

2.367

37

PIETERSBURG

4

2.250

38

AFFIES

4

2.175

39

RANDPARK

3

2.133

40

PEARSON

6

1.967

41

WITTEBERG

4

1.925

42

WATERKLOOF

5

1.580

43

TUINE

6

1.567

44

ST ALBANS COLLEGE

4

1.550

45

ST ANDREWS COLLEGE

4

1.425

46

POTCH VOLKIES

5

1.280

47

MONTANA PTA

4

1.225

48

VOORTREKKER BETH

3

1.133

49

CURRO NELSPRUIT

3

1.067

50

HUGENOTE WELL

3

0.900

51

BEN VILJOEN

3

0.867

52

TRANSVALIA

4

0.650

53

BELLVILLE

4

0.450

54

WESVALIA

4

0.200

55

NICO MALAN

5

0.160

56

DIAMANTVELD

3

0.133

57

HTS MIDDELBURG

2

0.050

58

JEUGLAND

3

-0.300

59

ZWARTKOP

4

-0.575

60

DF MALAN

3

-0.733

61

ST DAVIDS

3

-1.067

62

ELDORAIGNE

4

-1.125

63

BRACKENFELL

5

-1.500

64

BRANDWAG

4

-1.700