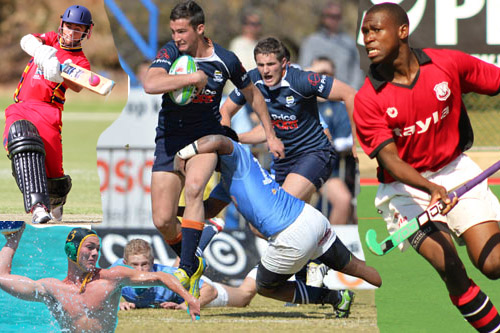 So who are the Top Boys Sports Schools of the Decade? 
Any attempt to compile a Top Boys Sport Schools of the Decade Rankings is bound to be contentious. There are several reasons for this. Firstly, it is difficult to include all the various sports offered in the equation and secondly few have a clear picture of how well their teams performed over the past ten years and are therefore subjective.  
What we have done is to take the rankings for the four sports (Rugby, Cricket, Water Polo and Hockey) and worked out how schools have performed across those codes.
Of course, some good sport schools may not offer one or more of these codes but may offer other sports such as athletics which have not been included. Thus, there will be some conjecture and contention. Hopefully this gives a rough idea of which schools have been able to lead school sport in the country during the 2000 and teens.
TOP BOYS SPORT SCHOOLS OF THE  DECADE

RANK

TEAM

RUGBY, CRICKET, WPOLO & HOCKEY COMBINED PTS

1

GREY HIGH SCHOOL

99.00

2

GREY COLLEGE

95.64

3

RONDEBOSCH

90.38

4

GLENWOOD

86.19

5

SELBORNE COLLEGE

85.11

6

PAUL ROOS GYM

84.62

7

AFFIES

83.58

8

ST ANDREWS COLLEGE

83.09

9

HILTON COLLEGE

81.32

10

SACS

80.76

11

BISHOPS

79.60

12

KES

72.43

13

ST STITHIANS

70.31

14

ST JOHNS COLLEGE

69.97

15

WESTVILLE

69.90

16

JEPPE

69.40

17

CLIFTON

69.19

18

KEARSNEY COLLEGE

69.09

19

PRETORIA BOYS HIGH

64.51

20

MARITIZBURG COLLEGE

63.85

21

PAARL BOYS HIGH

62.48

22

PAARL GIM

62.02

23

WYNBERG

60.07

24

MICHAELHOUSE

57.20

25

ST ALBANS COLLEGE

51.13

26

HUDSON PARK

49.81

27

ST DAVIDS

49.29

28

GARSFONTEIN

48.07

29

PEARSON

45.55

30

OUTENIQUA

42.92

31

WATERKLOOF

41.53

32

NORTHWOOD

41.47

33

KINGSWOOD COLLEGE

39.84

34

DALE COLLEGE

39.40

35

DHS

39.34

36

MENLOPARK

38.65

37

ST BENEDICTS

37.43

38

MONUMENT

36.21

39

QUEENS COLLEGE

35.01

40

STELLENBERG

33.91

41

ST CHARLES COLLEGE

33.30

42

HELPMEKAAR

31.46

43

OAKDALE

31.24

44

ST ANDREWS SCHOOL

29.94

45

EG JANSEN

27.43

46

PARKTOWN

26.30

47

STIRLING

25.94

48

NELSPRUIT

25.12

49

REDDAM

24.41

50

SOMERSET COLLEGE

24.21

51

BOLAND LANDBOU

23.85

52

FRAMESBY

23.08

53

YORK

22.67

54

WOODRIDGE

22.17

55

GLENWOOD HOUSE

21.01

56

WORCESTER GYM

20.29

57

WESTERFORD

19.78

58

FAIRMONT

19.29

59

DIE BRANDWAG

19.22

60

GRAEME COLLEGE

18.69

61

KRUGERSDORP

18.42

62

ELDORAIGNE

18.39

63

HTS MIDDELBURG

18.10

64

CRAWFORD LONEHILL

18.01

65

PAREL VALLEI

18.01

66

MARLOW

16.82

67

TRANSVALIA

16.57

68

HTS DROSTDY

16.34

69

CAMBRIDGE

16.12

70

DIAMANTVELD

15.97

71

WELKOM GYM

15.82

72

POTCH GIM

15.42

73

OOS MOOT

15.34

74

VOORTREKKER BETH

15.19

75

PORT REX

15.03

76

NOORD KAAP

14.96

77

BEN VORSTER

14.34

78

CENTURION

14.16

79

THOMAS MORE COLLEGE

13.73

80

NICO MALAN

13.64

81

DF MALAN

13.20

82

ST PETERS

12.57

83

BRACKENFELL

12.46

84

LIGBRON

12.45

85

NOORDHEUWEL

12.35

86

SECUNDA

12.24

87

MIDDELBURG

12.23

88

HERMANUS

11.89

89

TRINITYHOUSE

11.88

90

AHS KROONSTAD

11.55

91

ALEX ROAD

11.42

92

HANS MOORE

11.26

93

DURBANVILLE

11.23

94

LINDEN

10.98

95

MUIR COLLEGE

10.85

96

CHARLIE HOFMEYR

10.49

97

JIM FOUCHE

10.25

98

HEIDELBERG VOLKIES

9.77

99

LICHTENBURG

9.56

100

MARAIS VILJOEN

9.43

101

LOUIS BOTHA

9.13
Check out the list of the top Rugby Schools for the Decade