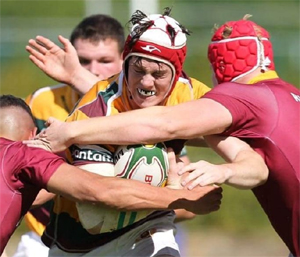 Even a brief glance at these years First XV Rugby Rankings will reveal to even the most inexperienced eye that all the teams suffered from not having the opportunity of playing enough matches.
Paarl Gim will end the season as the leading team in South Africa and perhaps few will argue with this when we consider that they did manage to beat Grey College and remain unbeaten. However, there is still that feeling that had the season run its course without the COVID-19 restrictions, perhaps other teams would have been able to test their endurance.
Sadly, that was not to be and although we have experienced a staccato season, we still need to pay homage to the players and coaches who managed under intensely difficult conditions to still put together a semblance of a rugby season.
It can be argued that some teams on the rankings table are over-valued and should not be so highly ranked whilst others are too far down. Unfortunately, the lack of fixtures has not helped to iron out any anomalies and many of the traditionally top teams were prevented from getting into their stride when the restrictions were imposed.
Yet we congratulate all players and coaches who trained throughout this year and endured despite the disappointments.
If you have any other outstanding results for your team please send them to [email protected]
We have limited inclusion on the rankings table to a minimum of three matches played. This has naturally led to many team not making it onto the rankings as they only managed to play one or two matches. 
FIRST XV RANKINGS 17 SEPT, 2021

RANK

TEAM

PLAYED

AVG BONUS POINTS

1

PAARL GIM

5

10.460

2

GREY COLLEGE

4

9.050

3

OAKDALE

4

9.025

4

BISHOPS

4

8.100

5

OUTENIQUA

3

8.033

6

PAARL BOYS HIGH

5

7.240

7

DURBANVILLE

4

7.025

8

GLENWOOD

5

6.720

9

MARITZBURG COLLEGE

8

6.706

10

MONUMENT

7

6.186

11

HILTON COLLEGE

4

6.150

12

STELLENBERG

5

6.140

13

KES

4

5.775

14

EG JANSEN

8

5.763

15

AFFIES

4

5.675

16

ST ANDREWS COLLEGE

4

5.650

17

WATERKLOOF

4

5.650

18

GREY HIGH SCHOOL

3

5.133

19

 NELSPRUIT

5

4.960

20

JEPPE

3

4.833

21

WESTVILLE

4

4.450

22

WYNBERG BH

4

4.375

23

MICHAELHOUSE

4

4.275

24

 RUSTENBURG

3

4.233

25

 GARSFONTEIN

5

4.040

26

 PAUL ROOS GYM

3

4.033

27

MENLOPARK

4

3.725

28

POTCH VOLKIES

3

3.700

29

DIE ANKER

8

3.338

30

CENTURION

3

3.333

31

HTS DROSTDY

4

3.275

32

 MARLOW

3

3.167

33

LANDBOUDAL

4

3.075

34

ST STITHIANS

3

3.033

35

WITTEBERG

3

3.000

36

DIAMANTVELD

3

2.733

37

FOCHVILLE

3

2.733

38

MIDDELBURG HS

3

2.667

39

NORTHWOOD

3

2.467

40

KEARSNEY COLLEGE

4

2.250

41

NOORD KAAP

4

2.225

42

BEN VORSTER

4

2.200

43

DUINEVELD

3

2.067

44

POTCH GIM

3

1.967

45

RONDEBOSCH

4

1.950

46

ZWARTKOP

4

1.925

47

LINDEN

5

1.900

48

 HELPMEKAAR

7

1.857

49

GRAEME COLLEGE

4

1.850

50

DHS

4

1.825

51

 NOORDHEUWEL

7

1.657

52

LIGBRON

4

1.650

53

MONTANA PTA

4

1.500

54

WESVALIA

3

1.367

55

SACS

4

1.275

56

MIDSTREAM

3

1.267

57

HEIDELBERG VOLKIES

4

1.225

58

WELKOM GYM

4

1.125

59

 MARAIS VILJOEN 

5

1.060

60

PAREL VALLEI

3

1.000

61

PRETORIA BOYS HIGH

4

1.000