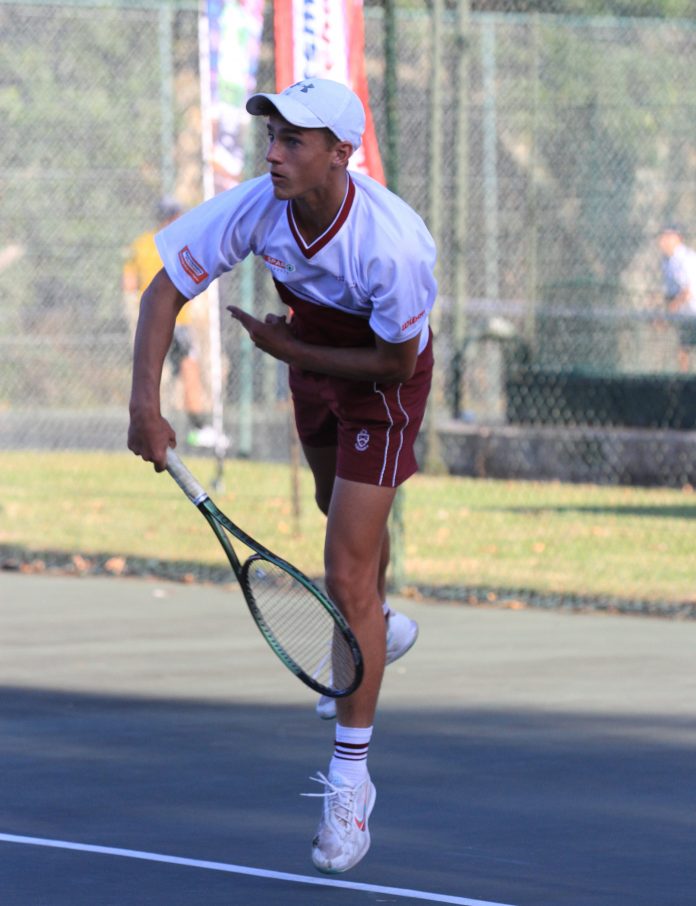 The annual three-day Spar Tennis Festival of the country's top tennis-playing schools is currently underway at Kearsney College in Botha's Hill.  Eight teams are competing in the 26th anniversary of this festival. A number of matches were decided on the outcome of the super tie-break. Paul Roos eventually won by 5 matches to 2.
The three days were played at a high level and in a good spirit, with final results as follows: 1st Paul Roos Gimnasium, 2nd Westville Boys' High, 3rd Grey College, 4th Affies, 5th Kearsney College, 6th St Davids, 7th Pretoria Boys High, 8th Rondebosch Boys
DAY ONE
Paul Roos beat Westville Boys High 7-2
Grey College beat Affies 8-1
Kearsney College beat Pretoria Boys 7-2
St Davids beat Rondebosch 7-2
Paul Roos beat St Davids 9-0
Grey College beat Kearsney 8-1
Westville beat Rondebosch 9-0
Affies beat Pretoria 9-0
DAY TWO
Paul Roos beat Rondebosch 6-0
Affies beat Kearsney 6-3
Westville beat St Davids 6-0
Grey College beat Pretoria Boys 6-0
Westville beat Grey 5-4
Paul Roos beat Affies 6-0
Kearsney beat Rondebosch 6-0
St Davids beat Pretoria Boys 5-4
DAY THREE
Final: Paul Roos beat Westville 5-2
3/4 playoff: Grey College beat Affies 6-3
5/6 playoff: Kearsney beat St Davids 5-1
7/8 playoff: Pretoria Boys beat Rondebosch 5-4
Match report compiled by Working Words
Photo: Caleb Fyvie
Photo credit:Tracey van den Aardweg.