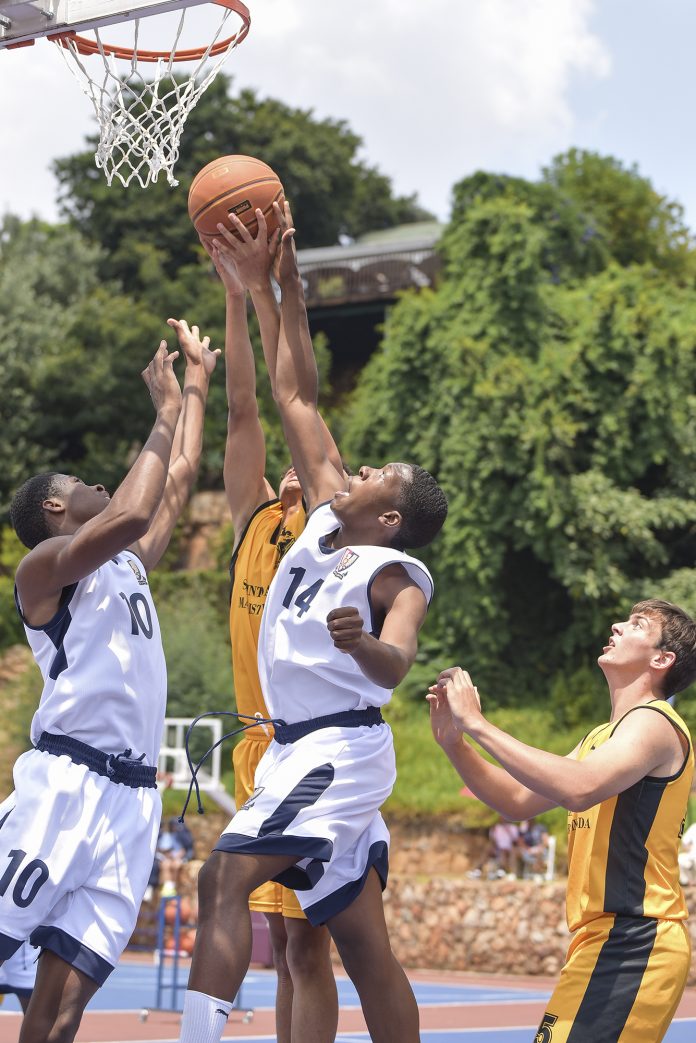 Roundup: 16th St John's College Basketball Tournament, proudly sponsored by Standard Bank
The 2022 St John's College Basketball Tournament, proudly sponsored by Standard Bank and brought to you by SuperSport Schools, saw 55 teams — more than 800 players — competing at St John's College over the mid-term break from 24 to 27 February. 
It was fantastic to have so many teams and spectators back at the St John's courts after the much smaller non-spectator event that took place in 2021. COVID-19 protocols were in place for the duration of the four-day event.
All 55 teams, many of which had travelled across the country to participate, competed in a round-robin before progressing to the knockout stages. This year's event saw 11 U13 teams, 20 U15 teams and 24 U19 teams on the courts. 
The first day of the tournament benefitted from glorious Johannesburg weather, with all games in the pool stages taking place. Day two was disrupted by a heavy Highveld storm in the afternoon. Shifting to an earlier start on day three allowed the organisers to reschedule the games postponed by the previous day's bad weather, and the round-robin, top 16 and quarterfinal phase of the tournament was completed.
On the final day of the tournament, the U13 contestants started proceedings. St Benedict's Prep defeated Michael Mount Waldorf School 19-17 in the semi-finals, and Pridwin Prep beat the Mangaung Knights 34-25.
In the U15 category, St Stithians Boys' won their game against St John's College, with a score of 38-33, securing their spot in the final against Michael Mount, who had won their game against Pretoria Boys with a final score of 31-22. In the U19 age group semi-final, hosts St John's College were defeated by the 2021 champions, St Albans College, with a final score of 28-15. The second U19 semi-final was fiercely contested by KwaZulu-Natal rivals, St Charles College who eventually triumphed over Northwood School with a 21-17 final score.
Unfortunately, afternoon Highveld storms struck again, with fierce lightning. The tournament was paused, interrupting the U13 final between Pridwin Prep and St Benedict's Prep. By 16h00, there was still no sign of a lightning 'all-clear', so the decision was made to regrettably call off the tournament. St Stithians Boys' were due to meet Michael Mount Waldorf School in the U15 final, and the defending titleholder, St Alban's College, was more than ready to face off against St Charles in the U19 final. 
It was incredibly disappointing for the players to make it through to the finals after three fantastic days of basketball and not be able to play. St John's College decided to award all age-group finalists as co-winners of the 16th St John's College Basketball Tournament. Medals will be delivered to these teams and their coaches, and the trophies will be shared equally by the schools during the year ahead. 
U19s: St Alban's College and St Charles College
U15s: Michael Mount Waldorf School and St Stithians Boys' College
U13s: Pridwin Preparatory and St Benedict's Preparatory
"What a joy it was to see the basketball teams competing on our courts with passion, spirit and true competitiveness," said Mr Stuart West, Executive Headmaster. "Sadly, the final games could not take place due to the storm on Sunday afternoon, but we thank and salute all the teams and players for another wonderful St John's College Basketball Tournament."
Tournaments of this nature would not be possible without the support of our sponsors. Thank you to our headline sponsor, Standard Bank, whose contribution to developing sporting programmes continues to help elevate the role of sports in Africa's story.
Our partnership with SuperSport Schools allowed us to stream these games live to our friends and families worldwide, ensuring that nobody missed the action.
Finally, we would like to thank Mr Jameson Hlongwane and our Basketball Parents' Committee. They worked tirelessly on planning and executing the event and their enormous effort in support of basketball at St John's College is deeply appreciated.
Match Report compiled by: St Johns College