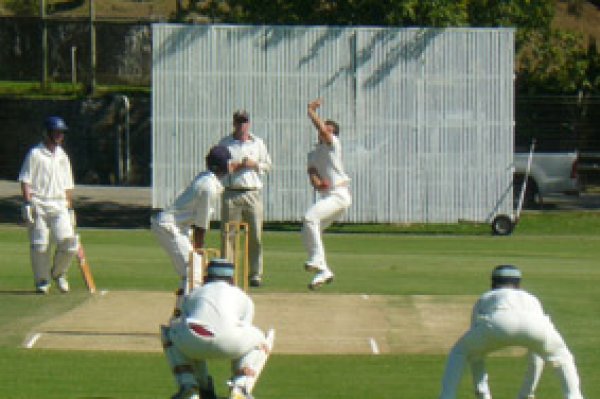 Prestige and history await you in every direction you turn as you make sure you are positioned exactly as your captain has ordered. It is little wonder you feel taken aback, after all you are standing on one of the oldest schools sports fields this country can lay testament to.The small city of Grahamstown otherwise referred to as the City of Saints because of its countless churches is the proud home to one of the country's oldest schools, that of St Andrew's College. A school steeped in tradition founded in 1855 by Bishop John Armstrong has become one of the country's leading educational institutions. Another name given to this quaint city is the 'city of schools' as it's renowned for its many excellent schools and of course Rhodes University.
Over and above its excellence on the academic front it has become one of the foremost cricket schools in the country over the past two years. It is with little coincidence that the rise in the schools cricket success has come about through the acquisition of Carl Bradfield, the former Eastern Province stalwart who has become Director of Cricket at the school.
What makes St Andrew's success even more remarkable is that it is a school with roughly only 450 boys. If you also take into account that cricket has to compete with water polo and rowing (St Andrew's most successful sport in recent years) for numbers, you realize what an achievement their results have been. They often are competing against schools that on occasions have an excess of over 1500 pupils yet they manage to pull way above their weight. Nec Aspera Terrent – difficulties do not dismay us, a motto that stands true to this school.
To their advantage the majority of boys at St Andrew's board which instils a close bond of brotherhood that they carry through onto the sport fields. Cricket is largely a game of discipline, waiting for your opponent to make a mistake. Being a boarder certainly helps in this aspect because attending a boarding school teaches you strong self discipline that you can carry into any aspect of your life.
You then have to ask the question why has there been such a turnaround in results over the past two seasons? There are two possible outcomes to this, firstly either they have had an extremely talented group of boys at their disposal or it has been because of structures that have been put in place to improve the standard of cricket. It's always difficult to determine the exact outcome at school level and I guess only time will tell if St Andrew's turns into a true cricket school powerhouse in coming years.
Carl Bradfield puts it down to a mixture of the two, 'there has definitely been a talented group over the past couple of years however at the same time one or two players have developed which has given the 1st X1 more depth. There has been a concerted effort by Old Andreans towards improving facilities and the overall cricket culture in the school. The coaching staff has been fully committed to intense match assimilated practice sessions and exposed the players to a large number of fixtures and a variety of match conditions. The vital ingredient has been an enthusiastic coaching staff with a contagious passion for the game.'
Having attended school at Kingswood College, ironically St Andrew's biggest rivals, Bradfield knew the history and legacy surrounding the school. Many great coaches and cricketers have passed on through the school and Bradfield knew that the school needed to ignite past legacies that had been left behind through them.
Due to having the exposure as an ex-professional cricketer Bradfield knows how hard to push the players in terms of the skills and mental strength needed to perform at a higher level. Scott Jackson who has been first team coach for the past 5 seasons has benefited from the acquisition of Bradfield and together with the support of the Andrean community are transforming cricket at the school immensely.
St Andrew's have had a sparkling run of form over the past two years. A major contributing factor to this is that they have had Ryan Dugmore captain them in both years in over 40 fixtures. It is certainly a rare achievement to captain a school's first team side two years running and Dugmore has taken up to the challenge superbly. He has gone on to captain the Warriors Franchise in the U17 Franchise Clubs Week. Bradfield speaks of him highly and refers to his as his 'go to man when the game is on the line.'
What makes Ryan so lethal is that he is a leg spinner. If there's one thing that South African cricket needs at the moment is a lethal spinner. Sure Paul Harris can do a holding job but you need a man who can rip through the middle order on days 4 and 5 of a test match. Imagine the South African attack with a player even half of what Warnie was. You start to see the picture – an awesome balanced bowling attack. 'Leg spinners are gold at any level and we are very privileged to have Ryan give it a rip for our 1st X1′ remarks Bradfield.
Bradfield tries to promote spin within the schools cricket setup, 'the biggest challenge is finding Captains who can captain the spinners. I.e. bring them on at the correct time and have the correct field placing. Unfortunately the first goal of a spinner, especially leg-spinners is to make sure you have second over.' Promoting spin I feel is a massive responsibility that rest on the schools shoulders in South Africa. If they have any foresight they will realise that the development of spinners starts at junior levels. If the Proteas start producing more spinners then more juniors will want to follow in their footsteps.
Due to changes in the professional game, school cricket has had to follow suit. T20 competitions are now becoming a frequent occurrence and although many people feel it may destroy the game of cricket, Bradfield has a different stance 'T20 cricket serves a great purpose in school cricket. The 20-20 format raises the player's intensity and places pressure on the players. It becomes very obvious which players can handle the heat of the moment. It also encourages positive run rates and if managed carefully the batsman can bring this into the 50 over format.'
James Price is certainly a player who can handle the heat of the moment. When you think of the word BMT (Big Match Temperament) Price instantly comes to mind. He can turn the game on its head in a matter of overs, be it with bat or ball. 'Price is a hard hitting all rounder who has made some sparkling centuries in the CSA U19 3 – day competition. James has the ability to take a game away from the opposition, a coach searches for this type of player, in the back of his mind it gives him the edge' exclaims Bradfield. Price's ruthlessness was illustrated when in only grade 10 he tore Grey PE's bowling attack to shreds on his way to a magnificent century. One of the great knocks witnessed on Lower in recent memory.
Bradfield has high hopes that both Dugmore and Price will be selected for the SA U19 side at the end of the Coca Cola week.
If we want to really gage a team's success in schoolboy cricket then it is best to look at their results during the first season of cricket at the beginning of the year rather than when they play their second season of cricket at the end of the year. The reason being is that many matrics chose rather to focus on their academics during the second season as matric finals are around the corner. Teams experiment with young players often choosing U15's to see whether they can make the cut at first team level. The point is that every team in the first season is on equal footing period.
In 2009 St Andrew's demonstrated that they meant business when their record at the end of the first season resulted in 11 wins 3 draws and just the one loss out of 15 games. This powerful display of cricket meant that St Andrew's had arrived as one of the leading school cricket teams in the country. Fast forward to 2010 and a similar path has taken shape. Although there were two early losses in the beginning of the season to Wynberg and Muir College they have stuck to their guns and are on an exceptional run of form at present. Top teams do suffer the odd unforgiveable result but its how they bounce back that's important. Who can forget England's T20 world cup defeat at the hands of the Netherlands or even South Africa's defeat to the same opposition in the early 90's? What about Pakistan's embarrassment at the hands of the Irish in the last world cup?
After two early losses St Andrew's have gone on to beat top opposition, humiliating Selborne and Queens College by 9 and 8 wickets respectively. They then won what has been the match of year so far in the Eastern Cape where they beat Grey PE. Having bowled Grey out for 185 in 78 overs (declaration match) St Andrew's needed 115 runs in the final 20 with 8 wickets remaining. It came down to the last over when St Andrew's needed 7 runs with three wickets in hand. A six of the first ball, followed by a wicket the very next delivery and only with the penultimate ball of the game did St Andrew's scamper through for the winning run. An outcome which hasn't been achieved by this proud school against Grey PE for many a year. Going to press St Andrew's have just come off an impressive and clinical 9 wicket win against Grahamstown neighbours Graeme College.
What this has meant is that St Andrew's will go into the Independent Schools Festival at St Albans with great confidence. They face tough opposition in the form of Bishops, St John's and Michaelhouse and will be fearless in their approach. Another big challenge that lies in store will be their encounter against the winners of the Port Elizabeth region in the Eastern Cape final leg of the National T20 Competition.
Their intense preparation will put them in good stead to maintain their form. Players started preparing for the coming year as early as July and having one on one sessions with a former player of the calibre of Carl Bradfield means they are receiving quality coaching. It seems that the performances of Eastern Cape school cricket are filtering through to the Warriors at senior level. The Warriors recent win in the 40 over MTN championship, their first trophy since the 6 team franchise format was introduced shows they now have the confidence to reach greater heights.
Bradfield talks of how the province is identifying talent 'the Warriors are doing a great job in monitoring talent and the evidence is there with NMMU team winning the Universities and Club Championships cricket weeks along with the Warriors recent success.' What's next for Bradfield? Surely he has aspirations of one day returning to the professional fold as a coach where he spent such a big part of his life as a player. 'I have a great desire to get closer to the action and coaching successfully at the highest level would be the ultimate, more importantly I must enjoy the journey along the way.'
For now however Bradfield is committed to St Andrew's College and is looking to build on the success of the past 2 seasons. Time will tell weather this team's success is a result of a talented group of individuals or whether structures have been put in place which will allow future first teams to perform they way the current one is. What is certain though is that whatever the outcome, Bradfield and his team are certainly on the right track, a track built on the legacies of the great players before them.