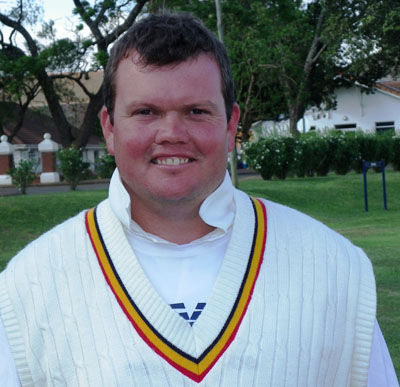 Cricket was in his blood from his early days. Hoyer played for the Selborne first XI for three years and for Border Schools' at Kaya Majola Coke week in 1995 and 1996, the latter year as captain.
Hoyer started working at St Alban's in September 2007 and is now the director of cricket at the school and subsequent to the interview had just been appointed the director of sport.
He has a sports management diploma to his name as well as a Cricket South Africa level 3 coaching certificate. Hoyer is also a business studies teacher, although he is not teaching this year and may never again now that he is the new head of sport at St Alban's.  Hoyer is also the school's second XV rugby coach in the winter.
"I have an immense passion for the game"
Hoyer developed a passion for cricket from a young age and it is not surprising considering his father and grandfather were both keen cricketers.
"I also had a number of school coaches who showed an interest in my ability and developed my early passion for the game," said Hoyer. "The first was Ivor Greeves, the U13 coach at Lyndhurst Primary. A keen cricketer himself, he would often throw balls at me after school and developed an initial work ethic in my game."
The second major influence was Richard Pybus, who was the cricket pro at Selborne College. Pybus has since gone on to coach Pakistan and, currently, the Cape Cobras.
"Richard was an inspiration and a pleasure to work with. He also inspired me to go into coaching when I stopped playing and has often been a source of advice on the coaching front."
Why is coaching his passion; what does he get out of it?"
"Coaching cricket is very rewarding as it constantly challenges you to develop people both on and off the field. The variables that cricket provides in terms of skill, conditions and mental make-up provide for an interesting combination.
"I have an immense passion for the game and the life lessons and entertainment it provides. The rollercoaster of emotion that a cricket season can provide is fantastic, not to mention the rollercoaster of a single game. This has been made more exciting by the advent of 20/20 cricket. While 20/20 cricket is exciting, it is the skill and knowhow of winning three- and four-day cricket, as well as declaration games that really inspires me.
"There is a completely different skill base; you need to score 180 in 20 overs compared to setting a total and teaching bowlers to take 10 or 20 wickets in a match and allowing you enough time to bowl out an opposition. Sometimes as coaches I think we neglect the art of taking wickets at the sacrifice of lowering run rates. While every team needs a coach, I believe every coach needs to coach himself out of a job and allow players to make informed decisions and develop as cricketers by making more correct decisions as they improve and become better players."
Hoyer says that it's not only the cricket skills that are important but with young players the true value of school sport is for athletes to value teamwork and camaraderie, to have fun and realize the importance of how hard work pays off in the quest to be successful, not only in sport but in life.
Players feel an embarrassment of playing for the club second or third team
He says coaching is a valid career path.  "There are fewer teachers prepared to get out on the sports field and an increasing few who have the skills to coach and develop sportsmen. I would encourage people who want to get involved in coaching to start their careers as teachers. There is a lot to be said about the learning process and teaching people to play sport, the two go hand in hand.
Does Hoyer see club cricket as a must for youngsters leaving school? "As a 16 year old I got to keep wicket to Ottis Gibson, the now West Indies cricket coach. He bowled helluva quickly and I still remember how sore my hands were on a Monday morning. Club cricket is a must for young players and one of my biggest disappointments as a school coach is the high dropout rate of players after school.
"One of my biggest concerns is that players feel an embarrassment of playing for the club second or third team as they have always played A team at school. They feel they don't get the recognition they deserve and lose the love for the game itself and forget why they started playing in the first place.
"I also think that the busy cricket schedule at school sometimes pushes players away from the game; there are however other players who thrive on the busy schedule of school cricket."
Hoyer says that while school cricket is the base of the game in South Africa, club cricket is the backbone.
"Without it, there will be a massive knock-on effect regarding the future of cricket in South Africa. We need school leavers to be playing club cricket into their late 20's and continuing a passion and interest in the game."
St Alban's also play in cricket weeks at other schools, like the Oppenheimer Week at Maritzburg College during the Michaelmas holidays.
"It's a fantastic occasion, allows top schools from different parts of the country to play against each other and test their skills against different opposition. It is also a great opportunity for players to play in different conditions and test their skills on different wickets, which develops their game. It also allows cricketers with a similar interest to mix with other cricketers and develop friendships. Many will play club, university and even provincial cricket together in the future.
"Oppenheimer Week is very well organized and played on outstanding facilities. The festival has grown in size and the camaraderie amongst coaches and players each year is a highlight of the season."
"personally I prefer the development of cricket without a league structure"
Hoyer says that while he thinks there is a place for leagues, it shouldn't  be the only cricket that youngsters are exposed to.
"Playing in a league structure for points and promotion and relegation can lead to a lack of skill development in the quest to win matches," said Hoyer. "Team selections in junior teams are influenced by size rather than skill, and players tend to stagnate rather than continue to improve.
"There is an argument that players develop under the pressure of having to win games and avoid relegation. I think there is room for both, but personally I prefer the development of cricket without a league structure."
As to the St Alban's  first XI over the last short while? A lot of the action has taken place overseas.
"St Albans College first team cricket has enjoyed a fantastic few years of cricket playing in all
parts of South Africa against a variety of schools as well as competing against local opposition," said Hoyer.
"In 2009 the first XI toured England and in 2010 and 2011 we enjoyed two fantastic cricket tours to Zimbabwe. During August 2012 we will be touring Sri Lanka, an experience we are all looking forward to. St. Alban's College cricket is a competitive environment where the boys enjoy their cricket, develop their skills and hopefully develop a love for the game."
No doubt SA School Sports Magazine will be catching up with Craig a little further down the line to see how things are going in his new job as director of sport at St Alban's.