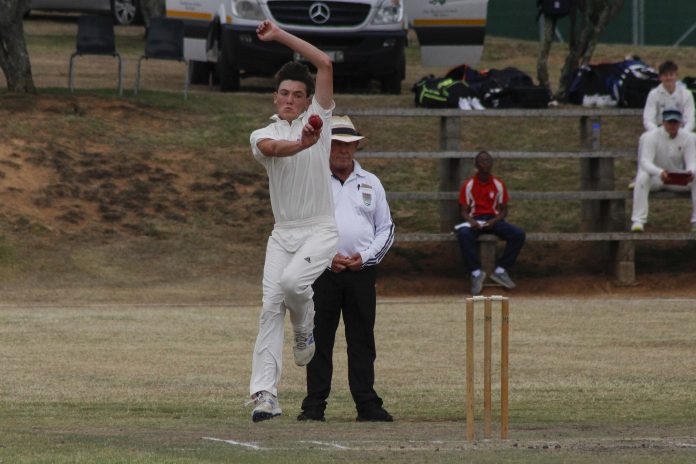 Cricket:
A much needed shower of rain on Wednesday and the subsequent cooler conditions made it tough for the St Andrew's College ground staff to prepare pitches. Thanks to their wonderful effort, a full day of cricket was experienced on Saturday. The constant drizzle on Saturday did not deter the cricketers. St Andrew's College, Graeme College, and Nico Malan must be praised for their devotion in ensuring all the matches continued without hesitation.
After a delayed start, the St Andrew's College 1st XI won the toss and had no hesitation in electing to bowl first against Graeme College. St Andrew's picked up early wickets, but Graeme College's Mornay Khol played superbly in the testing conditions for his 76 not out. Graeme reached their 40 over compulsory first innings declaration on 133/8. Matthew Beamish and debutant Roman Van Zyl each picked up 2 wickets.
St Andrew's reached 33/2 when the Umpires decided it was time to let it rain. The day epitomized a superb display of comradery from all the players and staff.
St Andrew's College Club Bowling Highlights
Laurie Apps 4/33 & 4/4 (2nd XI)
Samuel Scheckter 5/18 (U15A)
St Andrew's College Club Batting Highlights
Mark Ter Morshuizen 67 (3rds)
Samuel Scheckter 61 (U15A)
Josh Jones 61 not out (U15B)
Oliver Johns 58 not out (U15A)
Stuart White 66 not out (U14B
Jake Coventry 58 not out (2nds)
Murray Wilson 69 not out (2nds)
All Cricket Club Results
1st XI vs Graeme College (Delayed start)
Graeme College 133/8 after 40 overs 1st inns compulsory declaration (Roman Van Zyl 2/21, Mathew Beamish 2/36)
St Andrew's College 33/2
Rain interrupted and Match drawn.
2nd XI vs Graeme College (T20, Friday night)
St Andrew's College 172/2 (Jake Coventry 58 not out, Murray Wilson 69 not out)
Graeme College 95 all out (Laurie Apps 4/4. Christopher Birrell 2/11)
St Andrew's College won by 77 runs
2nd XI vs Graeme College
Graeme College 100 all out (Laurie Apps 4/33)
St Andrew's College 49/3
Rain interrupted and Match drawn
3rd XI vs Nicol Malan 1st XI (50 overs)
St Andrew's College 188 all out (Mark Ter Morshuizen 67)
Nico Malan 189/3
St Andrew's College lost by 7 wickets
4th XI vs Graeme College 3rd XI
St Andrew's College 174 all out
Graeme College 177/8
St Andrew's College lost by 2 wickets
U15A XI vs Graeme College
St Andrew's College 258/7 Declared (Samuel Scheckter 61, Oliver Johns 58 not out)
Match report compiled by St Andrews College -Makhanda
Photo: Christopher Birrell