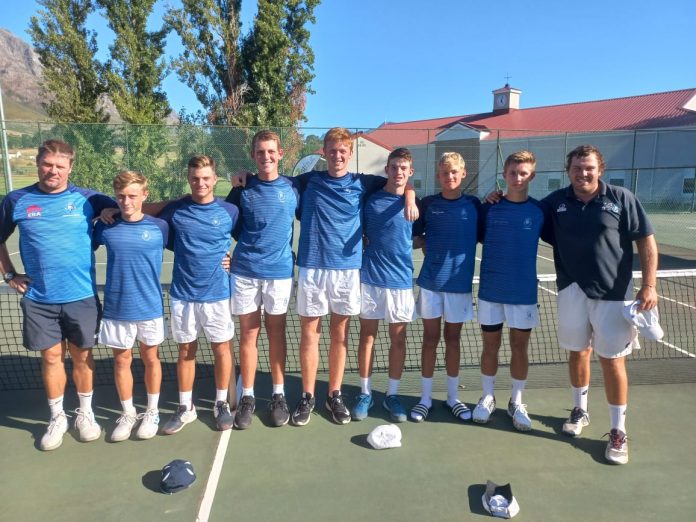 Tennis:
A PBHS Invitation team consisting of Marno vd Merwe, Reinhardt Mostert, John van Niekerk, Frans Daniel vd Merwe, Tommy Muller, Ruben Cilliers and Jan-Albert Botha participated in the Tjaart Vorster tournament in Cradock this weekend. Most of their games were against other schools' first teams.
In the group phase they beat Marlow (20 – 7), Curro Durbanville (20 – 7) and Framesby (24 – 3).
In the quarter final they played Curro Durbanville again, beating them by 14 – 4.
In the semi-final they beat Outeniqua 13 – 8.
In a hard-fought final we lost 11 – 13 against Pearson.
We are very proud of three of our tennis players, Frans Daniel vd Merwe, Reinhardt Mostert and Tommy Muller, who were nominated for the Tjaart Vorster Trophy (given to the player who excels in sportsmanship).
Our first team, consisting of Frans Willem vd Merwe. Jaco Snyman. Ulrich Nienaber, Dawid Scholtz, Toit Malan, JC Paul and Emile vd Berg took part in the Gerrie Berner Tournament, presented by Paul Roos Gymnasium. This can surely be regarded as one of the top schools tournaments in South Africa.
In die group phase we beat Outeniqua 7 – 0, Stellenbosch 7 – 0, Clifton (Durban) 7 – 0, Grey Bloem 4 – 3 and St Stithian's 6 – 1.
In the semi-final we beat Waterkloof 4 – 0.
The team then went into the final –their second final ever – but they unfortunately lost to Paul Roos (1 – 4).
We are especially proud of our victory over Grey Bloem which has come to be regarded as one of the two top tennis schools in South Africa. We are looking forward to meeting Paul Roos again later this year.
Other teams:  
15E vs Bridge House 15A      won 6 – 0.
U19 invitation team vs Labori 19A    won 6 – 3
15B vs Paul Roos 15B            won 3 – 3 (games 36 – 33)
Congratulation to our tennis players with excellent results.
Sports Report: Compiled by Paarl Boys High