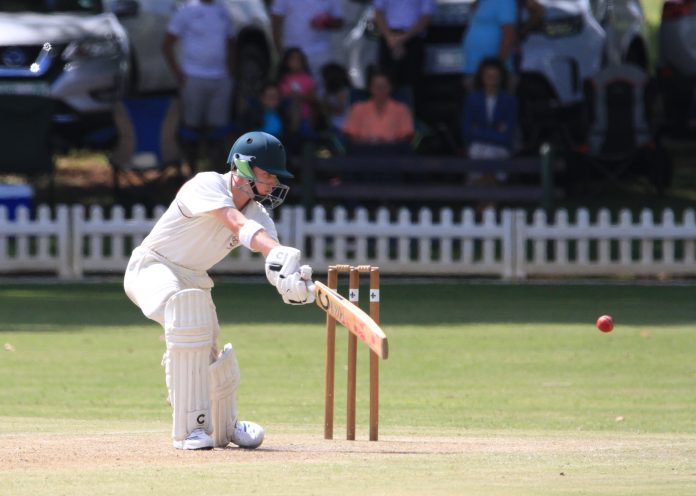 CRICKET:
It was a treat to see the return of competitive schoolboy cricket in KZN.
Kearsney lost the toss and were asked to field in a 60/50 declaration game. The Hilton track, which was flooded a week ago, was surprisingly batting friendly and the bowlers had to toil for any joy. The strong Hilton side, who bat deep, amassed 259/9 in their allotted 60 overs despite being 120/5 at one stage. Pick of the Kearsey bowlers were Bryce Wiggett with 3/43 and Hayden Bishop with 3/95.
Kearsney's batting response started disasterously, with the openers back in the hut in the first over, with a solitary run on the board. However, Hayden Bishop and Ross Coetzee knuckled down and soon utilised the batting conditions to their advantage, despite hostle bowling from the Hilton quicks, and bounce and turn from their very competent spinners.
Bishop (52) and Coetzee (82) ensured the draw with their stoicism and patience, despite a small hiccup in the latter stages where Kearsney lost three quick wickets for 13 runs.
Kearsney finished on 160/7 in their allotted 50 overs – an excellent result considering the quality of the opposition on home turf.
1st X1 Hilton 259/9 (B Wiggett 3/43, Bishop 3/95)
1st X1 Kearsney 160/7 (Coetzee 82, Bishop 52)
Match was drawn.
BASKETBALL: Kearsney vs St Charles

Kearsney hosted St Charles for the first basketball fixture of 2022 last Friday (21 Jan). They started the game well and were able to score freely whilst limiting St Charles' scoring opportunities. Kearsney had a 15-point lead at half time 30 -15.
The third and fourth quarters were tightly contested with both teams playing tough defense. However, Kearsney's 15-point lead from the first half proved too much for St Charles to make up and Kearsney achieved a good win to end 56 – 36.
Top performers:  
Kearsney – 13 points Njabulo Ngcobo & Matthew Damons
St Charles – 9 points Mnqobi Mbili
Kearsney vs Hilton

Kearsney travelled to Hilton on Saturday for the first full schools' basketball fixture with 20 teams participating.  The first quarter was tightly contested with both teams feeling each other out and neither gaining the upper hand.
In the second quarter Kearsney were unable to make their shots and Hilton capitalised on their defensive lapses, to go into half-time 19-27 up.
Kearsney played better in the second half and were able to claw their way back into the match. Kearsney had a late run but Hilton made three crucial free throws ensured that they finished victorious 52-49.
Top performers:  
Kearsney – 21 points Matthew Campbell, 9 Points Matthew Damons
Hilton – 13 points Qhawe Soji, 11 points Rolef van der Merwe
WATER POLO:
Saturday was the start of the 2022 KZN water polo season, with an exciting clash between Hilton and Kearsney College. The hosts, Hilton, have been the more dominant school in water polo over recent years. With this being their 150th anniversary and first home fixture of the year, a tough fixture was expected.
The junior age groups saw some competitive games being played, with Kearsney being convincing winners in the U14A game (11-7) and a tight win for Hilton in the U15A game (9-11).
The senior team results were dominated by Hilton College, including an impressive performance by their first team which took a convincing 19-7 win in the final game of the day.
Report compiled by Sue Miles from Working Words
Photo:Hayden Bishop