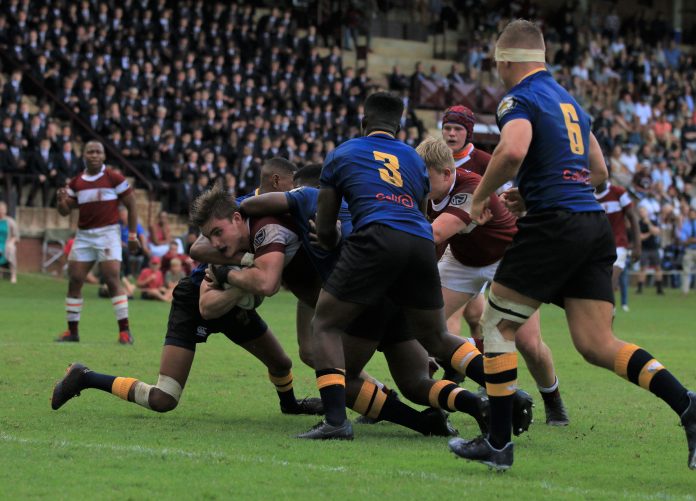 Kearsney 1st XV beat DHS 1st 24-20
Kearsney hosted DHS in a monumental clash on Saturday, with both teams going into the match high in confidence.
The first half was predictably an arm wrestle, with both sides placing an emphasis on the territorial battle. Both teams struggled to gain ascendency, and it was only a matter of time before points were registered. The first try came through abrasive running from Kearsney's Sange Mdunylwa who crossed the dotted line in style. Matthew Bergset converted.
DHS responded shortly thereafter with a penalty to reduce the deficit to 7-3.
The next score was courtesy of a penalty try for collapsing the maul against DHS, which put Kearsney ahead and increased their lead to 14-3.  DHS refused to allow the scoreboard to deter them and, moments later, scored a dazzling set piece try. Well-manufactured play resulted in their fullback scoring under the poles making the score 14-10. The first half provided entertainment of the highest pedigree, with Kearsney holding a slight advantage heading into the break.
After 10 minutes of ferocious physicality, Kearsney earned a penalty for a scrum infringement, and Matthew Bergset duly obliged, extending Kearsney's lead to 17-10.
The game then garnered several penalty infringements during the next passages of play. Kearsney on this occasion would be penalised for collapsing the maul and would also receive a penalty try against them, to tie the match at 17-17.
The hosts now trailed by 17-20 with 15 minutes to go, and would need to respond quickly and positively – which they did. Kearsney scored through some magic from Aya Mngaza who used his superior footwork to release Likhona Nunwana for the try. Bergset would unbelievably convert from the side-lines, to give Kearsney a slender lead.
The score remained 24-20 to the hosts, despite a last-ditch effort from DHS to breach Kearsney's defences.  Kearsney hung onto a memorable victory on the Stott, the fixture providing compelling viewing from start to finish.
HOCKEY
Kearsney 1st X1 beat DHS 1st X1 4-3
Kearsney started the game strongly, controlling the majority of possession, but couldn't find a way through a well-organised DHS defence. The second chukka opened up a little, as both teams pushed to score the first goal. DHS had their first good opportunity, scoring through a great finish.
Kearsney increased the tempo in the third chukka looking for an equalizer. They were left vulnerable at the back after pushing players forward and through a great counter attack DHS won a penalty corner to score their second goal. Kearsney immediately hit back straight through a good drag flick from Bryce Wiggett, and DHS scored again through a penalty corner.
With DHS leading 3-1 with 15 minutes left, Kearsney had to dig deep to find a way back into the game. Through a great counter attack, they managed to win a penalty stroke, which Kai Hilckert scored comfortably.
The game had opened up completely and both teams created numerous scoring opportunities. Kearsney equalized through a great build up and superb finish from Josh Owen.  With five minutes to play and the scores level at 3 all, it was set up for a fantastic finish. Kearsney turned over DHS with two minutes left on the clock, and with some brilliant passing play scored the winner through Asande Nyawose.
Match report compiled by: working words

Photo:Kearsney captain Jason Brien tries to break from DHS.
Photo credit: Tracey van den Aardweg