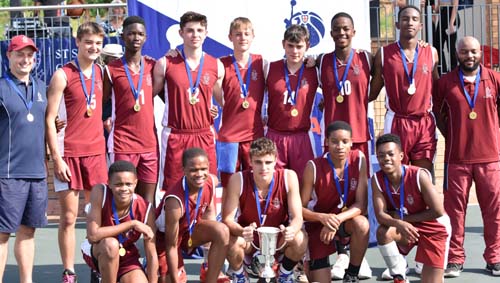 CRICKET
Kearsney lost a crucial toss on Saturday, playing away to DHS in hot and humid conditions. The track was always going to be difficult with slow turn in the afternoon. Initially DHS did not utilise the ideal batting conditions up front, crawling to 40/2 at the turn. However, they put on 109 in the second half of the innings and posted a repectable 148 – a difficult chase, particularly with their arsenal of spinners. B Naidoo (34)  and M Masondo (25) were the pick of the batters. The leg spinner, H Bishop with 3/20 for Kearsney, gave early warning that spin was the key.  B Wiggett toiled hard as a seamer, and his 3/8 in 8 overs bore testament to his efforts.
The second innings was predictable. The batsmen never looked comfortable. DHS bowled tightly and utilised the conditions superbly. Their captain set excellent fields and the spinners were dominant. K Naraudu (5/42) and B Shezi (3/10) bowled with skill and guile, to bundle out Kearsney for 118. Only A Zeiler (21) and H Bishop (44) offered any real resistance.
Although the conditions favoured the side bowling second, DHS are a superbly coached side and stuck to their game plan. They thoroughly deserved their victory.
Durban High School 1st XI 148 all out
Kearsney 1st XI 118 all out
Kearsney lost by 30 Runs
Kearsney vs Clifton
During the week, Kearsney and Clifton played in the 100-ball challenge.
Clifton 1st XI: 98/9 in 20 Overs
Kearsney 1st XI: 99/2 in 15 Overs
Kearsney won by 8 Wickets
BASKETBALL: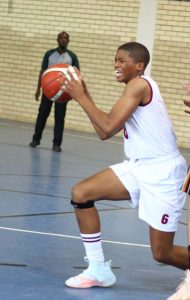 Kearsney travelled to DHS on Saturday for a game between two teams which have struggled for form this term.  The heat was intense but both teams braved it and provided an entertaining match. Kearsney played good defense for the first quarter and frustrated the DHS scorers by blocking shots. They held a five-point 14-9 lead at the end of the first quarter.
The second quarter was a tough arm wrestle with neither team giving an inch. DHS were not able to make up the deficit and went into half-time trailing 26-19.
Kearsney fell asleep in the third quarter, allowing DHS to catch up, outscoring the visitors 13-6, which evened out the scores at 32-32 apiece.
Kearsney came out blistering in the fourth quarter, to open up a 20-point lead with 90 seconds left on the clock. DHS fought back to end the game down by only six points. Kearsney had done enough to win the match 53-47 in a closely fought contest.
Top Performers
Kearsney: Lathi Sali 12 points; Matthew Campbell 11 points; Andile Nomvete & Oliver Brazier 8 points 
DHS: Milani Mnguni 15 Points; Junior Bambi 8 Points 
St Stithians Basketball Tournament:
Kearsney's U16A team won the St Stithians U16 Tournament in Gauteng over the weekend, beating St Albans from Pretoria 41-35 in the finals. It is the first time Kearsney has won this prestigious national tournament and the first KZN school since 2013 to bring back the trophy to the province.
SQUASH:
Ke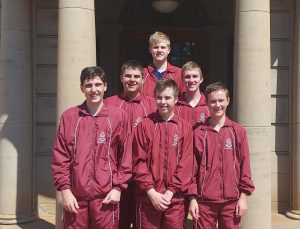 arsney 1st squash team travelled to the annual St Andrews Festival in Bloemfontein at the weekend. The boys did well against strong opposition from around the country, beating Pretoria Boys' High 6-0 and Kingwood College 5-1; losing to St Johns 2-4 and Grey College 2-4; and drawing with St Stithians 3-3.
WATER POLO:
Kearsney 1st water polo team beat Glenwood 11-5 in a fixture played during the week.
Report: Compiled by Working Words
Photo 1: U16 Basketball team
Photo1:Lathi Sali
Photo 3: Squash 1st Team