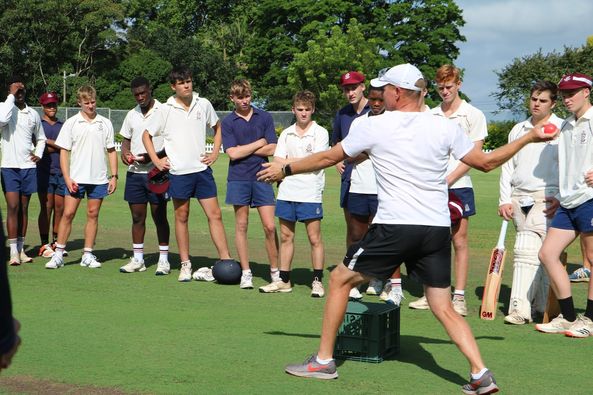 BASKETBALL:
The weekend's wet weather forced the fixture to be played at Kearsney's indoor courts. The first quarter was tightly contested with both teams feeling each other out and neither team gaining the ascendancy. However, Northwood edged slightly ahead with 17-15 on the score board.
During the second quarter Northwood began to find offensive rhythm, aided by some deadly outside shooting. Kearsney found the going more difficult, and were only able to score eight points during the quarter. At half-time Northwood was comfortably ahead 34-23.
Kearsney played much better defense in the second half, but were unable to make up the earlier deficit, despite shooting with greater precision. Northwood ran out deserving winners 70 -58.
Top performers: 
Kearsney – Njabulo Ngcobo 22 points, Lehumo Mhalabana 10, Matthew Campbell 8
Northwood – Lunga Dlungwane 18 points, Jordan Sutherland 12, Chadley Hargreaves 11, Keegan Best 10
WATER POLO:
Kearsney 1st Water Polo team participated in the annual Pretoria Boys High School festival against other Gauteng and KwaZulu-Natal players.  The young Kearsney team did well with some outstanding performances, in particular a thrilling 7-6 win against hosts PBHS and a nail-biting 6-6 draw against St Albans.
Results were:
Kearsney beat Pretoria Boys High 7-6
Kearsney lost to Affies 7-10
Keasrney lost to David's Marist Inanda 6-8
Kearsney drew with St Albans 6-6
Kearsney lost to St Stithians 3-11
CRICKET: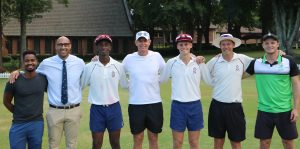 Kearsney cricketers were honoured to have Proteas legend Shaun Pollock conduct a coaching session with them last week. In addition to his experience, Proteas and Dolphins cricketer Khaya Zondo is also working with Kearsney's High Performance cricketers across the age groups this season.
From left: consultant Khaya Zondo, Kearsney director of sport Waylon Murray, 1st X1 vice-captain Nhlakanipho Ngubane, Shaun Pollock, captain Bryce Wiggett, 1st X1 coach Matt Savage and consultant Jordan Gregory.
Sports report compiled by Working Words.
Photo's: Shaun Pollock coaching session conducted at Kearsney College.