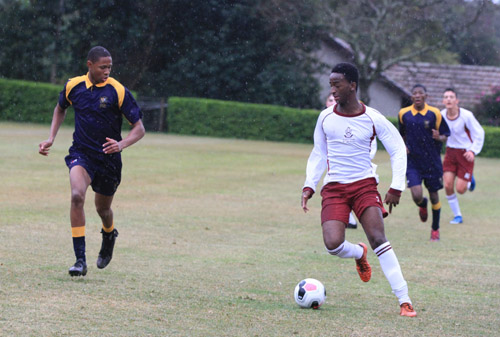 There was great excitement from both teams to be back playing competitive sport after the long Covid break.
DHS started off by scoring a goal within five minutes of kick-off.  Kearsney's Nhlakanipho Ngubane equalised shortly afterwards, to level the score.  Just before half time Ngubane was at the back post when a cross came over; he chested the ball down and volleyed into the net to give Kearsney a 2-1 lead.
The second half was fairly evenly matched with both sides attacking and trying to score. With only five minutes to go, DHS scored an equaliser.  Whilst still celebrating as the match was almost over, Kearsney went on the attack and John Eastes on the back post scored the winner for Kearsney, to take the game at 3-2.
Results:
KC 1st XV beat DHS 1st 3 – 2
KC 16A beat DHS 16A 2 – 0
KC 15A beat DHS 15A 6 – 2
KC 14A beat DHS 14A 2 – 1
Photographer: Tracey van den Aardweg