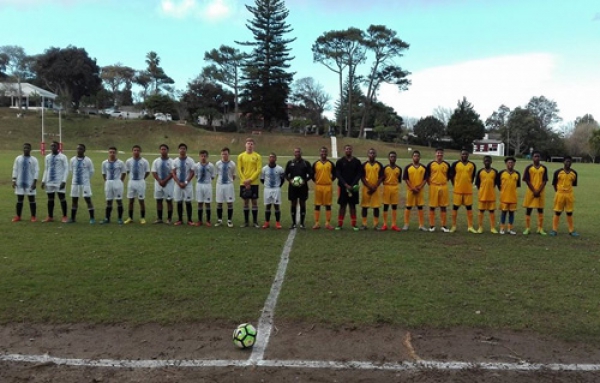 It was at U/9 level playing soccer for Grey College Bloemfontein that we went on tour to a school in JHB. It was on this tour that I got my first experience of Alexandra township in JHB and more importantly staying with a black family.
Did I mention it was the first ever school tour away from my parents and for those of you who have toured know how nervous one gets and how teams mates quickly gang up making sure they would be partnered with a friend and not have to stay alone. Well there my dad was – head of soccer – and up comes the only black boy in the two white soccer teams. What does he do, well the only thing he could do – calls me up – introduces me to the family and off I go.
I remember my host family welcoming me warmly into their small house. My host made his bed available to sleep on while he slept on a mattress on the floor next to me in his one bed room. I did not understand the razor wire on the burglar bars of all the windows of the house. I also did not understand what he meant when he told me that when cars drove by we needed to hide behind the wall or why we were not allowed to go outside and fetch the soccer ball we kicked over the wall. What I do know is that I have never felt so welcome EVER on a tour before like I did over that Friday evening. I remember the tasty Samp and Chicken for supper and the Matabela porridge for breakfast. What an experience.
Skip forward a number of years. Grey College Primary and Rutanang Primary playing soccer in the final of the Bloemfontein league in the local township. This match was contested 2 years in a row. In the first encounter we travelled to the local stadium, and the local supporters came out in their droves to support the local team. We ended up losing this final by a goal but we treated like heroes after the match. The local crowd and the opposition celebrated the fact that a predominantly white team had made the final and contested as much as we did. By that time things were changing and we had black team mates playing with us. Save to say we played the final at the same venue the following year and managed to win the final. We were then known to the local supporters and our victory had been celebrated as if we were the local team. What an experience.
A few memories that I fondly remember. Memories that have shaped who I am and my view of the beautiful game. In what other activity can one walk out into an open space (yes those spaces you see dotted around townships and farm villages barren of any grass and simply by the introduction of a round ball, the community comes alive – young and old, male and female, they all come pouring out. The game is universally understood. It does not matter what language you speak or who you are. Soccer unifies and unites us all.
It is important that schools get on board. There is a need for the former model C schools to stop making excuses around the inclusion of soccer in the school program. Schools would argue that they have invested in infrastructure (like astros, indoor cricket centres, swimming pools and tennis courts etc.), that they don't have staff, that they can't introduce soccer at the expense of the more "traditional" sports like hockey and rugby because they will lose numbers, that it brings with it an unsavoury element, that it is a game for thugs to name but a few. It is tragic, because it is exactly the reason soccer will not be taken seriously at these schools.
The examples of failed leagues, poor administration in school provincial and national bodies, poor behaviour of players on the field and TV, infighting between SAFA and SASFA and poor performance of the national team set the tone. Where is the vision and leadership both at school and national level? What can be done nationally minister? As for schools I would argue, that this is exactly why these schools need to take the lead. Where would SA Rugby be without these schools? Where would SA hockey be? Where would SA cricket be? A generation has been conditioned to think that Rugby is the be all and end all for all South Africans – and we know why this is. I would argue that it is exactly for this reason that it is the duty and responsibility of these schools to make the difference and transform. It is the duty of these schools to transform their thinking (because they owe it) and invest (because they can afford it). It is the duty of the minister of sport to push the issue. Many of these schools actually played soccer – extensively in their rich heritage – and perhaps it is time that they were reminded of this. As one of the prominent headmasters says "We might have to forego our white South African perception that education quality equals being in the top ten at 'traditional' sports".
Remember World Cup 2010. Remember the stadiums and the buzz around the country. The game is loved by South Africans, but it is not afforded equal opportunity by the decision makers. Or maybe there are more sinister reasons for not wanting to introduce and promote soccer at these schools?
I currently coach a group of amazing boys! These young men are exemplary examples. I take great pride and pleasure to coach them and I find myself learning more and more about myself and the game daily! I love everything about it!
CONTRIBUTED by
Roland Rudd