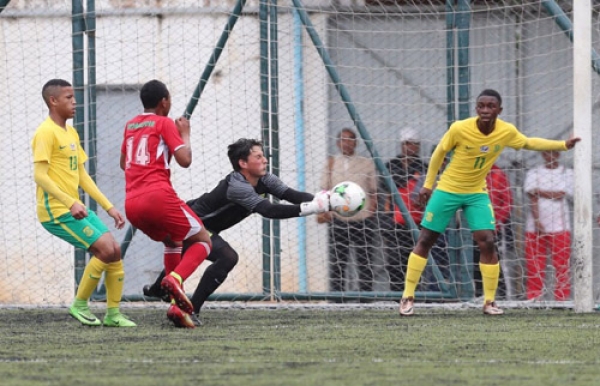 "I was lucky enough to be born into a sporting family and was introduced to football at an extremely young age. My father – as am I – are passionate Liverpool supporters and I can clearly remember watching games on the television with him and cheering Liverpool on," says Hilton College grade nine gem and soccer goalkeeper supreme Constandino "Costi" Christodoulou.
"Throughout my youth I always seemed to either have a ball at my feet or one in my hands. My first taste of 'competitive' football came at the age of 5 when I joined the U6 side at Corinthians Football Club. This is where the start of my football career began.
"I attended Saheti School from grade 1-6 and was exposed to several sporting codes. Soccer and cricket were my two favourites and I began to make huge strides in developing my talent and potential. When I moved to St David's Marist Inanda in grade 6, I was introduced to rugby and developed a strong passion for it. However, even whilst playing rugby, cricket and soccer, it was clearly evident that football was my main priority and that I was aspiring to follow in the footsteps of legends … and more particularly my hero Iker Casilas."
My immediate impression of this young man in the making was that he has the perfect attributes of confidence, manners and an extraordinary self-belief, which will stand him in good stead as he climbs the footballing ladder.
But let's allow Costi to do the talking in painting a picture of where he stands tall today at just the age of 15.
"From the age of 12-14 I was at the Black Aces Academy and was playing academy football. This was where I was first noticed by national scouts and selectors. In 2015 I was selected for the Gauteng side that participated in the national tournament. At this tournament, I was not only goalkeeper of the tournament, but also selected to be part of the U13 national training squad.
"The following year was when my life took a drastic turn as I received the opportunity of a lifetime. I was awarded a scholarship to attend the prestigious Hilton College in the KZN midlands. Many thought my football career would take a spiral in the wrong direction but it was the complete opposite. With the support of key staff members (head of sport Tony Shuttleworth) I was able to play for Maritzburg United.
"I would attend training on days that I was not playing school sport and would play matches on weekends for the Team of Choice. I was with the Multichoice Diski Challenge team at Maritzburg United and this required me to do a lot of traveling on weekends, and often having to miss the Friday or Thursday of academic class.
"The academic department at Hilton was very considerate and supportive as they would allow me to not only miss the academic time for football, but they also helped me catch up missed work and tasks. Hilton College has played a crucial role in my football and have always supported it. During holidays I am often allowed to stay in the boarding house in order to attend training with the Maritzburg PSL side in the mornings. With this gesture, they have truly showed their support in my talent and abilities as a footballer, which ultimately helped me become the youngest ever player to play in the MDC at the age of 14.
"This was a huge achievement for me and I was extremely grateful for all the hard work that the entire technical team at Maritzburg United put in, which included the likes of my goalkeeper coach Arthur Bartman and head coaches Fadlu and Maahier Davids.
Recently, I was called up to the national U17 camp which would be traveling to Mauritius in order to take part in the 2017 COSAFA U17 Cup. South Africa was drawn in Pool B against Mozambique, Madagascar and Zambia. After 5 days of intense training with head coach Molefe Ntseki and goalkeeper coach Rory Minaar, I was announced in the final squad of 19 to travel to Mauritius.
"My international debut against Mozambique was a memorable one in which we claimed a 3-1 win in extremely hot conditions. Our following group game against the Zambians proved to a tough task for us as we suffered a 3-2 loss against boys that were physically and mentally stronger and faster then us. This meant we had to win our last game to make the semi-finals of the tournament.
"Our last game against Madagascar proved to be a tough task but we claimed a 5-3 win and progressed to the semi-finals where we would meet the host nation of Mauritius. This task proved too difficult for us – and my Amajimbos team crashed out of the tournamnet after a 2-0 lost to the hosts. We met Malawi in the 3/4 playoff and suffered a 2-1 loss; however we were assured by coach Molefe Ntsekithat we had achieved our objectives for the tournament.
"From a personal perspective, the tournament was a success as I started all 5 games and achieved 5 international caps. This was truly an unforgettable experience and I'm extremely grateful to SAFA, Maritzburg United and Hilton College for this amazing opportunity that thoroughly changed my life and perspective of football as a whole."
More recently Costi has continued to wow football fans and excel between the posts.
"A few weeks ago I attended the KZN U19 trials hosted at Kingsway College in Durban. I was playing for the Midlands U19 team that I had been selected for upon return from national duty in Mauritius. These trials proved to be extremely difficult and challenging with a very high standard of football. My team did not do so well, however I was selected for the KZN U19A team at the age of 15 which is an exceptional achievement at my age.
"Following a heartbreaking loss in the final of the Kloof tournament to Glenwood in July, at which I received the GK of the Tournament award, the Hilton College first team and myself set off on a journey of wanting to be the best school side in KZN, meaning we would have to win the Maritzburg Football Association Cup and beat Glenwood in our last match of the season on the 9th of September.
"We started our preparation by putting in hours of hard work. This last weekend we took part in the Maritzburg FA CUP. We were drawn in Group C along with Maritzburg Christian School, Heritage College and Maritzburg College. After a successful day in which we beat MCS 3-0 in our opening group game, beat Heritage 3-0 in our second group game and Maritzburg College 1-0 in our third group game, we were into the knockout stages of the tournament with our quarter-final opponents being Raisethorpe. We comfortably won this encounter 2-0 and progressed to face St Charles College in the semi-finals. This proved to be a tough task but we fought hard and managed to get a 2-1 victory over the old foes. We would face Carter High School in the final and this proved to be a titanic battle which ended 1-1 in regulation time. The game was decided on penalties and I pulled off 2 great saves in order to hand Hilton their first ever trophy at first team level, winning the shoot out 4-2 on penalties.
"Following the victory I was also awarded Goalkeeper of the Tournament for the second time in as many tournaments after having only conceded 2 goals in six games and claiming 4 assists."
The remarkable thing about this grade 9 boy is that he was also the leading points scorer in the Hilton College U15A rugby team, capable of booming 55-metre penalty goals and massive touch-finders.
And on the cricket field the HC U15A side is a threatening opening bowler.
Clearly there is no end to this bright talent's sporting abilities.
But the lucky sports code that is going to benefit in the long run is football…and by a country mile