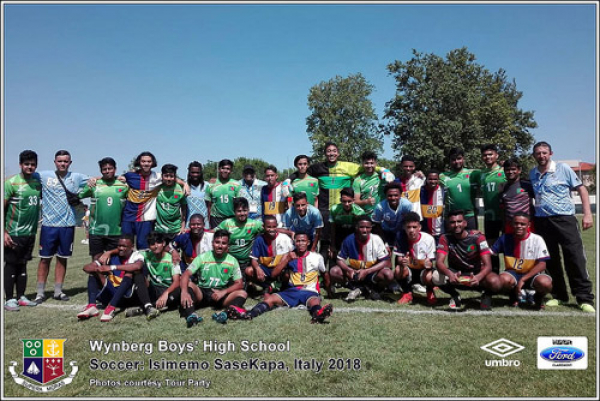 Have you heard? Its coming Home.
It was the vision of the Master in Charge of Soccer at Wynberg Boys' High School to put together an opportunity for local Cape youth to gain an opportunity to tour overseas showcasing South African Talent and take part in an international tournament playing against top flight European competition affording players a once in a lifetime soccer experience.
Over 100 talented youth from all over the Cape Area and as far as the Overberg attended trials in October of last year whereby players were selected to apply for a position on tour. Eventually two U/19 teams were selected of 16 players each. The players came from Wynberg Boys' High School, Paul Roos, Bergvliet, Robinvale, Portlands, Michael Oak Waldorf and Westridge high. The coaches were the head coaches of Wynberg, Paul Roos and Robinvale. Essentially it was a team of players and coaches from Cape Town, Stellenbosch, Atlantis and Mitchells Plain. The teams were dubbed Isimemo saseKapa Blue and Red soccer teams.
After selection of players the teams trained weekly at Wynberg Boys' High School, in preparation for the upcoming tour. The tour took the team to Milan in Italy where the teams played Milano FC (a local Milan Soccer club), beating Milano 1-0 and 3-0. The team also played against Ausonia FC (an Inter Milan Youth Academy) where the teams lost 0-3 and 0-1. This was followed by a visit to Casa Milan (the AC Milan headquarters) where the team was addressed on the business side of soccer and then an intensive training clinic with the Inter Milan Youth Coaches at Ausonia. The team also got to experience the mighty San Siro Stadium and a tour of the stadium which included visits to the AC Milan and Inter Milan dressing rooms. From Milan the team travelled to San Marino to take part in the San Marino Cup – the biggest youth tournament in Italy with over 100 teams in attendance. The Isimemo saseKapa teams played international teams and clubs from all over the world which include Bangladesh, Lebanon, Italy, France USA, UK and Germany to name but a few. What a time to be visiting Italy during the soccer world cup and playing in this fantastic competition. The Red team ended 8th in their category with the Blue team eventually winning the final, beating FC Bastia (from France) 2-0 in an intense final.
The teams did their families, schools and their country proud. The team was the flavour of the month at the tournament showcasing African flare! What an honour to be part of such a great group! Football came home to Africa. The management of Isimemo saseKapa is hard at work in planning for next year to go and defend the title. For more information contact [email protected].