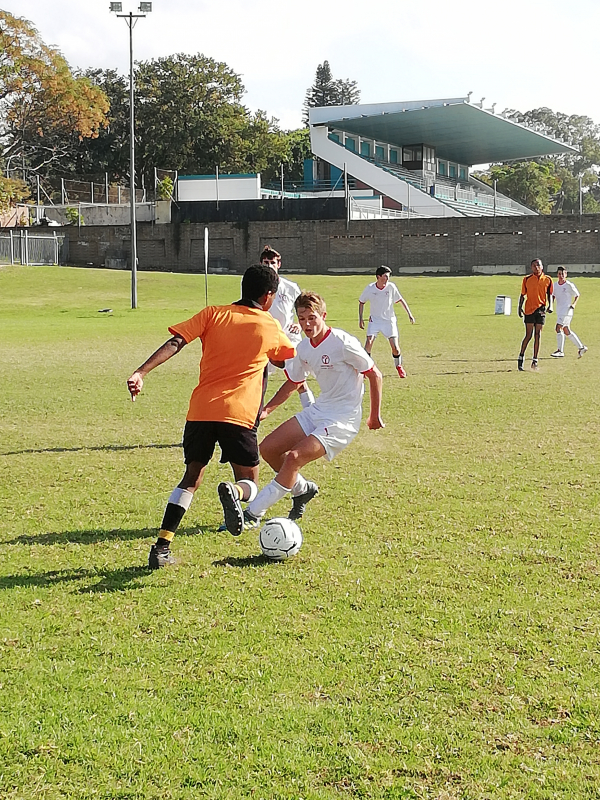 Annual Schools football Tournament – East London
Powered by SA Sports Tours
After 3 days of non-stop football action played at the Hamilton Club Sports Fields in Selborne, East London, the annual High Schools Soccer tournament came to a conclusion with a prize giving, rewarding the finalists and winners with medals and trophies.
This year we saw 14 teams competing in 3 age divisions, namely – Boys U16, Girls U19 and Boys U19. We were happy to have a new school participating in the event this year. First time participants to the tournament was Queens College from Queenstown, who travelled to East London and back home every day (about 2.5 hrs drive each way) to be a part of our tournament.
In the Boys U16 division, 4 teams contested each other with the top two teams qualifying for the final. Pinelands (Cape Town) topped the table by winning all of their matches. Prides football club from East London finished in second spot. In the final, well done to Pinelands, who won the Boys U/16 division 2 -1 and took home the gold medal.
The Girls U19 division was hotly contested between 4 teams playing. Kimberly Girls High (from Kimberly) comfortably topped the log, to set up the first semi-final game against Selly Park (from Rustenburg), in which Kimberly won to take the first Final spot. In the other girls' semi-final match, St Dominic's Priory from Port Elizabeth took on Pinelands Girls team from Cape Town. St Dominic's Priory won to secure the other spot in the final. In this year's final, the match was played so well and with heart and had St Dominic's Priory beat Kimberly girls (reigning champs from 2018), 1 – 0 and take the gold for 2019. Well done to St Dominic's Priory Girls team who played great football throughout the tournament!
The Boys U19 division was contested between 6 teams. Victoria Park (from Port Elizabeth) played amazingly throughout the tournament ,then came Selly park from Rustenburg ,following them was Queens college (from Queenstown), Selborne College (from East London), Hatfield Christian school (from Pretoria) and St Dominic's Priory (from Port Elizabeth). The first semi-final Victoria Park took on Selborne College, with Victoria Park winning 4 – 1 and taking the first spot in the finals. While the second semi-final between Selly Park and Queens College saw Queens winning by 2 goals to 1 to secure the other spot in the final. The final was a very intense game with some great soccer, but unfortunately for Queens College (U19 Boys, first time entrants in to the tourney), Victoria Park went on to win 3 – 0 and take home gold. Well done to Victoria Park team (Port Elizabeth) for taking home the winners trophy's this year.
Overall, we feel that the 2019 High Schools Soccer Tournament was a great success and fun was had by all throughout the tournament. We can also be grateful for the great weather we had throughout the 3 days.This event continues to draw a wide spread of teams from all corners of South Africa, with many returning year after year. We hope to see more schools coming and joining our event in years to come, especially more girls teams. SA Sports Tours Is Thankful to all for their Participation and many great memories were made once again.