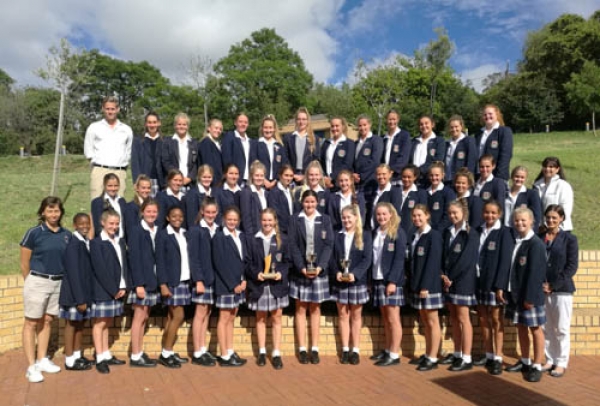 St Stithians Girls' College made history by winning all three disciplines of the 2018 National Aquatics Festival which was hosted on 26 and 27 January 2018 in Bloemfontein.
"No other school in the history of the festival has managed to win all three disciplines in the same year," says an overjoyed Natasha Panzera, Director of Sport at St Stithians Girls' College.
The students beat out a number of top South African schools to take home the winning trophies. They have made history.
St Stithians Girls' College travelled to Bloemfontein for the 2018 National Aquatics Festival which was hosted by Eunice High School on 26th and 27th January 2018. The swimming and water polo competitions were held at the Stadium Swimming Pool and the diving competition was held at C & N Meisieskool Oranje.
The festival opened on Friday the 26th with a spectacular ceremony where environmentally-friendly balloons were released by all swimmers and coaches after the National Anthem was sung.
"St Stithians Girls' College performed superbly in the swimming gala finishing in the top three positions in 23 of the 30 events. St Stithians went on to win the gala, beating second-placed Oranje Meisies by a convincing 35 points, describes Mrs Natasha Panzera."
Third place went to Our Lady of Fatima, fourth was Durban Girls' College, fifth was St Mary's Waverley, sixth was Clarendon, seventh was Eunice, eighth was Durban Girls' High, ninth was St Mary's Kloof, and tenth Pretoria Girls' High.
The water polo competition began after the completion of the gala. St Stithians beat Clarendon 5-1 and Durban Girls' High 10-2 in the group stages.
On Saturday the 27th January, the water polo continued and the diving competition began. "The water polo girls beat St Mary's Waverley in the semi-final 8-1 and then went on to play Durban Girls' College in a nail-biting final, which Saints managed to clinch 5-4," Panzera explains.
The final results for the water polo were as follows:
Semi finals: DGC vs Clarendon 8 – 2; and St Stithians vs St Mary's Waverley 8-1
3rd and 4th: St Mary's vs Clarendon 8-2
Finals: St Stithians Girls' College vs Durban Girls' College – 5-4
Meanwhile, the Girls' College divers were competing at C & N Meisieskool Oranje. They also performed superbly with the following results:
U15: 14th Place: Kamohelo Jili
3rd Place: Nkazimlo Matyolo
1st Place: Bailey Davenport
U16: 15th Place: Lauren Vos
4th Place: Holly Joubert
3rd Place: Becky Wallis
Open: 3rd Place: Rae Attridge
2nd Place: Leigh Hudson
1st Place: Bailey Heydra
Overall positions: 3rd Place: PHSG (49 points)
2nd Place: St Mary's, Waverley (95 points)
1st Place: St Stithians (117 points)
"The St Stithians Girls' College Aquatics team have made our College extremely proud; I congratulate our young sports women on their incredible achievement. Winning all three aquatics disciplines – swimming, diving and water polo – is remarkable and certainly a first amongst the girls' schools fraternity. Winning is a team effort and a culmination of hard work, discipline, and great determination. I pay tribute to our coaches and parents for their support of our girls in helping them achieve this victory. At Stithians Girls' College we aim to inspire excellence and make a world of difference, and these young women have certainly done that". ­– Dr Sally James, Head of St Stithians Girls' College