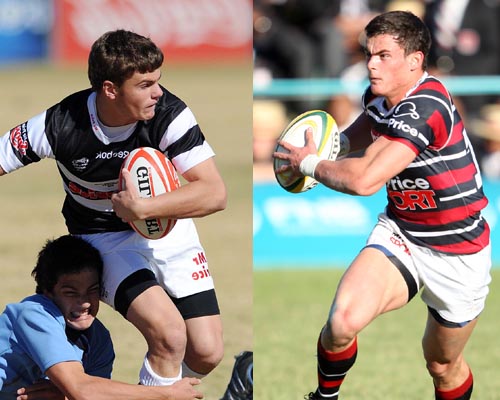 At the 2012 Wildeklawer Schoolboy Rugby Festival in Kimberley, Daniel Kriel was the name on everyone's lips. Quick, powerful, aggressive; the KZN rugby fraternity were licking their collective lips at the idea of another human wrecking ball, filling the massive boots of Tyler Fisher in the KZN Craven Week squad. At the back, twin brother Jesse was the definition of composure. He seemed to exhibit a calmness that is required for the number fifteen jersey, but rarely found with teenagers who are inertly liable to act first and consider consequences much later.
There had been fleeting chatter about these two; their considerable talent was said to be raw and largely overlooked in the greater scheme of things. Bloggers hadn't spent countless hours dissecting their under sixteen performances; theirs' was a joint CV that listed KZN Academy Week and Sevens, but there was nothing in the way of SARU High Performance squads or the like. Yet it is through adversity and misfortune that strength is forged; the hard work in the off-season and the crushing of the limitations that your colleagues bow before; this is the making of champions; that standout one percent.
There seems to be something in the water in KwaZulu-Natal. Joining the likes of Guy & Ross Cronje of Michaelhouse and the du Preez's at Kearsney; Maritzburg College had provided the next set of twins around which Craven Week coaches Barend Steyn and Sean Erasmus could mould their backline in the quest to (unofficially) win Craven Week; a title that has been frustratingly close to their grasp in the past few years.
Then an untimely AC-joint shoulder injury early in the season brought lofty dreams and expectations to a shuddering halt. Initially told to aim for an eight week recovery (that would put him in line for Craven Week selection), Dan was officially out for the season and even greater expectation was placed on Jesse's herculean shoulders.
The robust young centre had learnt a valuable lesson that will stand him in good stead; the road to pro is littered with potholes and challenges. A perfectly conditioned body will inevitably end up on the physio's to-do list; stellar form will hit bad patches; loyal fans will become harsh critics. These lessons are best learnt sooner rather than later, as an athlete who is blessed with smooth sailing through his formative years will almost certainly struggle to bounce back when the inevitable brick wall presents itself. With both boys already well-versed in the lows of the journey that they are about to endure, the Bulls will be blessed with two mentally tough and admirably disciplined individuals.
Though it may seem as if the twins emerged from the darkness like a closely-guarded secret in a town that is appropriately dubbed 'Sleepy Hollow', the truth of the matter is that theirs is a typical story of early morning gym sessions, self-deprecating analysis and a mutual need to push each others' expectations. Though originally at Underberg Primary, a move to that hallowed Maritzburg College breeding ground, Merchiston Prep, catapulted their sporting ambitions. Of course they received a genetic advantage on grounds of their mother being a South African swimmer, but it was the willingness to go that extra inch that separated the boys from the pack.
They'd be easily forgiven for enjoying all the plaudits for years of grind, but the boys go to great lengths to emphasize the role that a number of people continue to play in their development. It's clear that their mother is a calming influence when the boys place unnecessary pressure on themselves and they have further benefitted from the massive impact that the coaching duo of (former Sharks u19 coach) Ryan Strudwick and Steve Botha have had on College rugby. The personalized training programs of Maritzburg College High Performance Centre Biokineticist, Mario Olivier has added that extra bit of professionalism needed with an eye on the next step.
Whilst that next step up the ladder is a monumental leap; College's awe-inspiring history of producing champions in every sporting discipline means the often murky path to superstardom is well lit for youngsters in the red, black and white. From under sixteen, the boys looked up to the College men such as Nick Shonert, Lwazi Sithole, Jason Klaasen and Lungelo Chonco and decided to concentrate on rugby, with an eye on possibly going all the way. It is this willingness to go above and beyond that caught the eye of provinces and universities from around the country. Increased media scrutiny and the availability of young sportsmen due to the often uncomfortable accessibility of social media, meant that their choice of postal code in 2013 would be both vilified and embraced.
In the end, Dan and Jesse joined the likes of Handre Pollard, Pierre Schoeman, Carel Swart, JP Smith and Josh Stander in pledging their immediate future to the Barberton Daisy and the Bulls juggernaut.
Despite unfounded and irrational criticism from internet bloggers and quasi-journalists, the Kriels are content with their decision and are counting down the days until they can call Loftus home.
Parochial regionalism aside, the bigger picture should be that talents of this magnitude will be nurtured with a vision of the green and gold in years to come.
Many a schoolboy star has stuttered, faded and faltered. They lose their way; they crumble under the weight of expectation; they believe their own hype. Then there are those who are on an uninterrupted upward curve of rapid progression that cannot be subdued. These young men make their own destiny because hardship has granted them the blessed curse of viewing the mediocrity of non-participation.
It is for this reason that they soak up every second on the field as if it were the final moments of a long and distinguished career. These men of gratitude; these College men