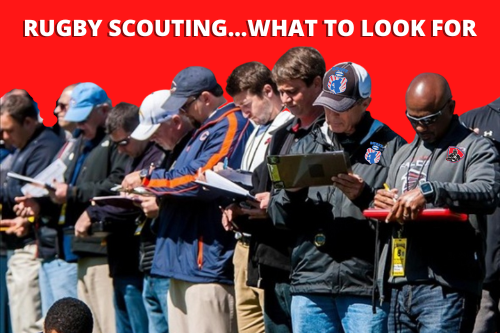 Gone are the days of Craven Week being a spectacle of provincial and agency scouts looking for the next big thing; that work is done months and often years in advance. The best in the business are well aware of all the intangibles: Is the player mentally tough, what is his family situation, does he have a rebellious streak and would he fit into the team culture. Essentially, scouting the top 1% of schoolboy rugby is easy when you know what to look for:
PHYSICAL CHARACTERISTICS
It is not as simple as putting a kid on the scale and seeing who is the heaviest. That tactic often proves fruitful at under thirteen and under sixteen level, but 'conditioning' is all the rage these days.
A schoolboy prop or centre may be dominant when he has a weight advantage over his opponents, but a conditioned athlete will stay the course. Natural growth (as well as dietary changes after school and the slowing of the metabolism) will mean that whilst a 125 kg prop may be a superstar at u18 level, he will be 140kg as a senior and hence grossly overweight.
The modern game and the loss of the scrum as a tool for exerting dominance has meant that barring locks and back-rowers, the physical makeup of players across the field should be uniform; much like that of rugby league. The ideal specimen is all lean muscle with the ability to grow, rather than mass and water-weight.
PSYCHOLOGICAL STRENGTH
South Africa is unique in that we want players to be assured but to never exude any overt confidence in their own abilities. What we value is superstars who are humble and do not feel that they have achieved anything. Humility breeds desire and once a young player reaches the point when he feels that he has 'made it', entitlement and complacency are sure to follow.
DESIRE
He must want it bad enough; and whilst every schoolboy will tell you that he is willing to make the sacrifices, the question remains: would he go to Kimberley? The Kimberley test is crucial, because while it doesn't take much to convince a player to make a move to Pretoria, Durban or the Cape; would the player forego such lifestyle benefits and make a career move to Griquas if he had the opportunity.
Game time is everything for a young player; he can be incredibly talented in a large union, but if he is not getting the required game time to show his worth, then he is on a fast path to playing club rugby, which is more often than not the graveyard of a career (as unfortunate as that may be). Griquas has proven to be the catalyst for many a burgeoning rugby career and if a youngster is too home sick or unwilling to make the best of the lack of excitement that the Northern Cape has to offer, he never wanted it badly enough in the first place.
POSITIONAL REQUIREMENTS
The junior contracting objectives differ from province to province. Some will look to contract across the board; others sign a select few, with due regard to a potential lack of depth in certain positions in the senior ranks. With that said, Tighthead Props, Locks of two metres tall, flyhalves and a large ball-carrying centre will always be highly sought after. The irony of tight forwards is that whilst they rarely receive the plaudits and spectator adulation of loose-forwards and backs, they are most certainly more valuable when they reach the peak of their powers in their later years. As they mature, they become highly sought after in Europe and Japan, as these are areas of the game where countries with little depth or physical shortcomings have historically struggled.
A MAN AMONGST BOYS
This is so much more than the biggest player on the field; it speaks to a technical maturity that leaves spectators talking about the player in question the following day. The rugby fraternity is a small one with loose lips and opposition often know of the danger-men they face without having seen any footage of him play. These are the talented few that stand out from the rest and make up the top 1%.
There are seven provinces in the SA RUGBY u20 Cup; effectively meaning that you should be one of the seven best players in your position in the country. When one considers that thousands will play the game in every age-group of every year, it gives some perspective that the smallest deficiency may be the difference between a run of the mill talent and those who will play Super Rugby in years to come.
WHAT SHOULD PROSPECTIVE PLAYERS CONSIDER
The most important phrase for any young player's career is game time. Many make the mistake of being overcome with excitement when a large union shows them interest, but what they need to ask is what other players has this union contracted in my position. Realistically, if you were very good for your school first team and played Craven or Academy Week when your competition was an SA Schools standout, he is going to be on a superior junior contract and will have to put in a few horrible performances before you see your opportunity.
The uncomfortable reality is that rugby players are commodities; young players even more so.
They need to think of themselves as products in a store. It's all good and well being in the fanciest store on the block, but if you are in the backroom collecting dust, nobody can see your worth. Remember that before they were international superstars, Bakkies Botha started at the Valke, Bernard le Roux at Border and Willie le Roux at Boland.