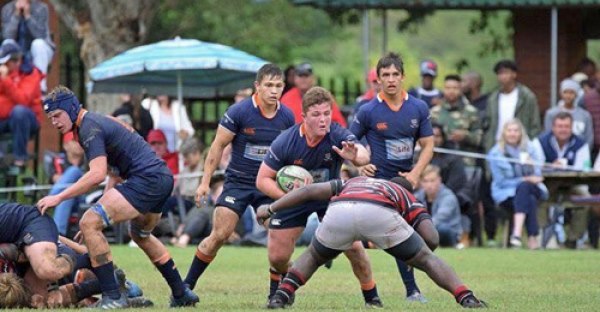 Which rugby schools have produced the most Springbok rugby players? The records show that since
South Africa started playing way back in 1891 there are three schools that stand out as Springbok
factories.
Paul Roos Gym is the leading school with 54 Springboks, followed by Grey College (46) and Bishops
with (42) caps.
However, when we look at the contribution of schools to the Springbok cause from more recent
times the picture is a little different.
Since 1992 it is Grey College who leads the way with 29 Springboks followed by Paarl Gim (14) and
Paul Roos Gym (11).
S  P  R  I  N  G  S  B  O  K  S    S  I  N  C  E    1  9  9  2

NO.

PLAYER

DEBUT

SCHOOL

 

SCHOOL

NO.

915

Scarra Ntubeni

17/08/2019

KES

 

Grey College

29

914

Lizo Gqoboka

20/07/2019

Ntabankulu HS

 

Paarl Gimnasium

14

913

Herschel Jantjies

20/07/2019

Paul Roos Gym

 

Paul Roos Gym

11

912

Rynhardt Elstadt

20/07/2019

Montagu

 

Bishops

8

911

Cheslin Kolbe

08/09/2018

Brackenfell

 

Monument

8

910

Damian Willemse

18/08/2018

Paul Roos Gim

 

Affies

7

909

Marco van Staden

18/08/2018

Bekker HS

 

Maritzburg College

7

908

S'busiso Nkosi

09/06/2018

Jeppe

 

Waterkloof

6

907

Aphiwe Dyantyi

09/06/2018

Dale College

 

Dale College

5

906

RG Snyman

09/06/2018

Affies

 

Grey High School

5

905

Embrose Papier

02/06/2018

Garsfontein

 

HTS Louis Botha

5

904

Robert du Preez

02/06/2018

Kearsney College

 

Kearsney College

5

903

Marvin Orie

02/06/2018

Tygerberg HS

 

Paarl Boys High

5

902

Akker van der Merwe

02/06/2018

Outeniqua

 

Hilton College

4

901

Thomas du Toit

02/06/2018

Paarl Boys High

 

HS Kroonstad

4

900

Sikhumbuzo Notshe

02/06/2018

Wynberg

 

KES

4

899

Travis Ismaiel

02/06/2018

Tygerberg HS

 

Michaelhouse

4

898

André Esterhuizen

02/06/2018

Klerksdorp HS

 

Nelspruit

4

897

Makazole Mapimpi

02/06/2018

Jim Mvabaza HS

 

Oakdale

4

896

Ivan van Zyl

02/06/2018

Affies

 

Selborne College

4

895

Kwagga Smith

02/06/2018

HTS Middelburg

 

Boland Landbou

3

894

Jason Jenkins

02/06/2018

St Albans College

 

Durban High School

3

893

Ox Nché

02/06/2018

HTS Louis Botha

 

Adelaide

3

892

Lukhanyo Am

02/12/2017

De vos Malan HS

 

Boland Landbou

3

891

Louis Schreuder

02/12/2017

Paarl Gim

 

Dan Pienaar

3

890

Warrick Gelant

25/11/2017

Outeniqua

 

Durban High School

3

889

Dan du Preez

18/11/2017

Kearsney College

 

HTS Middelburg

3

888

Wilco Louw

07/10/2017

HTS Drostdy

 

Hugenote, Springs

3

887

Curwin Bosch

19/08/2017

Grey High School

 

Jan van Riebeeck

3

886

Ruan Dreyer

24/06/2017

Monument

 

Klerksdorp

3

885

Dillyn Leyds

10/06/2017

Bishops

 

Northwood (Northlands)

3

884

Andries Coetzee

10/06/2017

HTS Middelburg

 

Outeniqua

3

883

Courtnall Skosan

10/06/2017

Brackenfell

 

Pretoria Boys High

3

882

Ross Cronjé

10/06/2017

Michaelhouse

 

Queens College

3

881

Jean-Luc du Preez

26/11/2016

Kearsney College

 

Rondebosch

3

880

Rohan Janse van Rensburg

26/11/2016

Waterkloof

 

Sand du Plessis

3

879

Jamba Ulengo

26/11/2016

Jim Fouche

 

Strand

3

878

Uzair Cassiem

26/11/2016

Strand HS

 

Tygerberg

3

877

Francois Venter

12/11/2016

Grey College

 

AHS Kroonstad

3

876

Malcolm Marx

17/09/2016

KES

 

Alberton HS

2

875

Bongi Mbonambi

25/06/2016

St Albans College

 

Ben Viljoen

2

874

Jaco Kriel

25/06/2016

Standerton

 

Brackenfell

2

873

Steven Kitshoff

25/06/2016

Paul Roos Gim

 

Centurion HS

2

872

Franco Mostert

18/06/2016

Brits

 

Daniel Pienaar

2

871

Ruan Combrinck

18/06/2016

Michaelhouse

 

Ermelo

2

870

Faf de Klerk

11/06/2016

Waterkloof

 

Framesby

2

869

Rudy Paige

07/10/2015

Bastion

 

Glenwood

2

868

Vincent Koch

25/07/2015

Hugenote

 

Alberton

2

867

Jesse Kriel

18/07/2015

Maritzburg College

 

Ben Viljoen

2

866

Julian Redelinghuys

22/11/2014

Monument

 

Brackenfell

2

865

Nizaam Carr

22/11/2014

Bishops

 

Despatch

2

864

Cobus Reinach

27/09/2014

Grey College

 

Ermelo

2

863

Warren Whiteley

06/09/2014

Glenwood

 

Florida

2

862

Damian de Allende

16/08/2014

Milnerton HS

 

Framesby

2

861

Marnitz Boshoff

28/06/2014

Nelspruit HS

 

Glenwood

2

860

Stephan Lewies

28/06/2014

Eldoraigne

 

Harrismith

2

859

Oupa Mohojé

28/06/2014

HTS Louis Botha

 

Hendrik Verwoerd

2

858

Marcel van der Merwe

28/06/2014

Grey College

 

Hudson Park High

2

857

Handré Pollard

28/06/2014

Paarl Gim

 

Hugenote, Wellington

2

856

Lood de Jager

14/06/2014

Hugenote Springs

 

Jeppe

2

855

Cornal Hendricks

14/06/2014

Bergrivier

 

Kathu

2

854

Pieter-Steph du Toit

09/11/2013

Swartland

 

Lichtenburg

2

853

Lourens Adriaanse

23/11/2013

Paarl Gim

 

Marlow

2

852

Piet van Zyl

15/06/2013

Grey College

 

Menlopark, Pretoria

2

851

Siya Kolisi

15/06/2013

Grey High School

 

Peterhouse

2

850

Trevor Nyakane

08/06/2013

Ben Vorster

 

Pietersburg

2

849

Jan Serfontein

08/06/2013

Grey High School

 

Potchefstroom Tegnies

2

848

Willie le Roux

08/06/2013

Paul Roos Gim

 

PW Botha

2

847

JC Janse van Rensburg *

 

Oakdale Landbou

 

Robertson

2

846

Franco van der Merwe

05/10/2013

Hartswater

 

Roodepoort

2

845

Raymond Rhule

10/06/2017

HTS Louis Botha

 

Rustenburg

2

844

Lionel Mapoe

25/07/2015

Fichardtpark

 

Spine Road

2

843

Arno Botha

08/06/2013

Nylstroom HS

 

St Albans

2

842

Jaco Taute

29/09/2012

Monument

 

St Andrews College

2

841

Frans Malherbe

09/11/2013

Paarl Boys High

 

St Stithians College

2

840

Duane Vermeulen

08/09/2012

Nelspruit HS

 

Standerton

2

839

Johan Goosen

08/09/2012

Grey College

 

Vereeniging

2

838

Jano Vermaak

08/06/2013

HTS Vereeniging

 

Wonderboom

2

837

Craig Burden *

 

Maritzburg College

 

Wynberg Boys High

2

836

JJ Engelbrecht

18/08/2012

Grey High School

 

Albertinia

2

835

Pat Cilliers

18/08/2012

Michaelhouse

 

Alexander Road

1

834

Jacques Potgieter

23/06/2012

Daniel Pienaar

 

Augsburg

1

833

Eben Etzebeth

09/06/2012

Tygerberg HS

 

Bastion

1

832

Juandré Kruger

09/06/2012

Paul Roos Gim

 

Bekker HS

1

831

Marcell Coetzee

09/06/2012

Port Natal

 

Bellville Secondary

1

830

Gerhard Mostert

30/07/2011

Rustenburg HS

 

Ben Vorster

1

829

Dean Greyling

23/07/2011

Affies

 

Bergrivier

1

828

Werner Kruger

23/07/2011

Jeugland

 

Bothaville

1

827

Andries Strauss *

 

Grey College

 

Brandwag

1

826

Charl McLeod

30/07/2011

Wonderboom HS

 

Brits

1

825

Deon Stegmann

06/11/2010

Grey College

 

Cambridge NZ

1

824

Coenie Oosthuizen

09/06/2012

Grey College

 

Capricorn

1

823

Keegan Daniel

06/11/2010

Dale College

 

Carnavon

1

822

Willem Alberts

13/11/2010

Monument

 

CBC Boksburg

1

821

Lwazi Mvovo

20/11/2010

Maria Louw

 

Charleston Hill

1

820

Pat Lambie

06/11/2010

Michaelhouse

 

De Vos Malan

1

819

Elton Jantjies

29/09/2012

Florida HS

 

Despatch

1

818

Flip van der Merwe

12/06/2010

Grey College

 

DF Malan

1

817

Bjorn Basson

05/06/2010

Dale College

 

Dinamika

1

816

Gio Aplon

05/06/2010

Hawston HS

 

Driehoek

1

815

Francois Louw

05/06/2010

Bishops

 

Dundee Secondary

1

814

Jean Deysel

21/11/2009

Hentie Cilliers

 

Durbanville

1

813

Davon Raubenheimer *

 

Knysna Secondary

 

Eldoraigne

1

812

Dewald Potgieter

28/11/2009

Daniel Pienaar

 

Esselen Park

1

811

Bandise Maku

19/06/2010

Dale College

 

Escourt

1

810

Ashley Johnson

23/07/2011

Paarl Gim

 

FH Odendaal

1

809

Alistair Hargreaves

05/06/2010

Durban High School

 

Fichardtpark

1

808

Riaan Viljoen

 

Klerksdorp HS

 

Florida HS

1

807

Francois Hougaard

21/11/2009

Paul Roos Gim

 

Garsfontein

1

806

Juan de Jongh

05/06/2010

Hugenote HS Wellington

 

Gelofte

1

805

Heini Adams

 

Esselen Park

 

Gen Hertzog

1

804

Zane Kirchner

04/07/2009

PW Botha College

 

George HS

1

803

Morné Steyn

20/06/2009

Sand du Plessis

 

Gill College

1

802

Earl Rose *

 

Strand HS

 

Graeme College

1

801

Heinrich Brüssow

22/11/2008

Grey College

 

Greenside

1

800

Adriaan Strauss

19/07/2008

Grey College

 

Hangklip

1

799

Schalk Brits

21/06/2008

Paul Roos Gim

 

Hans Strijdom

1

798

Odwa Ndungane

21/06/2008

Hudson Park

 

Harrismith HS

1

797

Tendai Mtawarira

14/06/2008

Peterhouse ZIM

 

Hartswater

1

796

Brian Mujati

07/06/2008

Peterhouse ZIM

 

Hawston HS

1

795

Andries Bekker

07/06/2008

Paul Roos Gym

 

Hentie Cilliers

1

794

Tiaan Liebenberg

01/12/2007

Grey College

 

Hottentots Holland

1

793

Barend Pieterse *

 

Waterkloof

 

AHS Kroonstad

1

792

Wian du Preez

21/11/2009

Grey College

 

Albertinia

1

791

Ryan Kankowski

24/11/2007

St Andrews College

 

Alexander Road

1

790

Heinke van der Merwe

24/11/2007

Monument

 

Augsburg

1

789

Peter Grant

07/07/2007

Maritzburg College

 

Bastion

1

788

Jannie du Plessis

07/07/2007

Grey College

 

Bekker, Magaliesburg

1

787

Bismarck du Plessis

07/07/2007

Grey College

 

Bellville Secondary

1

786

Luke Watson

09/06/2007

Grey High School

 

Ben Vorster

1

785

Waylon Murray

09/06/2007

Westville Boys

 

Berg Rivier

1

784

Kabamba Floors

25/11/2006

Morester Secondary

 

Bloemfontein

1

783

François Steyn

11/11/2006

Grey College

 

Bothaville

1

782

Jaco Pretorius

11/11/2006

Gelofte HS

 

Brandwag, Benoni

1

781

Hilton Lobberts

18/11/2006

New Orleans

 

Brits

1

780

Bevin Fortuin

11/11/2006

George HS

 

Cambridge

1

779

Ruan Pienaar

26/08/2006

Grey College

 

Capricorn

1

778

BJ Botha

26/08/2006

Durban High School

 

Carnarvon

1

777

Pierre Spies

15/07/2006

Affies

 

CBC, Boksburg

1

776

Chiliboy Ralepelle

26/08/2006

Pretoria Boys High

 

Centurion

1

775

J. P. Pietersen

09/09/2006

Gen Hertzog

 

Charleston Hill

1

774

Akona Ndungane

15/07/2006

Hudson Park

 

Churchill High School

1

773

Johann Muller

10/06/2006

Oakdale Landbou

 

De Vos Malan

1

772

Wynand Olivier

10/06/2006

Affies

 

DF Malan

1

771

Meyer Bosman

19/11/2005

Oakdale Landbou

 

Dinamika

1

770

Gary Botha

30/07/2005

Waterkloof

 

Driehoek

1

769

Ricky Januarie

11/06/2005

Weston Secondary

 

Dundee

1

768

Tonderai Chavhanga

11/06/2005

Prince Edward ZIM

 

Durbanville

1

767

Jongi Nokwe

09/08/2008

Kwamfumdo Secondary

 

Eldoraigne

1

766

Bryan Habana

20/11/2004

KES

 

Estcourt High School

1

765

Michael Claassens

06/11/2004

HS Kroonstad

 

FH Odendaal

1

764

Gurthrö Steenkamp

27/11/2004

Paarl Boys High

 

Fichardtpark

1

763

Solly Tyibilika

27/11/2004

Loyiso

 

Garsfontein

1

762

Tim Dlulane

06/11/2004

Kokstad

 

Gelofte

1

761

Hanyani Shimange

26/06/2004

Rondebosch

 

Generaal Hertzog

1

760

Gerrie Britz

12/06/2004

Grey College

 

George

1

759

Eddie Andrews

12/06/2004

Steenberg

 

Gill College

1

758

Jacques Cronjé

12/06/2004

HTS John Vorster

 

Graeme College

1

757

Fourie du Preez

12/06/2004

Affies

 

Greenside

1

756

Henno Mentz

12/06/2004

Ermelo

 

Hangklip

1

755

Danie Rossouw

11/10/2003

Rob Ferreira

 

Hans Strijdom

1

754

Schalk Burger

24/10/2003

Paarl Gim

 

Hartswater

1

753

Derick Hougaard

11/10/2003

Boland Landbou

 

Hawston

1

752

Jaque Fourie

11/10/2003

Monument

 

Hentie Cilliers

1

751

Christo Bezuidenhout

09/08/2003

Zwartkop

 

Hottentots-Holland

1

750

Geo Cronjé

09/08/2003

Lichtenburg HS

 

HTS Drostdy

1

749

Gus Theron *

 

Robertson HS

 

HTS John Vorster

1

748

Jorrie Muller

02/08/2003

Potch VolksMonument

 

HTS Witbank

1

747

Gcobani Bobo

14/06/2003

Dale/Rondebosch

 

Jeugland

1

746

Juan Smith

07/06/2003

JBM Hertzog

 

Jim Fouche

1

745

Richard Bands

07/06/2003

Lichtenburg HS

 

Jim Mvabaza

1

744

Wikus van Heerden

07/06/2003

Waterkloof

 

John Walton

1

743

Ashwin Willemse

07/06/2003

Swartberg Secondary

 

Kalahari

1

742

Norman Jordaan

23/11/2002

Spine Road

 

Kasselsvlei

1

741

CJ van der Linde

16/11/2002

Grey College

 

Kemptonpark

1

740

Marco Wentzel

09/11/2002

Outeniqua

 

Klein Nederburg

1

739

Pedrie Wannenburg

09/11/2002

Oakdale Landbou

 

Knysna

1

738

Pierre Uys

16/11/2002

Ben Viljoen

 

Kokstad College

1

737

Wessel Roux

09/11/2002

Bothaville

 

Kwamfumdo

1

736

Friedrich Lombard

16/11/2002

Wilgerivier HS

 

Ladysmith

1

735

Jean de Villiers

09/11/2002

Paarl Gim

 

Linden

1

734

Deon Carstens

16/11/2002

Boland Landbou

 

Loyiso

1

733

Bakkies Botha

09/11/2002

HTS Vereeniging/ HTS Middelburg

 

Marandellas

1

732

Hendro Scholtz

27/07/2002

Voortrekker Beth

 

Maria Louw

1

731

Shaun Sowerby

06/07/2002

HTS Sasolburg

 

Middelburg (Cape)

1

730

Danie Coetzee

06/07/2002

Harrismith HS

 

Milnerton

1

729

Werner Greeff

22/06/2002

DF Malan

 

Montagu

1

728

Faan Rautenbach

08/06/2002

HS Kroonstad

 

Môrester

1

727

Brent Russell

08/06/2002

Selborne College

 

New Orleans

1

726

Daan Human

08/06/2002

HTS Louis Botha

 

Nico Malan

1

725

Warren Britz

08/06/2002

Port Shepstone

 

Ntabankulu

1

724

Bolla Conradie

08/06/2002

Kasselsvlei

 

Nylstroom

1

723

André Pretorius

08/06/2002

Dinamika

 

Pacaltsdorp

1

722

Deon de Kock

17/11/2001

Alberton HS

 

Patriot

1

721

Adrian Jacobs

17/11/2001

Scottsville Secondary

 

Paul Erasmus

1

720

Trevor Halstead

10/11/2001

Kearsney College

 

Paulus Joubert

1

719

Joe van Niekerk

21/07/2001

KES

 

Pearson

1

718

Lukas van Biljon

30/06/2001

Welkom Gim

 

Pinetown Boys High

1

717

Neil de Kock

30/06/2001

Settlers HS

 

Plumtree

1

716

Conrad Jantjes

30/06/2001

CBC Boksburg

 

Port Natal

1

715

Butch James

16/06/2001

Maritzburg College

 

Port Rex

1

714

Dean Hall

16/06/2001

Springs Boys

 

Port Shepstone

1

713

Pieter Dixon *

 

Maritzburg College

 

Potchefstroom Gimnasium

1

712

Adri Badenhorst *

 

Prieska

 

Prieska

1

711

Marius Joubert

21/07/2001

Paarl Gim

 

Prince Edward

1

710

Ettiené Fynn

16/06/2001

St Charles/ Kearsney College

 

Rhodesfield

1

709

Hendrik Gerber

07/06/2003

Nico Malan

 

Rob Ferreira

1

708

Thando Manana *

 

St Thomas

 

Robinvale

1

707

Johan Wasserman *

 

Ermelo

 

SACS

1

706

Quinton Davids

15/06/2002

Bellville Secondary

 

Sasolburg

1

705

Victor Matfield

30/06/2001

Pietersburg HS

 

Schoonspruit

1

704

Hottie Louw

15/06/2002

Boland Landbou

 

Schweizer Reneke

1

703

Carel van der Merwe

 

Stellenberg

 

Scottsville

1

702

Lawrence Sephaka

01/12/2001

HTS Springs

 

Secunda

1

701

Delarey du Preez

06/07/2002

Hangklip

 

Settlers

1

700

Craig Davidson

15/06/2002

Northwood

 

Skurweberg

1

699

Chris Rossouw *

 

Paarl Gim

 

Springs Boys High

1

698

Gavin Passens *

 

Robinvale

 

Springs Technical High

1

697

Ricardo Loubscher

08/06/2002

Middelburg HS

 

St Andrews School

1

696

Jaco van der Westhuyzen

19/08/2000

Ben Viljoen

 

St Charles College

1

695

AJ Venter

26/11/2000

HTS Louis Botha

 

St John's College

1

694

Jannes Labuschagne

22/07/2000

Schweizer-Reneke

 

St Thomas (PE)

1

693

Louis Koen

08/07/2000

Paarl Gim

 

Steenberg

1

692

Grant Esterhuizen

22/07/2000

Affies

 

Stellenbosch

1

691

John Smit

10/06/2000

Pretoria Boys High

 

Swartberg

1

690

De Wet Barry

10/06/2000

Paarl Gim

 

Swartland

1

689

Wayne Julies

10/10/1999

Charleston Hill

 

Swellendam

1

688

Anton Leonard

17/07/1999

Adelaide Gym

 

Tom Naude

1

687

Kaya Malotana

10/10/1999

Queen's College

 

Transvalia

1

686

Dave von Hoesslin

12/06/1999

Bishops

 

Tuine

1

685

Charl Marais

12/06/1999

Grey College

 

Upington

1

684

Albert van den Berg

12/06/1999

Vryburg HS

 

Volkskool, Potch

1

683

Cobus Visagie

12/06/1999

Paul Roos Gym

 

Voortrekker, Beth

1

682

Brent Moyle *

 

Jeppe

 

Voortrekker, PMB

1

681

André Vos

12/06/1999

Selborne College

 

Voortrekkerhoogte

1

680

Johnny Trytsman *

 

Durbanville

 

Vredenburg

1

679

Owen Nkumane *

 

St Johns College

 

Vryburg

1

678

Christian Stewart

21/11/1998

Bishops

 

Welkom Gimnasium

1

677

Robert Markram *

 

Kathu HS

 

Wessel Maree

1

676

Corné Krige

19/06/1999

Paarl Boys High

 

Weston

1

675

Deon Kayser

19/06/1999

John Walton

 

Westville Boy's High

1

674

Robbie Fleck

12/06/1999

Bishops

 

Wilgerivier

1

673

Chad Alcock *

 

Alexander Road

 

Wilgers

1

672

Lourens Venter *

 

Kalahari

 

Windhoek

1

671

Braam van Straaten

19/06/1999

Wonderboom HS

 

Zeerust

1

670

Selborne Boome

12/06/1999

Bishops

 

Zwartkop

1

669

Robbi Kempson

20/06/1998

Queen's College

 

668

Stefan Terblanche

13/06/1998

Swellendam HS

 

667

Gaffie du Toit

13/06/1998

Augsburg

 

666

Dale Santon

12/07/2003

Spine Road

 

* Did not play a Test Match

665

Dan van Zyl

02/12/2000

St Albans College

664

Boeta Wessels

 

Kathu HS

663

Willie Meyer

06/12/1997

Marlow Landbou

662

Thinus Delport

10/06/2000

Linden

661

Wium Basson *

 

Paarl Boys High

660

Philip Smit *

 

Marlow Landbou

659

Bobby Skinstad

29/11/1997

Hilton College

658

Andrew Aitken

22/11/1997

Durban High School

657

McNeil Hendricks

20/06/1998

Schoonspruit

656

Braam Els

23/08/1997

AHS Kroonstad

655

Warren Brosnihan

23/08/1997

Northwood

654

Werner Swanepoel

05/07/1997

Grey College

653

Jannie de Beer

05/07/1997

Wessel Maree

652

Pieter Rossouw

28/06/1997

Paarl Gim

651

Percy Montgomery

28/06/1997

SACS

650

Edrich Lubbe

10/06/1997

Robertson HS

649

Rassie Erasmus

05/07/1997

Despatch

648

Jeremy Thomson *

 

Maritzburg College

647

Breyton Paulse

12/06/1999

Skurweberg Secondary

646

Theo Oosthuizen *

 

Albertinia

645

Adrian Garvey

09/11/1996

Plumtree HS ZIM

644

Joggie Viljoen *

 

Framesby

643

Franco Smith

06/12/1997

Sand du Plessis

642

Dick Muir

08/11/1997

Queen's College

641

Joe Gillingham *

 

Alberton HS

640

Russell Bennett

10/06/1997

St Andrews College

639

Schutte Bekker

23/08/1997

Nelspruit HS

638

Wayne Fyvie

24/08/1996

Hilton College

637

Vlok Cilliers

17/08/1996

Carnavon

636

André Snyman

17/08/1996

Dundee Secondary

635

Henry Tromp

17/08/1996

Klerksdorp HS

634

André Venter

17/08/1996

HS Kroonstad

633

Dawie Theron

03/08/1996

Sand du Plessis

632

Johan Ackermann

02/07/1996

Brandwag

631

Danie van Schalkwyk

02/07/1996

Waterkloof

630

Justin Swart

02/07/1996

Paul Roos Gym

629

Toks van der Linde

12/11/1995

Paul Erasmus

628

Garry Pagel

25/05/1995

Adelaide Gym

627

Marius Hurter

30/05/1995

HTS Potch

626

Robby Brink

30/05/1995

Pretoria Boys High

625

Mornay Visser

13/04/1995

Paarl Gim

624

Chris Rossouw

13/04/1995

Hugenote Springs

623

Ian Hattingh *

 

HS Kroonstad

622

Kevin Putt *

 

Cambridge NZ

621

Elandré van der Bergh

15/10/1994

Framesby

620

Tommie Laubscher

08/10/1994

Vredenburg

619

Os du Randt

08/10/1994

Adelaide Gym

618

Christiaan Scholtz

08/10/1994

Port Rex

617

Japie Mulder

23/07/1994

Hugenote Springs

616

Rudolf Straeuli

09/07/1994

Menlo Park

615

Krynauw Otto

30/05/1995

HTS Witbank

614

James Dalton

08/10/1994

Jeppe

613

Lance Sherrell *

 

St Stithians College

612

F.A. Meiring *

 

Gill College

611

Jannie Claassens *

 

Zeerust

610

Chris Badenhorst

15/10/1994

Windhoek HS NAM

609

Cabous van der Westhuizen *

 

Paul Roos/ Jan Van Riebeeck

608

Johan le Roux

11/06/1994

Jan Van Riebeeck

607

Johan Roux

11/06/1994

Centurion HS

606

Fritz van Heerden

04/06/1994

Roodepoort HS

605

Brendan Venter

04/06/1994

Monument

604

Gavin Johnson

13/11/1993

Capricorn HS

603

Gary Teichmann

02/09/1995

Hilton College

602

Mark Andrews

11/06/1994

Selborne College

601

Naka Drotské

13/11/1993

Grey College

600

Ollie le Roux

04/06/1994

Grey College

599

Guy Kebble

06/11/1993

Bishops

598

Hentie Martens *

 

Hilton College

597

Chris Dirks *

 

Secunda HS

596

Ruben Kruger

06/11/1993

Grey College

595

Balie Swart

31/07/1993

Paarl Gim

594

John Allan

31/07/1993

Glenwood

593

Joost van der Westhuizen

06/11/1993

FH Odendaal

592

Joel Stransky

31/07/1993

Maritzburg College

591

Tinus Linee *

 

Paulus Joubert

590

Henry Honiball

21/08/1993

Estcourt

589

Chester Williams

13/11/1993

Klein Nederburg

588

Deon Lotter

03/07/1993

Hottentots Holland

587

Nico Wegner

03/07/1993

Nelspruit HS

586

Hannes Strydom

03/07/1993

Pearson HS

585

Kobus Wiese

26/06/1993

Paarl Gim

584

Francois Pienaar

26/06/1993

Transvalia/ Patriot

583

FC Smit

14/11/1992

Jan Van Riebeeck

582

Phillip Schutte

19/11/1994

Centurion HS

581

Andries Truscott *

 

Grey College

580

Adriaan Richter

17/10/1992

Roodepoort HS

579

Tiaan Strauss

17/10/1992

HS Uppington

578

Botha Rossouw *

 

HTS Tom Naude

577

Piet Pretorius *

 

Hans Strijdom

576

Steve Atherton

06/11/1993

Pinetown Boys

575

Willie Hills

17/10/1992

Tuine

574

Keith Andrews

14/11/1992

Selborne College

573

Harry Roberts

 

Marandellas ZIM

572

Hennie le Roux

26/06/1993

Graeme College

571

Deon Oosthuysen *

 

Driehoek

570

Jacques Olivier

17/10/1992

Menlo Park

569

Hugh Reece-Edwards

17/10/1992

Northwood

568

Drikus Hattingh

22/08/1992

Rustenburg HS

567

Heinrich Füls

15/08/1992

Grey College

566

Johan Styger

15/08/1992

Grey College

565

Ian MacDonald

15/08/1992

HTS Rhodesfield

564

Adri Geldenhuys

15/08/1992

PW Botha College

563

Lood Muller

15/08/1992

Voortrekker PMB

562

Robert du Preez

15/08/1992

HTS Potch

561

James Small

15/08/1992

Greenside HS

560

Pieter Muller

15/08/1992

Grey College

559

Pieter Hendriks

15/08/1992

Standerton

558

Theo Jansen van Rensburg

15/08/1992

Potch Gim

SPRINGBOKS AFTER 1992

557

André Joubert

26/08/1989

Ladysmith HS

556

Adolf Malan

26/08/1989

Pietersburg HS

555

Niel Hugo

26/08/1989

Victoria West

554

Heinrich Rodgers

26/08/1989

Harrismith HS

553

Faffa Knoetze

26/08/1989

Tygerberg HS

552

Kobus Burger

26/08/1989

Paarl Gim

551

Helgard Müller

31/05/1986

Grey College

550

Piet Kruger

24/05/1986

HS Brits

549

Frans Erasmus

24/05/1986

Laingsburg HS

548

Garth Wright

24/05/1986

Muir College

547

Jannie Breedt

10/05/1986

Kempton Park

546

Gert Smal

10/05/1986

HS Kroonstad

545

Wahl Bartmann

10/05/1986

HS Florida

544

Uli Schmidt

10/05/1986

Hendrik Verwoed

543

Christo Ferreira

10/05/1986

Welkom Gim

542

Jaco Reinach

10/05/1986

Grey College

541

Nick Mallett

20/10/1984

St Andrews College

540

Kulu Ferreira

20/10/1984

AHS Kroonstad

539

Attie Strauss

20/10/1984

Boland Landbou

538

Anton Barnard

20/10/1984

Cillie

537

Michael du Plessis

20/10/1984

Gill College

536

Rudi Visagie

02/06/1984

Rob Ferreira

535

Schalk Burger

02/06/1984

Paarl Gim

534

Chris Rogers

02/06/1984

Milton HS ZIM

533

Avril Williams

02/06/1984

Nooder Paarl

532

John Villet

02/06/1984

Bellville HS

531

Shaun Povey

 

Grey High School

530

Gawie Visagie

 

HTS Kimberley

529

Johan Marais

 

Menlo Park

528

Burger Geldenhuys

29/08/1981

HS Kroonstad

527

Hennie Bekker

15/08/1981

JG Meiring

526

Flippie van der Merwe

29/08/1981

Diamantveld

525

Henning van Aswegen

15/08/1981

Windhoek HS NAM

524

Colin Beck

29/08/1981

Strand HS

523

Carel du Plessis

27/03/1982

Paarl Boys High

522

Darius Botha

15/08/1981

Hendrik Verwoed

521

Johan Heunis

12/09/1981

Outeniqua

520

Ockie Oosthuizen

30/05/1981

Heidelburg Volkskool

519

Wynand Claassen

30/05/1981

Middelburg HS

518

Eben Jansen

15/08/1981

Griekwastad

517

Div Visser

29/08/1981

Voortrekker Wynberg

516

Hempies du Toit

15/08/1981

Paul Roos Gym

515

Errol Tobias

30/05/1981

Swartberg Secondary

514

Danie Gerber

18/10/1980

Despatch

513

Tim Cocks

 

Westville Boys

512

Ewoud Malan

28/06/1980

Ben Viljoen

511

Thys Burger

14/06/1980

Helpmekaar

510

Martiens le Roux

31/05/1980

Wessel Maree

509

Willie Kahts

31/05/1980

Volksrust

508

Divan Serfontein

31/05/1980

Vanderbijlpark

507

David Smith

31/05/1980

Hamilton HS ZIM

506

Gysie Pienaar

03/05/1980

Dr Viljoen