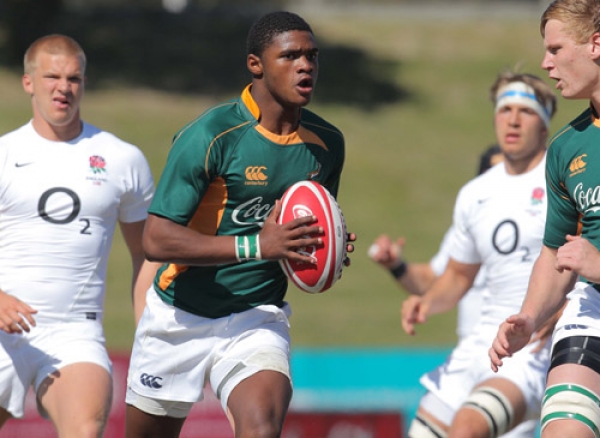 They do not shirk when facing squads containing junior contracts and micro-celebrities; they engage, defeat and rack up another W. This is a special time for Hoerskool Outeniqua and Warrick Gelant is a special player.
Coming out of the hard, unforgiving fields of Hornlee Primary School in Knysna, an appearance for SWD at the u13 Craven Week in 2008 drew the attention of the school that has shown steady progress in the often criticized, but always relevant, schoolboy rugby rankings. Affectionately known as the Kwaggas, Outeniqua is an Afrikaans-medium, co-ed school of roughly 1700 learners (approximately 800 are boys) with a small boarding establishment for those from far-flung areas. Much like the honeycomb in the school badge, the inspired results of 2013 to date, are an offshoot of the diligence, discipline and teamwork of the squad.
Whilst four of the current squad were included in the SA u18 Sevens team that took part in Australia's Youth Olympics in Sydney (Gelant, Duhan van der Merwe and the twins, Remu and Dewald Human), one cannot overlook the potential of ball-carrying Eighth man, Dian Koen and the emerging enforcer, Eduard Zandberg. In fact, the key to their success has been the inability to spot a weakness in the 2013 group. Wins over Tygerberg, EG Jansen, Paarl Boys and Grey College are not attained through the efforts of a one-man team; but Warrick Gelant remains a vital cog in this well-oiled machine.
In a nation obsessed with the physical statistics of its young athletes, it's refreshing to see Warrick's balance as he steps off both feet and distributes after drawing in sufficient defenders. At 86kg, he is strong enough to hold his own in the collision, yet nimble enough to evade any contact if space is apparent. He could best be described as a hybrid between Jean de Villiers and Juan de Jongh, but it will be in Pretoria where his raw talents will be finely tuned at a union which has never been scared to give talented youngsters an opportunity at senior level.
The nature of professional sport has recently dawned on South Africa rugby in a big way; the reality being that unless a franchise player is in realistic Springbok contention, the allure of the Pound, Euro and Yen becomes all too tempting, giving us a school-like conveyer belt of talent. So whilst prodigious talents such as Robert Ebersohn and Jan Serfontein are clearly long-term national investments at second-five, the likelihood is that within three years, there will be space for young Warrick Gelant to bring a refreshingly antipodean style to the generic structures of midfield battering rams taking it up off first and second phase.
With the lack of attacking space available as one progresses up the ranks, it may even be an idea to stick Gelant at the back; his experience for SA Schools and his Sevens prowess lending itself to the fact that he is a creator, bar none. An air of unpredictability with the on-field swagger of James O Connor; it would be the logical choice to place such a magician in a jersey where he would have free reign to exploit any latent deficiencies in the opposition defensive line. This is indeed where he started for SA Schools last year against Wales; the toughest opponent he can recall due to the Welsh propensity for developing large, physical wings such as George North.
Though a skilled and analytical coach is able to purvey vision and thoughtful decision-making onto his young charges, mentors the world over will tell you that the one 'uncoachable' is sheer pace and this is an attribute that Warrick possesses in bundles. With modern-day conditioning programs and natural physiological development on the way in the next few years, he can be expected to be around the 90-95kg mark by the age of 21; putting him in the perfect physical bracket for both the midfield and sweeper roles (Wynand Olivier sits at 94kg and Zane Kirchner at 92kg).
His physical attributes aside, obvious natural talents were evident but later refined by first team coaches Piet Cloete and Jacques Woolfaardt whilst still in grade ten and will no doubt be taken to the next level in the junior structures of the Bulls, where he plans on learning more about the industry of sports management, before delving into the complementary virtue of Marketing.
One hopes that his positional utility will not become his downfall, as it has threatened to be for so many others. That said, Gelant remains the ultimate squad option in that he not only covers the midfield and back three, but is an accomplished goal kicker who will only improve in a town where a golden boot is revered as an important part of their structured, altitude-reliant game plan.
The dangerous inclination to dub a teenager as the next international superstar is as troublesome as it is unadvised. Statistics of SA Schools and Baby Boks who now found themselves in the rugby wilderness are indicative of a system that builds up young stars to the point where entitlement and increased self-worth in the age group ranks lead to the inevitable crash and burn when said player falls out of favour with a particular coach, faces a lengthy injury or stiff opposition.
Whether Warrick Gelant becomes a household name or another cautionary tale depends on his ability to embrace hard work and humility, whilst managing the treacherous realities of injury, struggle and general bad luck. The last time that a schoolboy lit up the fields of the Kearsney Easter Festival in the manner that Gelant did, everybody was talking about a young wing by the name of Jan Serfontein and debating how long it would take him to wear the green and gold. With history having a uncanny ability to repeat itself, don't bet against this combination featuring prominently at the 2019 Rugby World Cup in Japan.