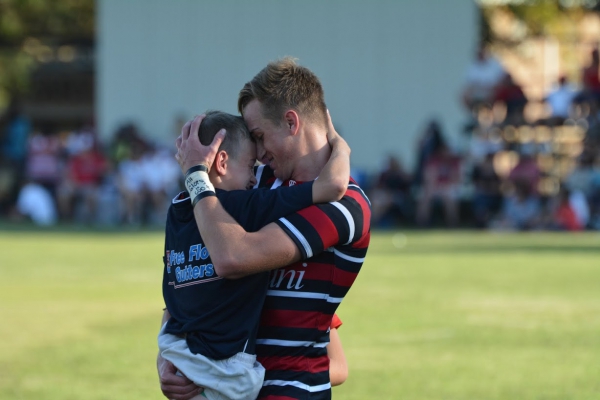 There was very little to choose between the two teams and for much of the match it looked as if KES had done enough to win. However College buoyed on by the devoted supporters put everything they had into the final seconds of the match and managed to score a try in the corner with a last minute try and in so doing take the win.
It is a match like this, one that is too close to call, that can suspend time as the air is punctuated with a bouquet of emotion; agony and despair for those who have just fallen just short of the win and sheer exhilaration, relief and pride for the team that has just managed to snatch victory from the very jaws of defeat.
For family members watching the efforts of the players, it can be one of the most memorable of experiences, yet for a little brother watching his older sibling play in such a match it will a moment that will be permanently etched in the scrapbook of childhood memories. For such a boy, the emotions and pride he feels can be quite overpowering as he wills his big brother to produce something spectacular, his heart pumping with pride every time he touches the ball.
And when the win has been secured a little brother will forever look at the older one with a unique sense of admiration and awe that reaffirms the unbreakable bond between the two.
In the match between KES and Maritzburg College, a young boy sat in the crowd, his eyes never moving from one player on the field, his brother Ruben van Blerk, the College winger and kicker. The young van Blerk, lived through every tackle, break and kick his brother produced, as he willed him on to save the match.
And when the last gasp efforts of the team made safe the victory, with the partisan crowd overwhelmed with euphoria and relief, there was only one player the youngster wanted to be with. The one that he had screamed for the entire match, his brother and his hero. This is more than just a photo but a moment locked in time that will be forever shared between brothers.