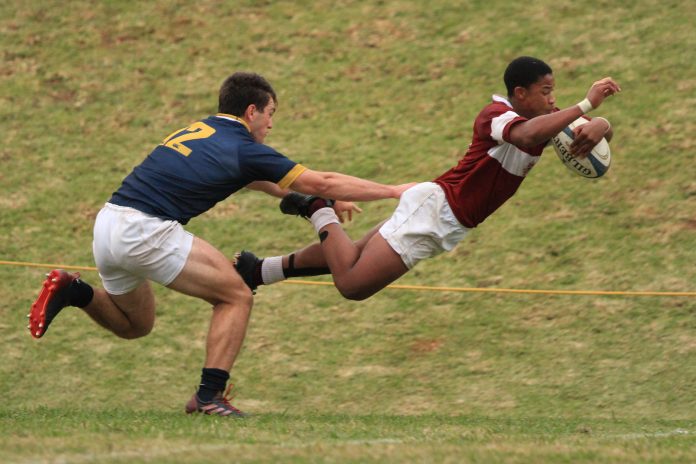 St Charles 1st XV lost to Kearsney 1st XV 22-19
St Charles hosted Kearsney in Pietermaritzburg in ideal rugby conditions on their Founders' weekend. The hosts were fired up by the electric atmosphere alongside the field and the team responded well with a spirited performance, giving what might well have been their best performance of the season.
St Charles started the match with intent and only good defense stopped them scoring from early opportunities. Kearsney clawed their way back into the match and responded with a well-worked try from a set piece, with centre Siso France diving over under the posts for Rhys Calenborne to convert.
The next 20 minutes produced a territorial battle, with both sides guilty of some elementary mistakes and handling errors. Kearsney did however score their second try from a turnover lineout which the centre pairing of Aya Mngaza and France used well, with Mngaza rounding his defender and feeding flyhalf David Pohl with a well-timed pass to score under the post, for Calenborne to convert.
Kearsney stretched the lead to 14-0 but St Charles responded with a solid lineout maul with hooker Urquhart dotting the unconverted try.  Kearsney ended the half strongly, despite squandering two golden opportunities in the last five minutes, with the half time score remaining at 14-5 in the visitors' favour.
The second half started with some good play by Kearsney although they conceded penalties at crucial moments. It was from another conceded penalty and resulting lineout that the hosts managed a driving maul from which flanker Mason made a break and once stopped just short from the try line, prop Mdledle picked and dived over for a converted try, to shrink Kearsney's lead to 14-12.
Kearsney enjoyed territorial advantage for the next 20 minutes. They were eventually rewarded with another try by France (unconverted) after capitalizing on sustained pressure and a St Charles error. Kearsney lead 19-12 but they would have felt disappointed in not converting many opportunities they had.
Credit to the home side which never gave up. From the kickoff they used the lineout maul opportunity for their inspirational hooker Urquhart to score his second try of the match. Full back Adonis converted, for scores to level at 19 all.
The last five minutes was more of the same, as Kearsney dominated the territory and eventually just on full time were awarded a penalty which man of the match Siso France slotted for a 22-19 victory to Kearsney.
Other outstanding performers for Kearsney were captain Jason Brien, Aya Mngaza and Luca Veronesi.
Match report compiled by Sue Miles at Working Words
Photo: Kearsney's Siso France eludes his St Charles counterpart
Photo credit: Tracey van den Aardweg