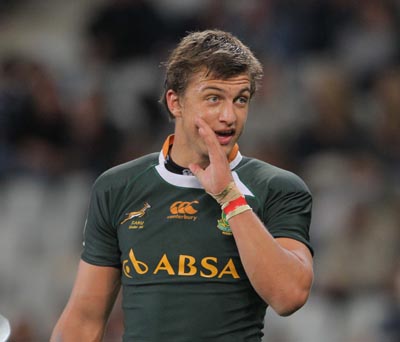 Grey College seemed to toy with their opposition in an ironically humble manner. Soaking up pressure in the first half of their encounters, they unleashed unrelenting multiphase dominance that none of their contemporaries could cope with.
As balanced as they were, a young Johan Goosen had Springbok written all over him.
He didn't convert from the corner, he bisected the uprights. He didn't create space for his outside backs, he made is nigh impossible for them not to score. There was a palpable recognition that greatness was brewing before our eyes.
With the festival promptly garnering a reputation of incomparably competitive clashes, the talk amongst the awed spectators has been of the relative strengths of the schools on display with hero worship reserved to the 2010 Grey vintage. That all changed in 2012 when Handre Pollard came into his own.
One cannot describe his rise as meteoric; indeed his story is a familiar one: A player who has ticked all the right boxes. Provincial representation from primary school and envious physical and genetic gifts, Handre's potential for rugby stardom was born before he was.
His father, Andre was a Paarl Gimnasium stalwart and First XV Captain in 1978. Herein lies the background to the somewhat baffling success of Paarl Gim on the schoolboy rugby scene. As a co-ed state school with less than 500 boys, they shouldn't be able to compete with the private and boys-only institutions who have the depth and resources that Gimmies could only dream of. Yet there is something special in the manner that a son will almost certainly fill his father's boots.
When considering the above, it is thus clear that Handre's story is typical of the region.
Though a Langebaan boy, a mere 150km did not stop young Handre from attending Paarl Gim where he was a pivot from the word go. Modeling his game on the diminutive but gutsy Jonny Wilkinson, Pollard is far from the antiquated perception of a one-dimensional flyhalf who concentrates on his allotted task and expects his teammates to follow suit.
Sure, he has a prodigious kicking game that can eliminate pressure with the effortless swish of his boot, but it's his willingness to attack the breakdown and pilfer from an opponent with the textbook technique of Heinrich Brussouw that had made opponents and talent scouts sit up and take notice.
A Western Province supporter from a young age (his earliest rugby memory is attending a Province game at Newlands as a five year old), the next step is yet to be decided and in a cringe-worthy age of young rugby talents having no plan B, young Pollard has made the informed decision of letting his academic future determine his sporting progress.
He has not committed himself to any union and being the level-headed young man that he seems to be, his ambition to study architecture will no doubt be a primary consideration as he weighs up his various options.
Having defeated Grey College, the humble pivot listed them as extraordinarily tough opponents, along with Affies and traditional rivals Paarl Boys High. August will see the 2012 edition of the greatest schoolboy derby on the planet, as Booishaai and Gimmies divide Paarl in an encounter that may go a long way in ensuring a number one ranking for either of the two. Both are particularly strong this year and although Gim is littered with game breakers, they will look to Pollard to set the tone on a day that has all the tension and atmosphere of a professional encounter.
For a few players, it may not be the last time that they experience such an occasion.
Paarl Gim are in the midst of somewhat of a revival; a return to the golden era when prolific Super Rugby starters such as Hennie Daniller, Ashley Johnson, Jean de Villiers, De Wet Barry, Marius Joubert, Schalk Burger and Dewald Duvenage were churned out with nonchalant expectation. With over thirty first team caps, Handre will be a mere cog in a very experienced unit who are expected (if this season is anything to go by) to emulate their three point victory of 2011, though the margin points to the unlikelihood of a runaway victory.
Though nothing may ever be taken for granted in first-class sport (particularly in the unpredictable and helter-skelter world of professional rugby), it is a known fact that Handre has many influential eyes surveying his progress; Springbok coach Heyneke Mayer going as far as to say that his present course of development may very well see him don the Springbok jersey one day; the question of which jersey remains to be seen.
Though a lifelong General, the abundance of young number ten's in this country may well lead to Handre testing the water at inside centre. Whilst the names of Lambie, Goosen and Jantjies are on everyone's lips, the second five-eight jersey is largely made up of seasoned campaigners who are unlikely to feature at the next Rugby World Cup. Our Antipodean colleagues have consistently mastered the tactic of blooding their future flyhalves at number twelve; Dan Carter and Matt Giteau are but two that come to mind; their prowess needn't be discussed.
Perhaps such a tactic will be deemed unnecessary as Handre possesses all the physical characteristics (95kg, 1.89m) and intangible mental fortitude to make the step up that the abovementioned rookies have managed with such aplomb. At the time of writing, Dawie Theron had made the somewhat audacious move to draft Pollard into the Baby Boks training squad, mere weeks before the Junior World Championships kick off in Stellenbosch and Belville. Except there have been no gasps of bemusement in the rugby fraternity; no animated chatter at the office water cooler. South Africans rugby fans have faith in a future that includes Handre Pollard as a central protagonist. Though this humble and unassuming standout would never admit as much; our collect calm at the thought suggests that such a scenario is a matter of when, rather than if.