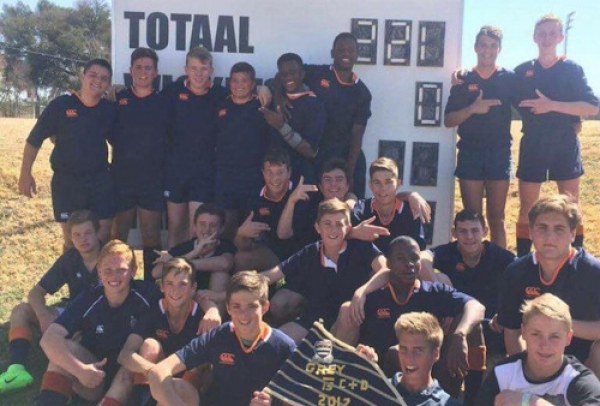 It is the one school rugby match that is perhaps getting more air time than any other that has been played this season and it doesn't even feature one of the top First XV's in the country.
More than that it doesn't even feature an "A'' team but rather the Glenwood U15 D team who travelled from Durban to take on the Grey College U15 D team in Bloemfontein.
What followed was nothing short of a rugby massacre as Grey pummelled the Glenwood players, winning with a record score line of 221-0. To break that down further, Grey College scored close on 18 points every five minutes of that match without reply from the Glenwood team!
Some articles have said that the Glenwood players 'just stood there and refused to play.' Others have questioned why such a match was arranged in the first place and why the game wasn't stopped when it became apparent that it was going to develop into this landslide? What psychological damage has this match done on the school and its players?
Speaking to Glenwood's Director of Sport, Mr. Nathan Pillay it is clear that the outing to Grey College has indeed wounded the school, if not physically then certainly it has dented their pride.
"Our school as a whole is hurting, we are a proud school but we are looking for the boys to bounce back, but we are hurting," said Director of Sport Pillay before adding that Glenwood " have had a good season so far and we must pick ourselves up it's as simple as that."
How does such a result resonate through a school and what is the aftershock that the players are having to deal with is what many are wondering. Will this result have a negative impact on the players? Pillay tends to believe that it won't and mentioned that although there "could be some psychological issues, it is still a learning experience for our boys and we will look at it from our side in terms of ensuring this doesn't happen again and preparing our boys. It's a wakeup call for us and it's a wakeup call for everybody."
Discussing this fixture with the Glenwood's Director of Sport helps to answer some other questions that have been raised by the public. Questions such as why did the match go on for so long, why wasn't it stopped? In addition will Glenwood want to continue including Grey College on their fixture list for the future?
Pillay responded confidently saying that, "the relationship between Glenwood and Grey College has been going on for over 12 years in terms of this traditional fixture and nothing is going to change. It's as strong as ever and will continue to get stronger. We are two traditional boys' schools and it's good to have this rivalry and relationship between the schools. This fixture must continue for the good of sport in South Africa."
Glenwood have taken immediate steps to ensure that the Glenwood vs Grey College match remains on the fixture list for the future with Glenwood's Headmaster writing a letter to the Governing Body Chairperson of Grey College to ensure that these types of results will not happen again from their side.
Yet why was the match not stopped early or the mercy rule brought into effect? Once again Mr. Pillay's explanation draws attention to the high profile that both schools enjoy in school rugby circles which makes stopping a match a hitherto unanticipated practice when these two schools meet. "When you come to KZN games are stopped, but when you go to Grey College we know games are not going to be stopped. What traditionally does happen is that the scoreboards get turned off, you know the boys are travelling a long way from Durban and you don't want to go all that way for just 10 minutes of rugby obviously. In terms of the score line when you want to play against the big boys, you have got to man up unfortunately. I understand where people are coming from but this is top tier rugby. We know the rules when you play the Grey Colleges of this world. "
The Director of Sport also quashed the claims that the Glenwood U15D side simply stopped playing stressing that he could never accept that a Glenwood boy would give up and it was not what he had observed.
So it appears that Glenwood have been forced to take a long hard look at themselves over the past couple of days and moves are afoot to strengthen their structures to ensure that something like this never happens again.
As Nathan Pillay says with regard to the coaching, which once boasted the likes of Boishaai's Sean Erasmus in its ranks, "of course when you get scores like this there are certain things that we must look at and we would be silly not to, it is time to look at all these areas as there are certainly some that need to be improved on."
So next year we may well see the Glenwood U16D side facing the Grey College U16D side. Memories of the 221-0 massacre will be on many of the players and coaches minds. But what if Glenwood do manage to turn things around, what if, and it's a big IF, the Glenwood U16D finds themselves leading Grey College U16D's by 50-0, will they stop the match or just let it run its course?
Pillay's answer? "Jeez if we are only 5-0 up I'm going to stop the match…"