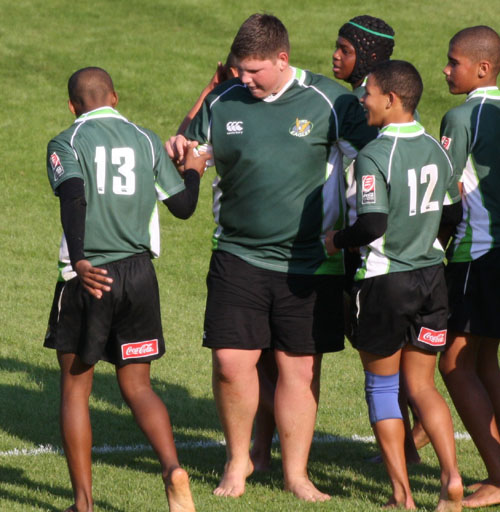 The biggest of them was Stephan Posthumus of Hartenbos Primary School and SWD, who tips the scales at a hefty 116 kg and stands 1,79m tall.
A survey of the official programme reveals, if the numbers are to be believed, that there are 32 boys at this tournament that are over 1.78m tall, and 15 who weigh 80kg or more.
Those sorts of figures always get people talking, and in the social media response to a picture of Posthumus that someone tweeted, were quite a few questions around whether it was safe to have players of this size playing against smaller boys of that age.
At the week, as he will be at all of the Coca-Cola Youth Weeks, was SA Rugby's medical manager, Clint Redhead, and he says that the issue is one that SARU certainly keeps an eye on.
The question asked, he says, is whether we should be playing weight-grade rather than age-grade rugby at this level, like they do in some parts of New Zealand.
And the answer, he says, is that there is no medical evidence to support It. "We had professor Mike Lambert of UCT do research for us a few year ago and he concluded that there is no difference in the injury-risks involved when age-grade and weight-grade rugby is compared," he said.
"We keep an eye on the literature, and that hasn't changed."
Redhead believes there are social and maturity issues with making larger boys play with others who are older than them that make the practice problematic. "It can't be good to take a boy away from his peers and put him among players who are older and more mature than he is. We believe that outweighs any benefits there may be to having games were everyone is roughly the same size."
SARU keeps detailed injury statistics at all the Coca-Cola Youth Weeks and, according to Redhead the most common injuries at the under-13 Craven Week have nothing to do with size and weight. "We find that, because the players are at an undeveloped, growth stage, the majority of the injuries are caused by kids falling awkwardly."
So, bring on the big boys. They have already added a lot of colour and interest to what is going to be a great festival of rugby in Durban this week.
Fetsi Mbele, Coca-Cola South Africa Marketing Assets Manager comments, "The Coca-Cola Craven Week creates an environment where natural talent, player skill, hard work, dedication and team work meet and the future heroes of South African rugby are made. We are proud to sponsor a tournament where all kids have the opportunity to take part."