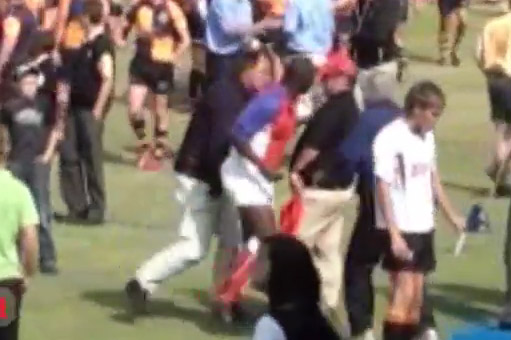 The Falcons Rugby Union will take action against Mr. Schalk Snyman, the assistant coach said the province's referee boss Alfred Ross.
The video of the incident clearly shows how Snyman who also happens to be involved with the Falcons provincial team, tries to knock referee Mlungiseleli Mdashe over, after the EG Jansen narrowly lost to Kempton Park 24-18.
Madashe is one of the top 25 referees in the country and also the referee manager at the Falcons Rugby Union.
The head of South Africa's rugby referees, Andre Watson has strongly condemned the incident and said, "It is shocking and tragic that any referee, but Madashe especially, was handled in this way and it does not carry my approval. Hopefully they will make an example of this person and stop this kind of behaviour."
"It is getting to the stage that referees will no longer want to participate in school sports anymore. The coaches will have to blow the matches themselves and then I would like to see what happen," Watson added.
The video shows how Snyman and Reghardt Botha, Rugby Director and a teacher at EG Jansen, first have an animated discussion with Madashe. Then Snyman seconds later approaches the referee diagonally and shoulder charges him from behind.
It is a pathetic bit of behaviour by a coach who has failed to set any example for a team who deserves more.