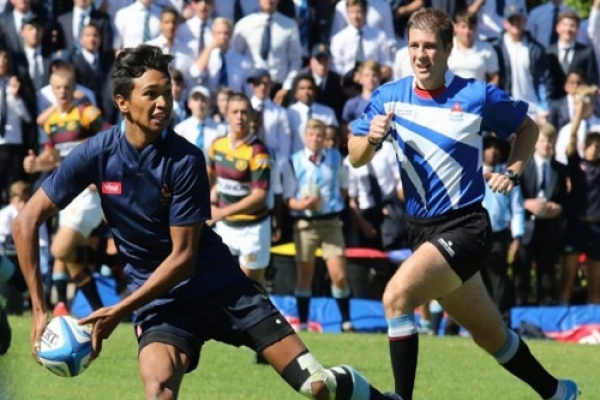 The Bishops 1st XV class of 2015 is no exception to this norm, notching up a few spectacular tries along the way. Although this year's team is modest in man power and by their own admission, not the best fifteen rugby players to pass through the long proud rugby history of the school, they have definitely not disgraced themselves in any of the matches they have played. They have even managed to cause a few upsets this season, including taking down Johannesburg giant KES and of course downing schoolboy rugby powerhouse Paarl Gym in a memorable 35 -32 win back on18 April.
As with any team sport, there are individuals who shine and play a very prominent role when the team performs admirably. This cult figure for the men in blue can be found in the slim, lanky form of fullback Tristan Leyds. Tristan, although fairly small in stature, has scarified the lush green Piley Reese with his scintillating running from the back and has thus been marked by many opposition teams as a potential danger man.
The brother of Stormers winger Dillyn Leyds, through his impressive season thus far, has emerged with an outside shot of making the Western Province U18 Craven Week team. Having made the final round of trials and given his form of late, it will not be a rash conclusion to come to. Tristan possesses similar running and decision-making ability to his 22-year-old brother and if the Leyds' pedigree is anything to go by, the youngster has a bright future ahead of him.
It therefore comes as little surprise that Bishops have been able to produce rampant running rugby and taking down the odd giant in the process with the likes of Tristan spear-heading the 2015 attack. The flying fullback continues to be a massive weapon in the arsenal of Basil Bey boys.