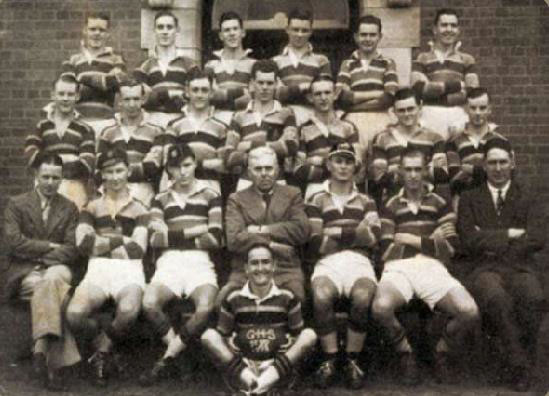 Student numbers continued to grow during the First World War and by 1918 there were 267 scholars.
In 1939, at the start of World War II there were 490 pupils in the school and during the six years of war, 457 Old Boys served in East Africa, the Western Desert and Italy. Of these, 109 were in the South African or Royal Airforce. Out of the 457 who served, 120 old-boys lost their lives during this war. There is a very poignant picture of the school's 1st Rugby Team of 1935 (Pictured Below) where at least 15 of the 18 boys in the photograph volunteered for service in the war and six of those in the photograph were killed. These included Roy Gibson, son of Durban's Lady in White (Perla Siedle Gibson), and Clement (Neville) McGarr, who was one of the prisoners of war to escape from Stalag Luft III as part of the "Great Escape".
Rugby at Glenwood
Rugby at Glenwood is the major sporting code. It is a sport that instills values such as integrity, sportsmanship, loyalty, discipline and hard work. Glenwood's policy of participation in extra mural activities as well as the passion shown by the boys enables almost five hundred youngsters the opportunity of experiencing the ultimate team sport.
Glenwood fields thirty teams on a regular basis. This allows boys from all levels and ability to be part of this wonderful game. The sports department endeavors to provide games for all teams, this has allowed Glenwood to embark on tours out the province to play fixtures against some major rugby playing schools in South Africa such as Affies from Pretoria and Grey College from Bloemfontein.
The first 90 years (1910 to 2000)
Glenwood has produced some really good sides and players over the years, particularly 1954, 1957, 1965, 1972, 1978, 1979, the late 90s and in the past decade.
The 1965 side is still considered by most Old Boys and KZN pundits as the best ever produced by Glenwood, playing 14 and winning 14, scoring 283 points while only 50 points were scored against. Seven players represented Natal Schools that year and included great names like Kevin Sclanders (capped 3 times for Natal Schools), Hylton Aylward (capped three times for Natal Schools & Captain in 1964 & 1965), Dennis Morrissey (capped 2 times for Natal Schools), R.D Shaw, E Sclanders, A.J Delport, A.R Wallace, D.M Lawson and C.R Chambers.
1979 saw Glenwood produce their best side since 1965. Although 2 games were lost by the narrowest of margins, there was little doubt that they were the best side in Natal. They played magnificent rugby, combining superb forward power with intelligent backline play. Their margins of victory over some of the best sides in Natal say it all, College 33-6, DHS 32-4, Westville 44-9 and Hilton 53-12. Derek La Marque was simply superb.
Probably the only schoolboy to represent South Africa at waterpolo while still at school and captain both SA Schools rugby and waterpolo in one year. He was capped 3 times for KZN Schools in 1977, 1978 and 1979. He went on to have a good career with Natal and helped Natal make the 1984 Currie Cup final, playing with greats like Wynand Claasen, Craig Jamieson and Hugh Reece-Edwards.
The next great side came in 1984 where Glenwood had three boys picked for Natal Schools of which one was probably the best backline player ever to play for Glenwood, Dennis Baronet. Seldom has a schoolboy caused so much panic in an opposition backline, carving them to pieces with his speed and guile. He was rewarded in 1985 with an SA Schools cap, Glenwood's second. From 1985 to 1997 Glenwood produced some average sides who had some great individuals like T. Labuschange and P.Senekal.
The 1992 side could have been Glenwood's biggest pack of all time with Leyton Pardey the 120kg loose head prop making KZN Schools along with David Terblanche (No8).
1997 was probably the turnaround after the 'darker' early to mid 90's where Glenwood lost more than they won. It heralded the rising of a rugby beast. Victor Tsewu, Nicholas Strauss and Cedric Mzolo kick started a new generation and one that continues today.
The 2000s
Since 2000, Glenwood has produced 47 KZN Schools Craven Week A team representatives, including 5 SA Schools players (Petros Methula, Shaun Malton, Jayden Hill, Ricky Schnetler & Siyabonga Tom) and 2 SA Academy players (Nteta & Makhabela). This is probably the biggest contribution by
any school in KZN with Westville and Maritzburg College 2nd and 3rd respectively.
The 2000 side played 37 and only lost 2! Unfortunately Glenwood's rise has seen a decline in the rugby standard of their biggest rival, DHS or Horseflies from the across the Berea! In the past Glenwood have battled to beat this great Durban school but in the last decade it's been pretty one sided.
Glenwood have created a great rivalry with Westville and College in the past 5 years and always seem to be fighting out with them for top honours in KZN. Glenwood have won the best performing rugby school award in KZN for the past 4 years. Many an envious parent from opposition schools has claimed Glenwood 'buying' players and recruiting players with bursaries. Glenwood have been clever and promoted the school at primary school level and by having a winning 1st team has attracted the best players in the province. Having a Boarding Establishment that can house over 200 boys helps here too.
With success brings demand for other provinces schools to play Glenwood. Since five years back, Glenwood has set up home and away traditional fixtures with Affies and Grey Bloem, two of the country's best rugby schools without doubt. Glenwood's finest rugby hour came in 2006 when they beat the mighty Grey Bloem for the first time on fortress Dixons, 14-10! A great achievement and something that will be remembered for generations to come. Other recent big scalps are wins over Affies, 24-7 at home and 24-10 at Affies, Paul Roos 13-8 & 26-7, Pretoria Boys High 26-9, Bishops 19-11, Boland Landbou 29-10, Maritzburg College 47-10 (on Goldstones), KES 38-3, Waterkloof 14-12 and their latest biog scalp in 2013 is Paarl Boys winning 17-15. Since 2000, here are the Glenwood results against local opposition;
| | | | | | |
| --- | --- | --- | --- | --- | --- |
| Team | Played | Won | Lost | Draw | Win Rate |
| Maritzburg College | 22 | 11 | 11 | | 50% |
| Westville | 10 | 8 | 2 | | 80% |
| Michaelhouse | 8 | 4 | 3 | 1 | 50% |
| Kearsney College | 11 | 7 | 3 | 1 | 64% |
| Hilton College | 7 | 4 | 3 | | 57% |
| Northwood | 80 | 49 | 28 | 3 | 61% |
List of Glenwood Springboks (Test Caps Only)

Debut Year Player

Player

1921

Wally Clarkson

1937

Mauritz van den Berg

1938

Roger Sherriff

1964

Don Walton

1968

Rodney Gould

1993

John Allan