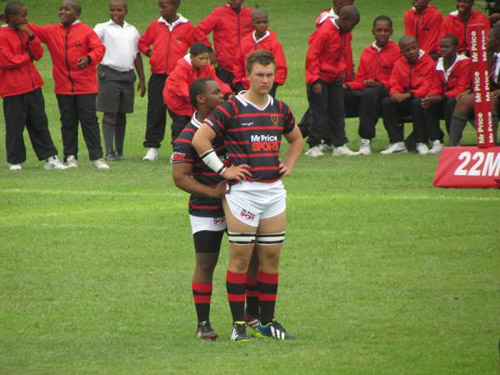 Where does that leave schools like Dale College? How difficult has it become for players from the Eastern Cape/ Border region to realistically dream about playing for the Springboks? In an article recently published by Business Week we see perhaps how difficult it has become for a future star player to rise above numerous obstacles in order to play the sport at the highest level. Take a look at the article and feel free to share your views.
JORICH Loubser matriculated last year with six As and, like many thousands of other 18-year-olds, he will soon be starting at university. Next week Jorich will register for a BCom in accounting at the University of Cape Town (UCT). He was awarded a small rugby bursary by the UCT Rugby Club and has already begun training with their under-20s.
What sets Jorich apart is that he is a white Afrikaner who was educated at a predominantly black school, Dale College, in King William's Town. Having coffee with him this week, he struck me as a particularly heartening example of a born-free white youth.
I've been following Dale College for several years because it seems to me to provide a litmus test for development.
Potential Springboks are spotted and nurtured at schools. So if we want more black Springboks it's obvious that we need to put resources into predominantly black, rugby-playing schools. Dale is perfect for this: it is well run and, courtesy of its origins as a school for the sons of British officers during the Border wars, has excellent, if increasingly shabby, infrastructure. But it suffers from being situated in a badly administered, poverty-stricken province.
When I first went to Dale in 2010 it had one full-time rugby coach, a very basic gym and no help at all from either the Department of Sport and Recreation or South African Rugby Union (Saru). Unlike other predominantly rugby schools, its old boys, who were then still mostly white, were largely uninterested.
The Border Union, the local representative of Saru and responsible for development in the area, was bankrupt. The president, African National Congress heavyweight Phumlani Mkolo, has been charged with the alleged abuse of funds meant for Nelson's Mandela's funeral. The union is now being administered by Saru head office.
Jorich, who was head boy of Dale last year, is a good advertisement for it. He is passionate about the school and has an intelligent insider's view of its strengths and weaknesses. He brushes off questions about race: he says of course he was aware of the fact that he was a different colour to most of his classmates, but that it didn't affect either his perception of them, or theirs of him. His best mate had a Zulu mother and Xhosa father. His girlfriend is the sister of Bulls player Bjorn Basson.
There have been some positive developments at Dale College, he says.
There has been a surge of interest from more recent alumni, who are less interested in race. Old boys now fund about 40 bursaries a year. This is for both tuition and hostel fees so it comes to about R40,000 a year per boy.
Boys from poorer backgrounds benefit greatly from being in the hostel because it means they get proper nutrition and don't have to struggle to find the money for transport to get to practice and games.
This year the Department of Sport and Recreation has designated Dale a "sports focus" school, which means it will be funded to help 15 poorer, feeder schools in their area. Probably the most important initiative, though, is from Cricket SA (CSA). Rugby is Dale's headline sport but the school is also a breeding ground for cricketers. CSA is now sponsoring two bursaries but, even more importantly, it is funding a full-time coach. In the brief time the CSA coach has been there, he has made a big difference to Dale cricket — last year they were unbeaten in both the Eastern and Western Cape.
CSA involvement has also stimulated a new interest in the game and more boys are being drawn in. Last year, for instance, an interclass tournament was initiated that meant every boy got to play on the A-field, giving the coach the opportunity to unearth previously unidentified talent. If CSA can fund a coach for Dale, surely Saru can too?
Jorich, who played lock for the first team, says Dale needs coaches who can improve their technical skills — a kicking coach and a conditioning coach, for example. Dale boys tend to be smaller, so good conditioning is crucial.
The school also needs a war chest to fend off predatory private schools. Dale's rugby stars are constantly being lured to richer schools that need to boost their black player numbers. Dale can't compete with private schools, which offer not only full boarding and tuition fees but also enticements such as generous allowances and rugby kit. Perhaps some companies could come on board and help fund such a chest?
Jorich points out that the only Dale player in the past few years who has profited from migration to a richer school is Stormers player Scarra Ntubeni, who went to KES in Grade 10. Mostly, they do not thrive.
It would be far healthier for pupils, and for the school itself, to strengthen Dale and let its boys reach their full potential in a familiar environment, where they are not valued purely for their prowess on the rugby field.
Courtesy Business Week
Author : Liz McGregor