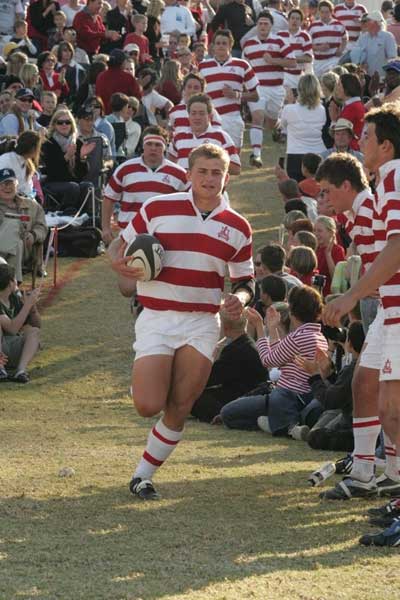 We met up with Patrick as he says farewell to school boy rugby and embarks on a full time career in rugby in 2009.
How did your interest in rugby start?
P.L. My brother and I used to play in our back garden from pretty much as soon as we could walk and run. I have always been a great fan of rugby and my dad was a rugby player so I got very interested in the game from him.
I played in junior school, I went to Clifton in Durban where I played centre in Grade 6 but I was quite porky and slow and not the biggest of guys either so I was easy to catch. So I was not the greatest rugby player around and I was never really that good though until last year.
What was the big change to your game that happened last year?
P.L. I don't really know! I played fly half in Grade 8 and 9 and I was injured in Grade 10 so I didn't play for the whole season. However last year in Grade 11 I was put at fullback for the first game of the season and I just grew into that position and got better and better with each game.
Going back to the time when you arrived at Michaelhouse, how difficult was it to get into the team?
P.L. Yes we had to write our names down and the position that we wanted to play. I wanted to play fly half because I thought that I would be good enough, but there were a couple of other guys who also wanted to play fly half so I was a little nervous not knowing how good the other guys were. However I went through the trials and was able to make it into the U14 side.
What representative rugby have you played so far in your career?
P.L. I managed to make the U12 "B" North Durban side, nothing so great! But last year I made it to Craven Week and got selected for South African Schools and this year I captained the KZN Schools team at Craven Week and also got picked for the South African Schools team again.
Did you set yourself goals to make it into SA Schools?
P.L. No not really. Before rugby season started I remember driving back to school with my parents and saying that if I play Second Team it is ok as I will play in the position that I want to. So yes I would say that my goal was to probably to play First Team for Michaelhouse and when I was included into the First Team my goal was to try and stay there.
I was then sent to trials and before I knew it I realised that I might actually be good enough to play for KZN. I really didn't know if I would be good enough to make SA Schools or not.
Looking back on your first Craven Week and your first selection for the SA Schools team, what was that experience like?
P.L. I just went there to enjoy it and it was really, really nice last year because I had no expectations to make the team. It was an eye opener for me because everyone was a lot bigger than me and looked about 20 years old, but I really enjoyed it because there wasn't much pressure on me, I was just there to enjoy the games.
The standard of rugby was also played at a higher level, it was faster and everyone seemed to be much stronger players. But when you are on the field you don't get scared or intimidated by the opposition, it is probably only after the game when you realise that certain players are much bigger than the rest.
So what does the future hold for Patrick Lambie's rugby career?
P.L. Next year I am going to the Shark's Academy in Durban and will hopefully be studying a B.A degree through UNISA. I have a 2 year contract at the Academy and we will see where that takes me, if things go well I will stay but if they don't I might not.
My goal is to play for the Sharks and to play for South Africa. I think that it is a realistic goal to have; I don't think that there are many guys that can say that they played for SA School two years in a row. Just looking at some of the guys in the present South African team they were in a similar position to me a few years ago and they have made it to the highest level. So yes I believe that it all can happen for me.
I am really looking forward to the Sharks Academy and my rugby career. As much as I have enjoyed playing rugby for Michaelhouse I have obviously had to concentrate on other responsibilities and haven't been able to fully hone in on my rugby. So next year I think I will be able to focus more fully on my rugby.
I can't wait for it to all start!
How has being a Michaelhouse rugby player helped your development as a player?
P.L. It has helped hugely! I think the whole style of rugby that is played and coached here at Michaelhouse has really enhanced my game. The whole philosophy of Michaelhouse rugby is that we would like to play a running type of game and the coaches give the boys the freedom to make their own decisions and display their flare and try different things.
Also the facilities here are brilliant. The gym is great and we have endless fields so even if its not your practise afternoon there is always a free field to practise your kicking for example. The coaches are great, Mr. Combrink the Director of Rugby has a huge knowledge about the game and he would help with the coaches to ensure the right things are done at the practises and in the game.
As your career at Michaelhouse comes to an end, what would you say has been your most memorable moment?
P.L. Probably the Hilton v Michaelhouse matches, especially the last one we played this year. In fact all the games against Hilton have been memorable because I personally through the years have never lost to Hilton before in whatever sport I have played against them.
What has been the best advice you have been given as a sportsman?
P.L. Yes my parents have always encouraged me to just enjoy the sport I play. I think when you are having fun you play your best; you don't want to be too hard on yourself or take things so seriously that you don't actually have any fun. At the end of the day it is making the most of what is on offer.
As the young Patrick Lambie says goodbye to schoolboy rugby and embraces the life of a professional there is one fact that every single spectator who has ever seen him will agree upon. Without any doubt we all realise that here is a special talent, a talent that comes around once in a generation a talent that once seen gives you a lump in the throat because you know you have just witnessed a legend before its time. Patrick Lambie will be a Springbok. How long we have to wait to see that is just a matter of time!
Updated note by author on 30 October 2010 : Lambie within 2 years has now fulfilled what was long forcast. In 2010 he was selected to be a Springbok