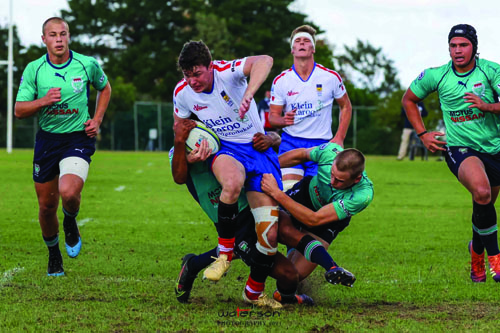 Considered the westernmost point in the Garden Route region lies the town of Riverdal nestled between Cape Town and George. Basking in the beauty of the imposing Langeberg Mountains to the north, with Sleeping Beauty Mountain overlooking the town, it possesses a landscape that never fails to capture the imagination.
Look past the mountains, through the Fynbos and over the farms stocked with cattle, sheep, ostriches and flowers and you will find what was originally called Oakdale Farm- acres of lush agricultural land that was transformed back in 1928 into an agricultural school – Hoër Landbouskool Oakdale.
Boasting a proud history of training young farmers, Oakdale has also become one of the leading rugby schools in South Africa, producing several Springboks and they have claimed the scalps of Paarl Boys High, Affies, Paul Roos Gym and other big names in recent times.
Seeing my players smile and enjoy rugby is the most rewarding
The man responsible for ensuring the rich rugby tradition continues is Head Coach of the Oakdale First XV Malan du Plessis. Malan exudes pride for his school and team as he explained to SA School Sport just what makes his job arguably one of the most admired in school rugby.
What drives Coach du Plessis, who is now into his 10th season as coach, to keep coming back with enthusiasm season after season?
"The most rewarding part of being the Oakdale Coach? Just to see my players smile and to see them enjoy rugby is rewarding. Also, to see how they are able to develop as people because the sport of rugby teaches you values, values when used make for a more meaningful person," explains Coach du Plessis.
Landbouskool Oakdale is not a big school in terms of the number of learners that are enrolled there. However, of the roughly 464 pupils, 435 of them are boarding at the school which makes managing and training the boys a lot easier. Yet more than that, there is a definite aim to instil vital values to ensure the success of the team.
"We form a powerful sense of purpose for the team. We want to develop individual operating units in which each player has a specific portfolio of responsibility and leadership. We must create a learning environment because at the end of the day they are learners and better humans makes for better players. Loyalty, integrity, respect, work-ethic and of course enjoyment to strive for the jersey through excellence are the core values of the team," says Malan du Plessis.
Developing the mindset to win
It is well known that a farmer's work is never done, the same is true of a winning rugby team. Year after year Oakdale manage to produce rugby teams that are fitter and stronger than the majority they face on the field. This is not by accident, like all farmers, they work in acres, not in hours.
Malan explains that his brand of coaching is to always "practise with intensity and develop the mindset to win. But also, I'm honest with the players, I tell them where they can improve and praise them when they perform well."
A decade of coaching at Oakdale has give Malan du Plessis many memories of success. During that time, he has seen a young CJ Stander blossom from the Captain of Oakdale First XV to the SA Schools side into one of the finest flankers in world rugby turning out for Ireland and the British & Irish Lions in 52 test matches.  But which players stand out as the best he has coached in the past ten years?
"It is so difficult to pick from 10 seasons, but I will rather pick 5 captains that played a major role in some great seasons we had. CJ Stander, Benjamin Janse van Vuuren, WP van Heerden, Hannes Gous and Paul de Villiers. If you have great leaders, leaders will create leaders in their place. There have also been some players who surprised me with how they developed. For example, Henco Beukes (Blue Bulls) and Pierre-Raymond Uys both played for the under 14 C teams and then ended up in Craven Weeks sides and now playing at a high level."
The 2013 First XV were a special team
As mentioned, coaching one of the most successful teams in the South Africa has meant that Malan du Plessis has been on the winning side more times than not. He has also overseen some formidable teams that have been the equal of any they faced. Yet there are four teams that stand out as being particularly talented for different reasons.
"The 2013 First XV were a special team. They had no stars, but this team grew year on year. I started coaching them in the under 14 team and took them to their final year in the First team. We ended up drawing with the No.1 and unbeaten team in the country, Paarl Gim in Paarl. That team played as brothers and the "we" was always first not the "I".
"Another team that stands out was the 2016 team. Those players played with heart, physically the smallest unit I have coached in the First XV but they never ever backed down. With them we beat Paul Roos Gym who had Damian Willemse at flyhalf. That was a team with great attitude and lots of skill.
"Then there was the 2018 team. What an amazing team to work with! We beat Boishaai in their backyard at Brug Street, 47-2! They were a special bunch of players with great values. And now the 2021 First XV also have a great work ethic a real train to win attitude. They play for the proud values of Oakdale, Oakdale boys through and through. I really hope rugby will resume this year," says a proud Coach Malan.
Grey College is like playing the All Blacks
Yet despite all the success and all the victories, there is one goal that Coach du Plessis has, that has thus far been just out of reach.
"The benchmark in schoolboy rugby is without a doubt Grey College. When you play Grey in Bloem it is like playing the All Blacks in New Zealand. However, we have never played Grey in Bloemfontein which is unfortunate. But maybe if the season kicks off again (due to COVID-19) we will get the opportunity to play team," Malan says optimistically.
Coaching a top school rugby side has given Malan du Plessis a unique insight into rugby in South Africa and what can be done to improve the sport in South Africa. He mentions that although South African schoolboy rugby is the strongest in the world the biggest problem facing SA rugby is how to keep the talented players playing after they finish their schooling.
"The club systems are not healthy, possibly only in the big cities like Pretoria or Durban, but if you are in the Karoo or West coast it is very tough. If you are not playing Varsity Cup or have not been contracted to a union your options are minimum. The fact that there are no options for a u/23 player makes it even more difficult. So, we must get the smaller unions up and running again, because it is these smaller unions that give more players more opportunities."
Oakdale's Secret Formula
Wise words from a coach who has been working in the factory of South Africa rugby and has gained invaluable experience along the way. Experience that will go a long way in ensuring that Hoërskool Landbou Oakdale continue to play a brand of rugby that will test the best in the land and produce quality farmers, players, and men.
Is there a secret formula to their success? Yes, there is! Let Malan tell you in his own words,
"Every boy that applies to come to Oakdale wants to be in Oakdale. His heart, soul and love for the farm and the brother next to him under the shadows of the Oak trees in the valley of the Sleeping Beauty is special. The smell of cow dung and the love for nature is something different than any other ordinary school."
Hoërskool Landbou Oakdale, a unique school, guarded by the beauty of mountains and possessing a success formula that is possibly quite impossible to replicate.
Oakdale rugby