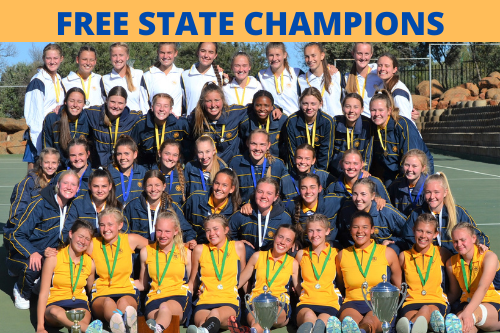 Oranje Meisies' five A-netball teams made history this week by finishing in the top-2 in the Free State for the first time and thus qualifying for the national championships.
Four of those teams – the u.14's, u.15's, u.17's and u.18's, were crowned this year's Free State champions. The u.16's are the runners-up. The SA National Championships will take place in Boksburg in August.
This is only the second time in Oranje's netball history that four of the five A-teams are the provincial winners. It also happened in 2019.
The first team beat Sentraal 26-23 in the final on Friday to retain the trophy they won in 2019 (the last time the championships took place). This is the very first time that the u.18As are the district (Motheo) and provincial winners in the same year. OMS also dominated the Tralies 39-35 in the Motheo final last month.
Oranje defeated Voortrekker 29-17 in the semi-final and defeated Wilgerivier (31-14), Goudveld (28-13) and Witteberg (44-3) in the group stage. The team currently has a winning percentage of 93% (41 out of 44) and is in third place in the national rankings.