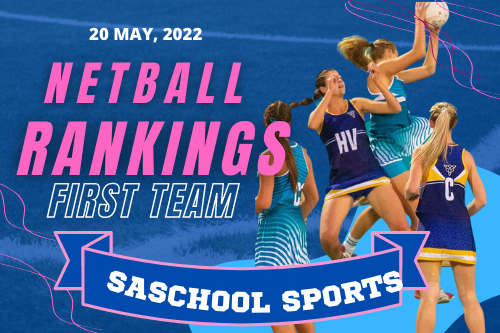 The First Team Netball Rankings for this week.
There has been an ever louder demand from the school netball community for a rankings table for netball and so here follows the first publishing on the SA School Sports First Team Netball Rankings for 2022.
The formula that has been generated for netball will take into consideration the following factors: Strength of Opposition, Margin of Victory, Margin of Loss, Actual Goals scored, Actual Result (W/L/D) and others. Each factor earns a team a prescribe amount of 'bonus points' which are accumulated and divided by the matches played to render an "Avg Bonus Pts" which is ultimately ranking a team.
Paarl Girls High take the early lead on the rankings with Affies and Garsfontein making up the leading 3 teams.
A quick look at the table reveals that many teams are not displaying, and others have not all their results captured as they have not yet been submitted. So without doubt as more teams and matches are added there will be some movement on the table. 
Please send through your team's results to [email protected] to ensure inclusion.
1st TEAM NETBALL RANKINGS 20 MAY, 2022

RANK

TEAM

PLAYED

AVG  BONUS PTS

1

PAARL GIRLS HIGH

23

12.29

2

AFFIES

11

12.05

3

GARSFONTEIN

21

11.16

4

MONUMENT

6

10.82

5

LA ROCHELLE

16

10.56

6

ORANJE MEISIES

17

10.55

7

HELPMEKAAR

6

10.43

8

MENLOPARK

10

10.04

9

SENTRAAL

22

9.32

10

BLOEMHOF

14

9.01

11

PAARL GIM

27

8.99

12

PEARSON

14

8.93

13

DUINEVELD

12

8.76

14

RUSTENBURG

9

8.74

15

WATERKLOOF

19

8.68

16

UPINGTON

14

8.24

17

RHENISH

5

8.24

18

HTS DROSTDY

5

8.24

19

OVERKRUIN

11

7.86

20

PIETERSBURG

4

7.63

21

CURRO HILLCREST

17

7.39

22

EUNICE

13

7.11

23

DIAMANTVELD

27

6.73

24

WESVALIA

11

6.67

25

STIRLING

9

6.14

26

ALBERTON

11

5.03

27

BEN VORSTER

7

4.77

28

STELLENBERG

9

4.52

29

CAMBRIDGE

9

4.14

30

BRANDWAG

12

3.52