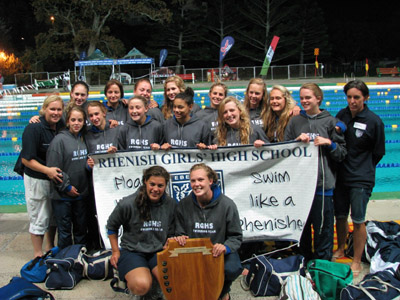 It seems that the sleepy, leafy, student town of Stellenbosch is fast becoming a haven for High Performance Sport. The successes of the University on the sporting front cannot be ignored as they have dominated such competitions as the Varsity Cup and many others in various sporting codes for what seems like an age now.
This type of success has filtered down into every aspect of life in the town, and people seem to eat, sleep and drink sport. The effects can clearly be seen at one of South Africa's oldest schools, Rhenish Girls' High, where for the past 6 years they have been victorious at the highly prized Boy/Girl Gala.
History of the School
The school was established in 1860, when the head of the Rhenish Mission Church decided to establish an all-girls school for daughters of the Rhenish missionaries. Up until this time they had been forced to send their daughters all the way back to Germany for schooling, so the establishment of the school was only logical.
The school motto, "Ebenezer" is taken from a verse from 1 Samuel 7 meaning, "Hitherto hath the Lord help us," and has been in use since 1904, yet to this day it seems that almost all Rhenish girls are filled with a drive and determination that their motto professes.
Ms Helmien Slabber, headmistress of Rhenish elaborates on this saying that as staff members they are tasked with ensuring that all the girls are as successful in the classroom as they are in the pool or sporting field.
"Most of our focus is on trying to teach the girls effective time-management. This goes a long way to ensuring that the girls have balance in their lives and that their priorities are in correct order, which is vitally important."
The sense of family and community is also very important to the school and visitors to the school are welcomed with open arms. After my arduous journey from Cape Town, I could not have anticipated a reception like the one I received at Rhenish. Both staff members and girls alike made me feel immediately at home and it felt as if I'd known them for ages.
"Community and family are very important values to us here at Rhenish. For example you saw the girls in the swimming team, they're more like sisters than teammates," says Ms Slabber.
Swimming at Rhenish
Swimming at Rhenish has skyrocketed in the past 6-7 years. The school has developed a reputation as a venerable swimming factory with girls attending from far and wide. Their dominance of the Boy/Girl Gala has been a huge reason for this interest but also the fact that most of the girls had older brothers or sisters who were keen swimmers or waterpolo players.
The school also regularly participates in 4M (Vier Meisies-skole) competitions involving four of the Boland's biggest all-girls schools in Rhenish, Bloemhof, La Rochelle and Paarl Girls' High. Successes however in the athletics editions of the 4M have been few and far between so the girls have looked to focus all their attention and energy to the swimming pool instead.
The results of the 4M gala's have been so one-sided in recent years that more girls (nearly 260) make the trek out to Cape Town for the Boy/Girl gala than the 4M.
"The atmosphere at the Boy/Girl gala is unbelievable. Its very special for every Rhenisher because you're competing against the best and the Rhenish presence is massive," says one of the school's top swimmers Caitlin Kat.
"It's such a boost for us because when the rest of the teams see us they're already thinking, 'Damn, its Rhenish again!'"
This year's Boy/Girl gala was even more exceptional as they managed to edge out the next best Boy's team in Rondebosch by 6 points as well as edging out 2nd placed Herschel in the girl's standings by 24 points, the biggest difference between 1st and 2nd in over 20 years scooping up 15 wins out of 19 races entered.
Rhenish Swimming Team 2011
Caitlin Kat – Freestyle
Hilde Herman – Backstroke/Freestyle
Kelsey Jenkinson – Breaststroke
Lara du Plessis – Freestyle/Backstroke
Caitlin Sleet – Freestyle/Backstroke
Louise Currie – Breaststroke/Individual Medley
Ashley Rutherford – Individual Medley/Backstroke
Catherine Simpson – Breaststroke/Freestyle
Carle Ferreira – Individual Medley
Michelle Nieuwstad – Backstroke
Tia Dixon – Butterfly
Alexandra Quenet – Backstroke/Individual Medley
I was initially confident that I could some up the reason for the girls' successes. I thought, with my knowledge and experience of attending an all-boys school where sport was huge, that there must be some sort of High Performance swimming centre at the school. I was hugely mistaken. It seems I have very limited knowledge of how Girls' schools operate and was quickly reminded of it, in a friendly way though.
At the end of the day though, all the girls are club swimmers, which I am told is the way to go. Well, if you're serious about swimming that is, which is exactly what these girls are.
"The coaching at club level is very professional and of course the training is more intense. There's more of a High Performance culture," says Caitlin Kat.
Team-mate Catherine Simpson is quick to add, "Swimming for your school is always great, but what everyone's worried about is, 'Did you win?' At club level its all about times, about fine-tuning everything."
"It's a very tough, professional atmosphere. I basically wake up, swim, go to school, swim, homework, sleep. Its tough and I've had to make a lot of difficult decisions as to where my priorities lie," adds Kat.
She gives an insight into what many schoolboys and girls are experiencing in South Africa. South Africa is no ordinary place, the country is absolutely sporting mad so the level of professionalism in most sports is at an exceptionally high level. Coming 2nd is not an option and there is a High Performance culture in almost all sports rivalled probably only by the USA, Australia and the UK.
It's a tough life but what makes it easier is that there are many other people experiencing similar lives, so support structures are in place and have been a large reason for the successes of top sportsmen and women such as the young girls at Rhenish.
Robben Island Swim
The stretch of the Atlantic Ocean between Robben Island and Big Bay measures 7.5km in length and at the best of times the temperature reaches 12°C. It is one of the toughest, most extreme stretches of sea in the world with extreme temperatures; strong, unpredictable currents and ocean swells. The creatures who frequent this place are Great White Sharks, jellyfish, blue bottles and a few girls from Stellenbosch.
The organisers of the Robben Island swim state quite clearly, "The cold Atlantic poses a real physical threat to swimmers no matter how fit they are."
The girls don't of course fear this at all. They relish it. It's a highlight for them.
"The biggest problem we face is obviously the water is really cold so we have to wear wetsuits. That's a problem because it really limits our strokes," says Hilde Herman.
"It's open water so you've got to really focus on where you're going or you can easily go off course. There's also a lot of petrol fumes to deal with but its so much fun!" says Lara du Plessis with a glint in her eye.
This is met by a blank stare by me at first, but then I did remember telling someone one day that the best feeling in the world is when every bone and muscle in your body hurts after a rugby game, so maybe we're not so different after all.
At the end of the day though the swim is for a very good cause as the girls raised funds for the Vista Nova school for children with special learning needs. Trust the Rhenish girls however to finish the race 1st, 2nd and 6th in the school's section of the 2010 race.
The Future
For most of the girls, aspirations of taking swimming seriously are all on the horizon. What was interesting to note was the fact that almost every single one of the girls were level-headed about the future, commenting on the fact that they needed to ensure that they were studying part-time as well. So it is true what they say, girls do mature faster than boys, because had you asked me something similar 4 years ago I would've probably said I want to play rugby and do nothing else!
Caitlin Kat and Carle Ferreira both want to continue their swimming careers, however both are adamant to stay in South Africa, "I want to study Veterinary Science Part-Time as well as take my swimming seriously. I know a lot of swimmers make the move to the States but that's not for me. If you look at the stats, they didn't turn into Olympic swimmers magically when they went over there. They already had the talent. I'm planning to stay here and hopefully qualify for the Olympics in 2016," says Kat.
Michelle Nieuwstad and Kelsey Jenkinson are both hoping to move over to train in the States. "My brother is training over in the States so it would be easy for me to settle and train over there," says Jenkinson.
For others, swimming seems to be an exciting pastime here at school, but not so much in the future.
Lara du Plessis says she's having fun with her swimming at the moment but doesn't see herself taking it seriously while Catherine Simpson plans to phase out of swimming gradually to focus on her studies.
Whatever the future holds for the girls, their names will forever be scribbled in the record books at Rhenish. Future Rhenishers might just look at these names and cheer them on while they receive their medals on the rostrum at the Olympics. For others they will look back at this time fondly, a time when a bunch of girls turned to their boy-school rivals and said, "Yes, we're better swimmers than you are."