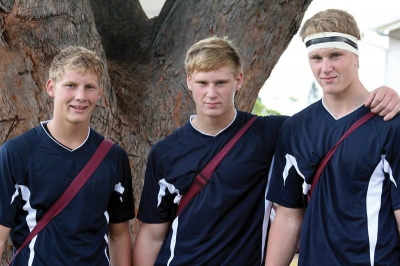 Schalk Burger, Luke Watson, Pierre Spies, Ruan Pienaar, Ryan Kankowski and Andries Bekker are simply a few offspring who have shared the selfsame professional stage as their fathers. There are even tales of British rugby academies requiring a meeting with a young prospect's father and maternal grandfather to get some sort of idea of the teenager's physical potential. For those youngsters who were too young to witness the impact that Robert du Preez senior had on the local rugby scene; they need only take a walk to Stott field at Kearsney College.
Robert du Preez Snr – Sharks and Springbok Great
Robert senior was a man before his time. He was a tall, physically dominant scrumhalf in a time when the halfback was habitually the smallest man on the field who saw himself as simply a distributor. Where most stood well clear of the possibility of collision with opposing forwards, du Preez thrived on it. Coming out of HTS Potch (Potchefstroom Technical High School) in the early 80's, he provided a pass with power and accuracy that other scrumhalves could only aspire to. His presence lifted pressure from the shoulders of some of South Africa's most influential flyhalfs; Naas Botha at Northern Transvaal (now the Bulls) and Joel Stranksy at Natal. He played seven tests for the Springboks in 1992 and 1993 and was involved in the establishment of the incredibly successful Red Group (of Mr Price).
With such lofty standards set both on and off the field, the du Preez brothers would be forgiven for feeling the weight of the expectation that often overcomes schoolboys with a famous surname. Onlookers and teammates alike expect miracles every time such a youngster takes to the field.
Something a little different is taking place on Botha's Hill however. When Robert, Daniel or Jean-Luc touches the ball, their surname is simply an afterthought.
The Beginning of the trio
Born on the fifth day of August 1995, the KZN rugby community began to take notice of the du Preez twins as early as six years old when they completely dominated the mini-rugby circuit in the colours of Durban Crusaders. They were taller, stronger and faster than any other
boy on the park and consistently worked in tandem. The fact that few could tell them apart had little to do with their genetic symmetry and everything to do with the fact that neither possessed a greater ability than the other in any measurable facet of the game. Robert, born on 30 July 1993, also took up the game at the age of six and clearly remembers shedding a tear over an injured finger, which mom duly made better with the promise of an ice-cream. Such a reminiscent anecdote takes on an air of irony when one considers that he isarguably the most physical number ten in KZN schoolboy rugby today.
Schooled at Durban Prep (DPHS), they made the now common pilgrimage up to Kearsney College, where many a Prep boy has gone on to contribute to the increasingly reputable rugby program at the school. Once a haven for cricketing talent, names such as Trevor Halstead, Nico Breedt, Brad Barritt and Matt Stevens have helped to transform Kearsney into a bona fide rugby challenger in KZN. Buoyed by this fraternity and the promise of an incomparable academic opportunity, Mr. and Mrs. du Preez made a somewhat easy decision that would culminate in a first for the school; a trio of brothers playing in the same starting line up.
What made the decision somewhat rudimentary was not only the stellar reputation of the school, but the fact that older brother, Robert, was already in maroon himself. Whilst he was a more than competent scrumhalf in grade eleven, 2011 has seen this matric learner explode through the metaphorical wall of athletic potential and emerge as an eye-opening game breaker at flyhalf.
Robert: The Flyhalf
South African rugby habitually looks to pigeonhole a pivot as either the stereotypical Bulls example of a big boot distributor who takes the ball deep and rarely troubles his opposite number, or the direct Natalian number ten who takes the ball flat, looks to attack the advantage line and keeps the opposition guessing. Perhaps it's the advice from a father who has played in both systems, instinctual fortitude, or a combination of the two; young Robert du Preez provides the best of both worlds.
Aggressively placing his backline on the front foot with cutting running lines and smash mouth defence, on-lookers find themselves questioning his boot, only to witness a spiraled torpedo find its way into the opposition red zone. He has the ability to hoof the ball from his own twenty-two, but he chooses to work the blindside instead. Talent scouts at the recent Blythdale Easter Festival openly expressed their desire for players who would "speel, speel, speel!"
The tide is clearly turning and the days of the uninspired general are a thing of the past. One-dimensional number tens have had their place in historical Springbok triumphs, but they are reserved for the annuals of history. The future lies with the brave and the enterprising. It lies with Peter Grant, Patrick Lambie and Robert du Preez.
Jean-Luc and Daniel : Flanker and Lock
Whilst Robert was making his mark in the First XV, his younger brothers were integral parts of class of 2013. Kearsney's u14A team of 2009 and u15A side of 2010 could count their aggregate losses on one hand and were often the toast of the school. Kearsney supporters knew they could count on these sides for the result they were looking for and all and sundry recognized that whilst these squads were by no means wholly dominated by the twins, they were vital cogs in this momentous group. What structured positional rugby also did was establish the two as recognizable individuals. Jean-Luc is the charismatic number seven; and Daniel, the hardened grafter in the dangerous depths of tight-forward play. They are Andre Venter and Johan Ackerman, Juan Smith and Bakkies Botha, but they are so much more than such vague comparisons.
In an age where schoolboys are hyped up to professional levels before reaching the age of eighteen, the trio refreshingly keeps their goals short-term and pragmatic. Robert aspires to go to Craven Week, whilst the twins respond in unison that selection for KZN at the u16 Grant Khomo Week would be the perfect conclusion to an already impressive 2011 season.
Kearsney's 1st XV, plagued by pre-season supporter fears of ordinary results have risen to the challenge with only one loss (at the time of print) to the superpower that is Grey College. A final result for the rescheduled fixture (Kearnsey replaced Christ College NZ at the last minute to provide Grey with a greater challenge) of 24-3 showed the strides that the school has made; no longer a cricketing school who possess a decent rugby side. A young squad comprising of an array of grade ten players tested Grey to the very end and completely demolished rivals Hilton College 42-0 earlier in the season; enough to make the KZN 'big three' of Maritzburg College, Glenwood and Westville sit up and take notice.
Western Cape, KwaZulu-Natal, Ireland, England or France?
The anticipation surrounding the du Preez trio lies not so much in the question of whether they can convert schoolboy hype into professional performance, but rather when and where.
Robert has expressed a desire to study at Maties (Stellenbosch University) next year and the twins, still undecided on their plans for three years time, are hopeful of the opportunity to either don the selfsame black and white jersey as their father or to follow their older brother to the Western Cape. Having spent time as an exchange student in Ireland, Robert has a soft spot for Irish clubs and the twins follow English and French rugby with interest; so a stint in the northern hemisphere is not out of the question.
The boys' maturity shines through when they follow this statement with the understanding that they'll need to pay their dues in smaller clubs in order to reach their full potential when the time comes.
The question of nature versus nurture need not be solved; the truth lying somewhere in the middle. With Rob standing at 1,9m & 86kg, Jean-Luc at 1,92m & 95kg and Daniel coming in at 1,93m & 93kg; they clearly possess superior athletic genetics than most, but South Africa circa 2011 is littered with thousands of similar physical specimens. What sets the du Preez brothers apart is their ability to truly take fatherly advice to heart; of dedicating themselves to work harder than their bodies want to.
To set goals and then push past these boundaries; to work together and feed off each other's positive energy. So whilst teachers and child psychologists may feel it best to separate such close siblings in order for them to reach their true potential, they would do well to head to Stott field to witness a plausible challenge to such a theory.