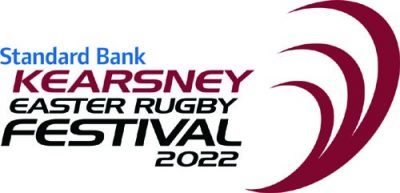 After a two-year COVID-induced absence, Kearsney College is excited to again be welcoming 12 top South African rugby schools as well as supporters of schoolboy rugby to the Kearsney Easter Rugby Festival next month (April).
This year's festival will showcase four powerhouse teams from Gauteng – Hoërskool Monument (Monnas) from Krugersdorp, Pretoria Boys High, Hoërskool Waterkloof (Pretoria) and Hoërskool Dr EG Jansen (Boksburg).  Hoërskool Noord-Kaap from Kimberley will be returning to the festival, as well as three strong Eastern Cape teams, Selborne College (East London), Hoërskool Framesby (Gqeberha) and newcomers Hoër Landbouskool Marlow (Cradock). Glenwood High School, Westville Boys' High, Durban High School (DHS) and Kearsney College will represent host province KwaZulu-Natal.
Since the inaugural festival in 2008, the Kearsney Easter Rugby Festival has played an invaluable role in the development of South Africa's schoolboy rugby culture and growth. The event provides an opportunity for players to enjoy the incredible experience and fun of playing in a major festival, as well as the opportunity to be noticed and to advance their rugby careers at provincial and national levels.
The Sharks High Performance Manager, Michael Horak, said the festival made a welcome resumption for players and supporters after the enforced break.
"The Kearsney Easter Rugby Festival is one that every young rugby player strives to be a part of.  The Sharks Academy has been a proud partner of this iconic festival since its inception. We continue to back the effectiveness and importance that it holds in attracting the best schoolboy teams from around the country," Horak said.
Rugby at schools is a place where the values of sportsmanship, team work, hard work, perseverance, respect and honour can be taught and embraced. Some of the country's finest rugby talent will again be on display at the festival; with teams, players and coaches hungry to compete and entertain after two tough years.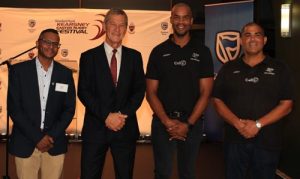 Photo: Kuben Chetty, Elwyn vd Aardweg, JP Pietersen, Etienne Fynn
Speaking at the launch of the 2022 festival, Kearsney headmaster Elwyn van den Aardweg said the festival had grown significantly since its inception in 2008.
He acknowledged the festival sponsors, whose support had assisted the event to grow each year.  Headline sponsor Standard Bank were thanked for their invaluable support; together with The Sharks, Sharks Academy and KZN Rugby Union which have been involved since the festival's inception.
Kuben Chetty, head of Standard Bank's Commercial Banking in KwaZulu-Natal, said the relationship which exists between sport and education is important. The bank remained "a proud title sponsor of this premier event because it promotes individual discipline, team work and understanding," he said.
Once again, the Halfway Motor Group has remained a major sponsor.  Dealer principal Chilton Penery said that "the festival ties into our values of community upliftment and youth development".
Talent scouts and selectors from The Sharks and Sharks Academy will watch all three play days over the Easter weekend: Thursday 14th, Saturday 16th and Monday 18th April. The Sharks Academy will once again offer bursaries to selected players from the festival.
Considered to be one of the most prestigious and well-organised schools' rugby festivals in South Africa, teams travel with families and supporters to enjoy top schoolboy rugby and a family-friendly festival atmosphere on Kearsney's beautiful campus, as well as KZN's glorious Easter weather.
In keeping with the festival's tradition, four primary school teams will be offered the opportunity to participate, providing young players with the excitement and challenges of playing on a full-size field in front of large crowds.  This year Umhlali Preparatory, Hillcrest Primary and Highbury Preparatory Schools will each face the KZN Rugby Union's Ibutho-Mark Godefroy U13 team to open each day's play.
Together with the KZNRU Development Programme, the festival's successful Boots & Balls outreach initiative will collect rugby kit and equipment for disadvantaged players. All donated kit is sorted, refurbished and distributed.  Participating teams and the public are requested to leave new or good condition second-hand rugby kit in designated collection bins at the main field.
For supporters of schoolboy rugby, the Kearsney campus provides a beautiful and safe environment. There will be an exciting KidZone for the little ones, ample parking, as well as numerous food outlets and a refreshment tent to ensure spectators can fully enjoy the special family atmosphere.
Fixtures and festival information are available on www.kearsney.com and, for those unable to attend the festival, it will be live-streamed on the SuperSport Schools app.
For further information, please contact:
SUE MILES
083-222-5211