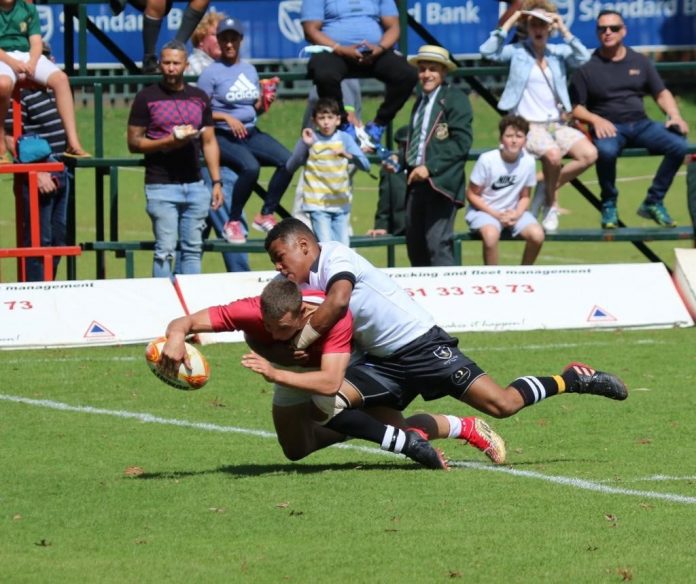 The hosts and Queen's College got together on day one of the 2022 Standard Bank KES Easter Festival on Thursday to produce what will long be remembered as one of the great Easter festival rugby matches. It was a 10-try thriller, won 37-36 by the hosts in the end.
The purists might carp about the handling errors by both sides, and about one or two missed tackles, but for sheer entertainment you couldn't ask for better. The two teams were evenly matched in every aspect. Both have forwards who, while not gigantic, are skillful and athletics, and both backlines were full of pacy, evasive running.
And they both had the same attacking mindset which, although high risk, made for excellent festival fare.
The teams swapped tries from the get-go, with neither side being able to draw clearly ahead. Queen's were 15-14 ahead at the break, and the lead changed hands several times in the second half before KES went 37-29 up with minutes to go. The visitors weren't finished though, and they scored a converted try to make the final score as close as the game had been throughout.
It was a great advertisement for schoolboy rugby and a fitting way for the King Edward Reds to welcome back their famous home crowd to the school after the leans times of the last two years.
The day began with Northcliff filling in for Dale College against Trinityhouse. Dale, who had two deaths in their first side in the last two weeks, will be at the festival on Saturday and Monday. Northcliff were good value. They ran out 40-12 winners and made some friends with their disciplined, controlled play.
The second game was Humansdorp's Nico Malan against Hoërskool Durbanville. The Cape Town team ran out 52-21, after the sides were initially quite closely matched. Durbanville's backs were very impressive. Their game against Queen's on Monday is going to be a cracker.
Ben Vorster beat Centurion 22-13 in another close encounter. They drew clear with a late try and were deserved winners in a game that saw some forward power play, in contrast to the open running rugby that characterised some of the other encounters.
Jeppe sent their second team out to play Eldoraigne, following a misunderstanding around their request to play only two games at the festival. Their second-stringers did well. They were gutsy and defended fiercely against boys who were markedly bigger than them. Jeppe got the first try of the game, but Eldorainge struck back and led throughout. The final score was 20-12, with Jeppe coming within a whisker of getting a try in the closing minutes, which would have made it even closer.
The day closed off with another thriller. Northwood Boys' High beat Hudson Park 25-19, but were 19-13 behind with five minutes to go before scoring tries in both corners to get a victory that they celebrated wildly.
Thursday's results set things up nicely for Monday's programme. Northwood play Queen's in a matchup of similar styles; Jeppe, their first team this time, take on Hudson Park; and KES close off the day against Dale in a game which will be emotional and could well produce a thriller to match Thursday's KES vs Queens humdinger.
Results
Northcliff 40 Trinityhouse 12, Durbanville 52 Nico Malan 21, Ben Vorster 22 Centurion 12, Eldoraigne 20 Jeppe II 12, KES 37 Queens 36, Northwood 25 Hudson Park 19.
Match report provided by KES.