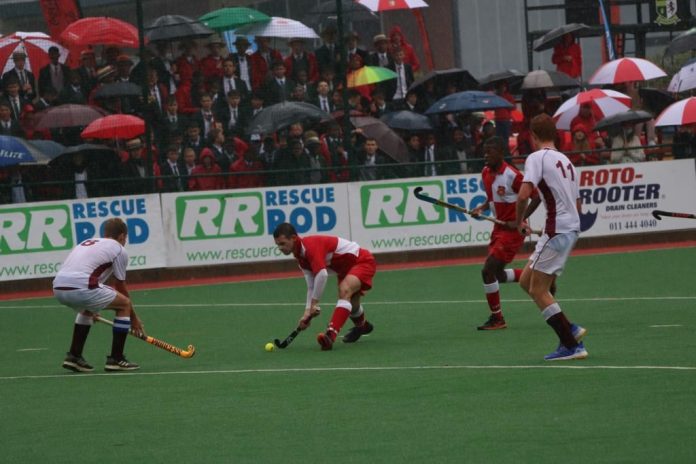 Jeppe maintained their standing as possibly the top dogs at the Standard Bank KES Easter Hockey Festival by beating the two fancied visitors from KwaZulu-Natal, Northwood and Kearsney 4-2 and 3-1, respectively, on a rain-soaked second day of the event on Saturday.
They beat Trinityhouse and Eldoraigne comfortably on day one and take on Queen's College on Sunday in a quest to finish the festival with five wins out of five.
There are two other schools who have also won all their games on days one and two –  Pretoria Boys' High  and Grey College. Grey College have the tougher assignment on the final day, they play Northwood. Pretoria play the hosts, King Edward, in their last game, and that could also be quite tricky.
Jeppe have been good value at the festival. They have, in Jayden Brooker, possibly the best player on view, and their penalty corner conversion rate has been the best of all the sides in action.
The three goals against Kearsney all came from PCs. That accuracy, together with a solid, disciplined defence is what has made the difference for them
The most exciting game of the day involved the hosts. They were up against Kearsney and were not the favourites. The pushed them hard, though, and defended courageously, which kept them in the game and when they scored with one minute to go to draw level at 2-2 it looked like they had secured a well-deserved draw. Kearsney were awarded a penalty corner with 13 seconds to go, however, and they converted it to snatch the win Day two at the festival was played in continual heavy rain which, while it didn't affect the players too much, made it hard work for the spectators and the officials. That the programme was completed on time at the end of a day like that, speaks volumes for the organisational expertise of those who were running the show.
Results
St John's 6 Eldoraigne 0, Grey College 4 Trinityhouse 0, Pretoria 3 Queen's 1, Jeppe 4 Northwood 2, Affies 5 Parktown 1, Kearsney 3 KES 2, St John's 3 Queen's 0, Pretoria 9 Trinityhouse 0, Grey College 7 Eldoraigne 1, Affies 1 Northwood 1, Jeppe 3 Kearsney 1, KES 1 Parktown 0.
Report compiled by Theo Garrun