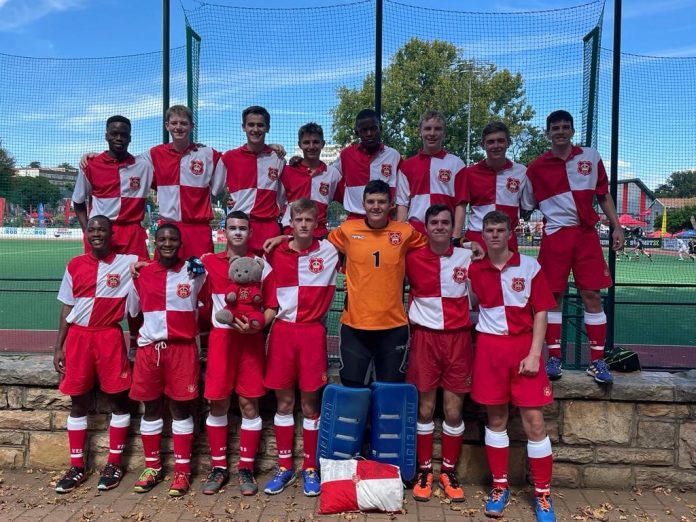 Three schools – Jeppe, Pretoria Boys' High and Grey College – came away with two wins out of two on the first day of the 2022 Standard Bank KES Easter Hockey Festival on Thursday.
Jeppe were the most impressive side on view. They beat Trinityhouse 11-0 and Eldoraigne 6-0, without really moving into top gear and they look on track to be one of the top boys hockey teams in the land again this year.
St John's College and Northwood Boys' High are also still in the running to finish unbeaten and send a warning to the schools they will be meeting later on in the year. The game between the two schools, played in decidedly chilly conditions at 7.30 in the morning, ended in a 1-1 draw and St John's them went on to beat Kearsney 2-0, while Northwood beat the hosts, King Edward 3-0 in the final game of the day – again in the autumn cool for them.
Pretoria Boy's High beat Kearsney 3-2 and Parktown 3-0, while Grey College notched up a 6-0 win over Parktown, and then beat Queens College 4-0.
The 12 schools playing in the festival will have played five games each by the end of the weekend, making the KES Festival an intense early season hit out for the schools involved and the consensus among them was that it was wonderful to be in action here again, and that the event has been missed these last two years.
Northwood will have plenty of opportunity to show themselves as a top school here. They play Jeppe on Saturday and then meet Grey College on Sunday.
Parktown Boys' High were late additions to the programme, replacing Dale College who withdrew because of the recent tragic events at their school.
Thursday's results
St John's 1 Northwood 1, Pretoria 3 Kearsney 2, Grey College 6 Parktown 0, Affies 0 Queens College 0, KES 5 Eldoraigne 0, Jeppe 11 Trinityhouse 0, St John's 2 Kearsney 0, Pretoria 3 Parktown 0, Grey College 4 Queen's 0, Affies 4 Trinityhouse 0, Jeppe 6 Eldoraigne 0, Northwood 3 KES 0.
Match report supplied by KES